Verification within Meta`s Third-Party Fact-Checking Program
The information on that IAEA Director General Rafael Grossi said that 30 tons of plutonium and 40 tons of enriched uranium are stored at the Zaporizhzhia NPP is being spread on the Internet.
However, it is not true: «Energoatom» stated that plutonium and enriched uranium , which could be used for military purposes, have never been stored at the Zaporizhzhia  NPP.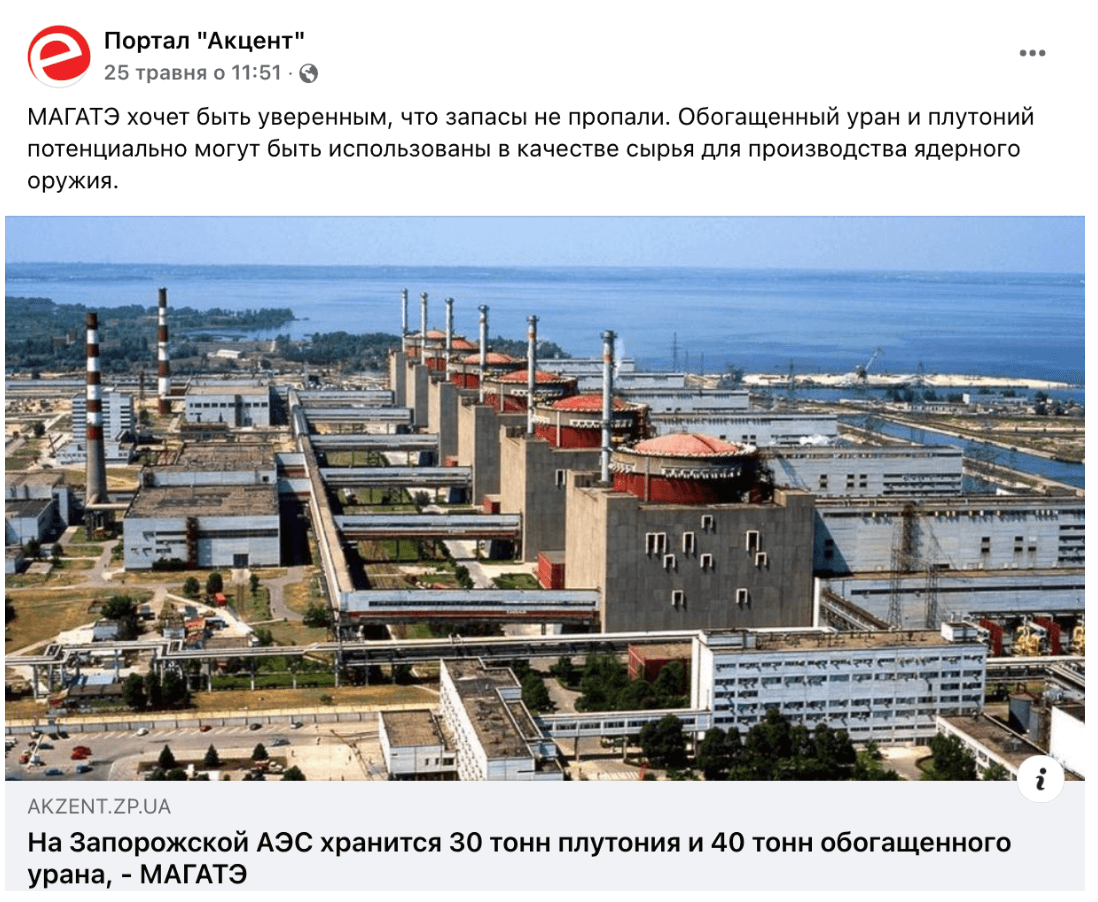 The social networks refer to the post of the Wall Street Journal journalist Lawrence Norman on Twitter. He refers to the Raphael Grossi statement.
Striking numbers from @rafaelmgrossi on nuclear fuel stocks at Zaporizhzhia in Ukraine, where he said @iaeaorg seeking access. Grossi said the site contains 30,000 kilograms of plutonium and 40,000 kilograms of enriched uranium. Agency wants to be sure no stocks gone missing.

— laurence norman (@laurnorman) May 25, 2022
On May 25th, 2022 IAEA Director General Grossi made a speech at the World Economic Forum in Davos. He said that IAEA is eager to visit Zaporizhzhia NPP to make sure that 30 tons of plutonium and 40 tons of enriched uranium, stored there, won't be used fir any other purposes.
However, the state-owned company «Energoatom» reported that the Zaporizhzhia NPP did not store uranium and plutonium that could be used for military purposes. Spent fuel assemblies – nuclear fuel – are stored at the NPP. Moreover, such spent fuel is stored at all nuclear power plants in the world.
Russian media also write that Rafael Grossi has expressed fears that several hundred kilograms of nuclear-weapons materials could disappear from the nuclear power plant. This is not true: IAEA Director did not say that.
Since March 4th, 2022, the Zaporizhzhia NPP has been under the control of the russian occupiers. During the night of March 4th, the Zaporizhzhia nuclear power plant caught fire as a result of shelling by the Russian military. Russians hit one of the reactors several times. Moreover, the occupants did not immediately let firefighters to extinguish the fire. 
18,3 billion UAH is estimatetd damage caused by russian troops to Zaporizhzhia NPP. This amount includes the cost of damaged buildings and equipment shelled during the assault, the working building of the Atomenergomash and the equipment of the Atomremontservice.
Head of Zaporizhzhia Regional Military Administration Oleksandr Starukh noted that seizure of the ZNPP — is the way to ruin the stability of energy system in Ukraine. Former Minister of Nuclear Security of Ukraine Yuriy Kostenko has stated that Putin's decision to shell the ZNPP — is nuclear terrorism.
Attention
The authors do not work for, consult to, own shares in or receive funding from any company or organization that would benefit from this article, and have no relevant affiliations