Verification within Meta`s Third-Party Fact-Checking Program
A photo of US Army General Eric Olson, who surrendered at Azovstal, is being spread on the Internet.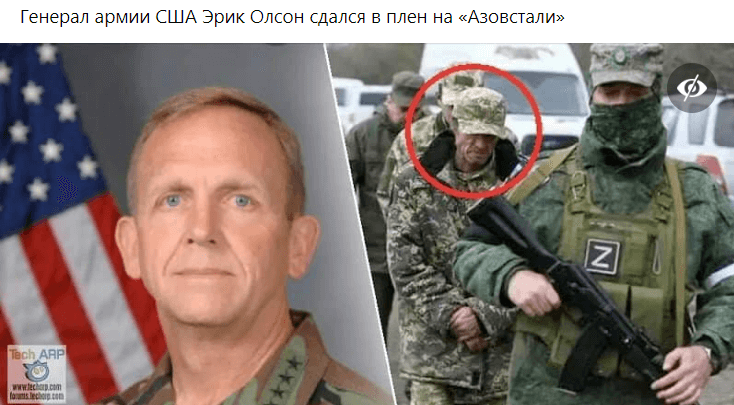 However, this photo has been spread by russian propaganda media since Apri 14, 2022 — almost one month before the evacuation of Ukrainian military from «Azovstal». Eric Olson has been retired since 2011. This was reported by independent fact-checkers from Myth Detector and Lead Stories. 
Results of the reverse image search show that photo has been spreading at least since April 15, 2022. This photo was published by the russian propaganda state publication RT in the article "We can't leave people: DNR commander Oleksandr Khodakovsky – about the liberation of Mariupol and assistance to civilians."
On May 16, 2022 around ten buses with 53 seriously injured and 211 military left the «Azovstal» plant. Hundreds more Ukrainian servicemen left the plant on May 17-19. The author of the publication claims that US General Eric Olson also left the Azovstal plant. At that time, the process of evacuating the Ukrainian military from Azovstal had not started yet.
In addition, there is no evidence that Eric Olson was in Ukraine during Russia's full-scale invasion to Ukraine. It is known that Olson retired in 2011 after 38 years of service. Moreover, the authors of the publications indicated the wrong rank of Olson: he was an admiral of the Navy, not an army general.
Attention
The authors do not work for, consult to, own shares in or receive funding from any company or organization that would benefit from this article, and have no relevant affiliations