Verification within Meta's Third-Party Fact-Checking Program
Social media spread a video, reportedly showing a parade of captured Ukrainian soldiers in Rostov in 2022.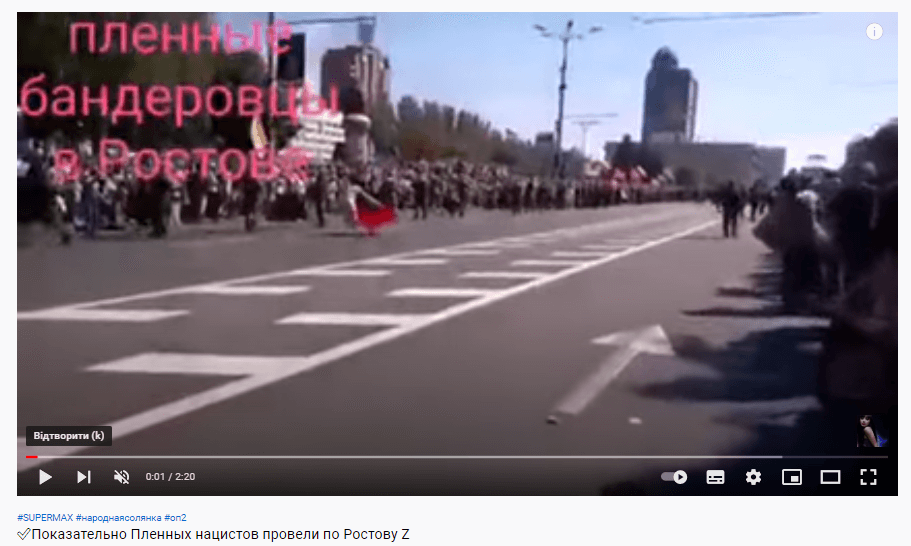 A screenshot from the video
However, it is footage of parading captured Ukrainian service members in Donetsk in 2014. Independent fact-checkers from Chequeado wrote about it earlier. 
Because Google Images and TinEye reverse image searches returned no results, we tried to find the video on the russian portal Yandex Images blocked in Ukraine. Search results showed the video had been disseminated since 2014.
The caption to the video says it depicts a parade of captured Ukrainian soldiers in 2014. We decided to check if such a parade indeed took place.
On August 24, 2022 2014, pro-russian militants marched captive Ukrainians through a "corridor of shame" in Donetsk instead of a parade dedicated to Ukraine's Independence Day. On the previous day, the self-proclaimed Donetsk People's Republic had abolished the Independence Day of Ukraine and the day off following it in the militant-controlled territory.
In the previous version of the article, we incorrectly indicated the date, which was pointed out to us by readers. So we've updated it and are amending this article to comply with our error recognition policy.
Attention
The authors do not work for, consult to, own shares in or receive funding from any company or organization that would benefit from this article, and have no relevant affiliations