Verification within Meta's Third-Party Fact-Checking Program
There is information circulating online that the Commander-in-Chief of the Armed Forces of Ukraine, Valerii Zaluzhnyi, prioritized attending a wedding over a meeting with the NATO Military Committee. The meeting took place on May 10th, and on the same day, there was a publication about the wedding.
However, on May 10th, only a post about the wedding was published on social media. The actual ceremony took place earlier.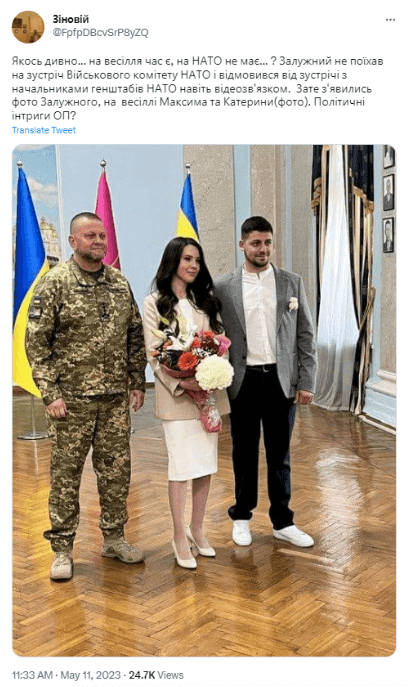 On May 10th, military serviceman Maksyim Alekseev posted on his personal Facebook page about his own wedding. Zaluzhnyi held the ceremony and Maksym expressed gratitude to the Commander-in-Chief. The post is accompanied by a series of photos from the actual wedding ceremony. Alekseev also mentioned that the wedding took place earlier, "not today, not yesterday".
As reported by Admiral Rob Bauer, the Chairman of the NATO Military Committee, the reason for Zaluzhnyi's absence was the challenging military situation on the frontlines. He stated, "Yesterday, I received a letter from the Ukrainian Commander-in-Chief, our friend Valerii Zaluzhnyi, saying that his participation, even via video conference, is impossible because of the difficult operational situation in the defence against Russian aggression. Our best wishes are with the Ukrainian defenders. We are focused on getting Valerii's assessment from his military representative … on the latest developments on the fronts, where Ukrainians are fighting for what is rightfully theirs."
Attention
The authors do not work for, consult to, own shares in or receive funding from any company or organization that would benefit from this article, and have no relevant affiliations