In the previous round, the index was +0.4 points.
In this round, the "investment nanny" law was assessed by experts as having a negative impact on public finances and a positive impact on the business environment, giving this law the median score of 0 (zero) points.
Chart 1. iMoRe Dynamics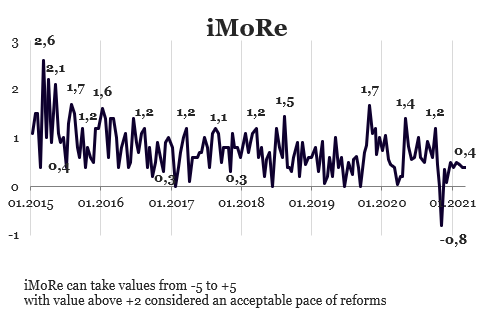 Chart 2. іMoRe and its components in the current round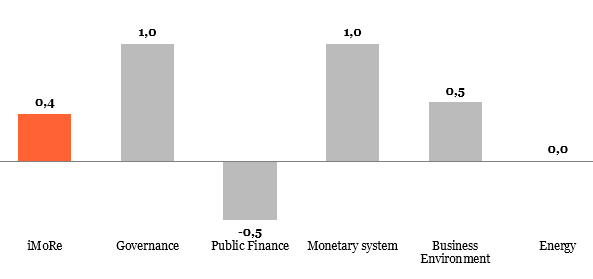 Investment nanny law, 0.0 (zero) points
Law 1116-IX offers state support primarily in the form of tax benefits and access to the infrastructure for big investment projects of over EUR 20 million. To receive such support, an investment project has to be implemented within 5 years, create more than 80 new jobs with an average salary of at least 15% more than the average salary in the respective industries in the region where the project is to be implemented. 
The law provides a legal basis for the authorized institution that will provide assistance to the investors, planning to make significant investments in the economy.
The law stipulates that the state may exempt investors from paying certain taxes and fees, including duties on imported new equipment and parts (the types of the tax benefits are listed in another law, namely On Changes to the Tax Code of Ukraine). The state may grant such investors preferential rights to use state or communal land to implement investment projects. Also, the state may build the infrastructure necessary to successfully implement projects, such as freeways, communication lines, heat, gas, water and electricity supply facilities, utility lines etc. at the expense of the state or local budgets. 
Comments
"The government is supposed to ensure that all businesses have a level field. Indeed, the government does not know which business is going to be successful. Helping specific businesses also opens opportunities for corruption and rent seeking. Clearly, the government should not be in the business of picking winners. While certain elements of instnyanya are good, the general spirit of the program is to have special access to government services, which is contrary to the spirit of creating a level field. Furthermore, because the program makes open-ended commitments (think about Green tariffs in Ukraine), the government will have little control over the cost of the program. Ukraine needs FDI but the biggest attractor of FDI are stable/predictable macroeconomic environment and a robust legal system protecting property rights. Fixing these should be the main priority of the government. Instnyanya is a poor substitute for these fundamentals; it is treating symptoms rather than addressing the root of problems."
– Yuriy Gorodnichenko, an economist and Quantedge Presidential professor at the University of California, Berkeley
Chart 3. Value of іMoRe components and number of events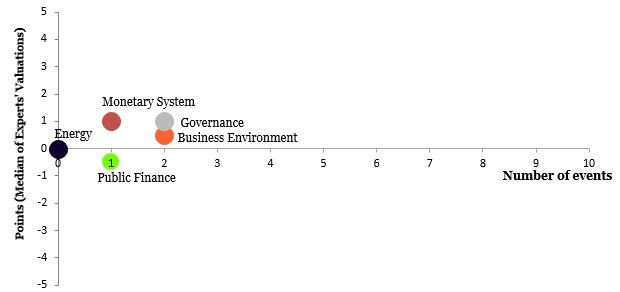 Note: Index for Monitoring Reforms (iMoRe) from VoxUkraine aims to provide a comprehensive assessment of reform efforts by Ukraine's authorities. The Index is based on expert assessments of changes in the regulatory environment in five areas:
Governance
Public Finance
Monetary system
Business Environment
Energy
For details please visit imorevox.org.
Attention
The authors do not work for, consult to, own shares in or receive funding from any company or organization that would benefit from this article, and have no relevant affiliations