The Index for Monitoring Reforms (iMoRe) is +0.8 points for the period from April 5 to April 18, 2021, with possible values ranging from -5.0 to +5.0. In the previous round, the index was +1.0 points.
Chart 1. iMoRe Dynamics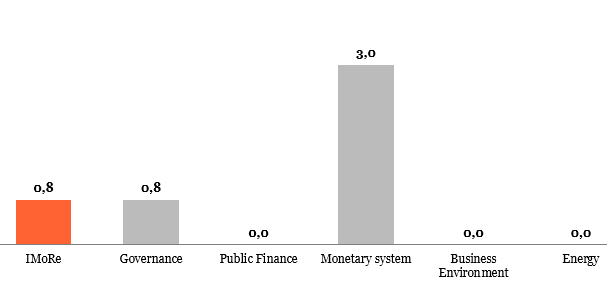 Debt collectors law, +2.5 points
Debt collecting companies provide collection services to creditors whose debtors have not paid off their debts. These companies encourage borrowers to repay debt. However, the companies also often resort to unlawful acts against debtors, exerting psychological pressure on them and their family members. 
Law 1349-IX of March 19, 2021 aims to tackle these problems. It will regulate debt collecting companies' activities.
The resolution on disclosure of the ownership structure by financial institutions, +2.0 points
From now on, all non-bank financial institutions (except credit unions), lessors, postal operators having the right to provide certain financial services will have to submit to the National Bank information about their ownership structure and also publish it on their websites. 
The law equating e-passports to traditional paper passports, +2.0 points
In April last year, the government launched a pilot project on e-passports using the Diia portal. About 5 million Ukrainians took this opportunity.
Based on the pilot project's results, the Verkhovna Rada decided to pass Law 1368-IX introducing the possibility of using e-passports on a permanent basis. Those who have a paper biometric passport or ID card will be able to obtain an e-passport.
The law on awarding scientific degrees and establishing responsibility for plagiarism in dissertations, +1.5 points
Law on conducting an all-Ukrainian referendum, +1.0 points
The Constitution of Ukraine stipulates that issues of altering the country's territory as well as amendments into Chapters I, III and XIII of the Constitution must be resolved by an All-Ukrainian referendum. However, the legislation did not provide for the organization of and procedure for conducting a referendum. 
Passed by the Verkhovna Rada in 2012, law 5475-VI "On an All-Ukrainian Referendum" was declared invalid by the Constitutional Court's decision No.4-р/2018 dated April 26, 2018. 
Law 1135-IX seeks to address this issue and lays out the general principles for conducting referendums.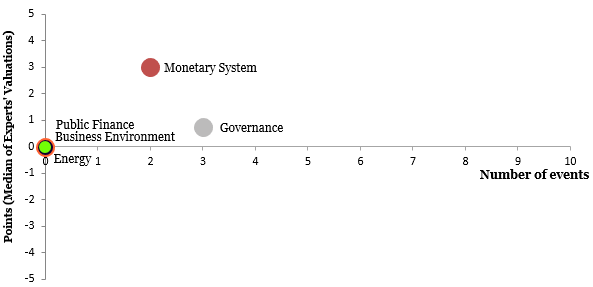 Note: Index for Monitoring Reforms (iMoRe) from VoxUkraine aims to provide a comprehensive assessment of reform efforts by Ukraine's authorities. The Index is based on expert assessments of changes in the regulatory environment in five areas:
Governance
Public Finance
Monetary system
Business Environment
Energy
For details please visit imorevox.org.
Attention
The author doesn`t work for, consult to, own shares in or receive funding from any company or organization that would benefit from this article, and have no relevant affiliations