The index for monitoring reforms (iMoRe) returned to a very low level. Progress assessment for October 24 – November 9 is only +0.6 points out of +5 points maximum. Progress was observed only in Ukraine's monetary sphere and business environment.
Chart 1. іMoRe dynamics*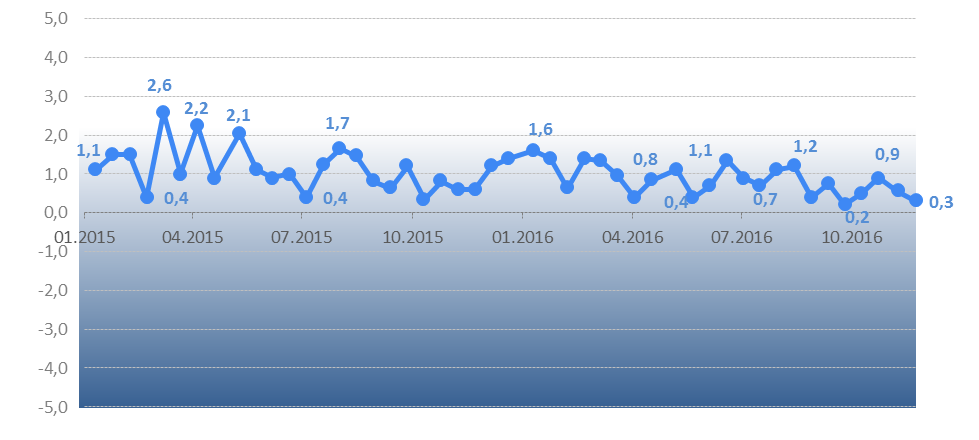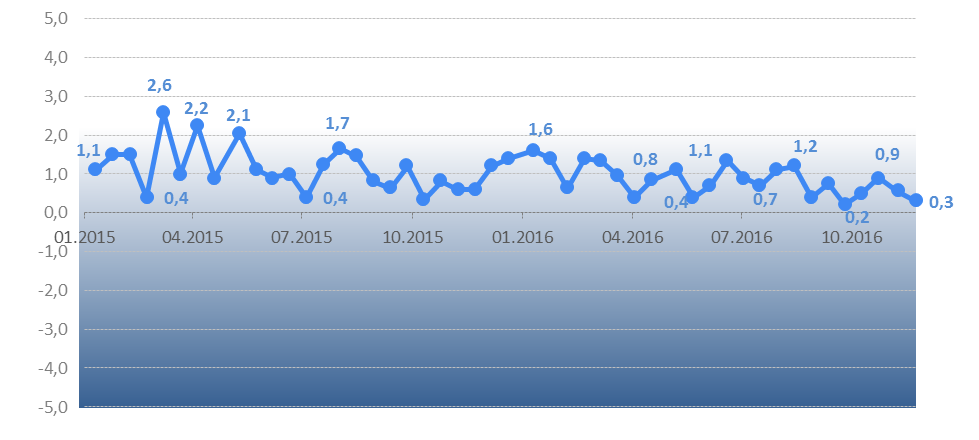 * The iMoRe team considers index value of at least 2 an acceptable pace of reform
The main events of this round are procedural changes in property rights registration, a new strategy of NBU currency interventions, defining standards for the copyright use in parodies, caricatures and potpourri and debureaucratization of foreign exchange transactions of insurance companies.
Chart 2. іMoRe and its components in the current round**
**Titles of components were shortened for convenience, while their content remained the same
The most important developments
1. Changes to legislation improving the procedure for state registration of real estate rights and property rights protection, +2.0 points
Poor property rights protection remains a problem for doing business in Ukraine. In terms of property rights protection, the World Economic Forum ranks Ukraine 135 among 144 countries. Loopholes in legislation and corruption in courts and law enforcement authorities lie behind numerous cases of raider seizure of property.
Law # 1666-VIII of 06.10.2016 (in expert circles known as "anti-raider") amends the regulations to reduce the risk of illegal asset seizure. These risks increased after liberalization of business registration in 2016 (providing notaries, regardless of their location, with registration authority on real estate, legal entities and individual entrepreneurs), although they were significant before that as well.
In particular, the law improves the procedure for state registration of real estate rights and enhances administrative and criminal liability of registrars and notaries involved into illegal conspiracy actions. The maximum sentence for these criminal offenses for notaries increased to 8 years, for others (such as instigators and organizers of raider attacks) – to 10 years.
This document improves the system of state registration of real estate rights. From now on a state registrar should immediately notify property owner if an application for registration actions with his property is filed. The authenticity of signatures on the most important documents submitted to the registration authorities must be notarized.
Many raider schemes are conducted with so-called "black notaries" who alienate property on the basis of forged documents. A number of innovations of this law will significantly reduce this phenomenon, since the Ministry of Justice has received the authority to monitor actions of registrars and notaries and bring them to justice in case of violations.
The law also narrowed the scope of the so-called extraterritoriality principle which since the beginning of 2016 allowed any notary, regardless of its location, to interfere with property rights registration. Under the new law, a notary can register property or perform other registration actions within his/her home region only (with the exception of registration immediately upon notarization). Registration actions for legal entities and individual entrepreneurs will be performed in electronic form or by registrars exclusively within their regions. This approach will help reduce the number of law violations.
Reformer's comment
"This is one of the most important laws of the year 2016. Firstly, it obliges state registrars to notify owners on changes made in the State Property Rights Registry. Even if there are several owners, they must be notified of such transactions/operations. If an owner has any objections, he/she can halt the process of property alienation within 10 days of notification. Within this period, it is necessary to provide justification for the halt. Secondly, so-called principle of extraterritoriality was amended. Thirdly, changing legal entity details [which have to be included into the Registry – Ed.] will only be possible on the basis of notarized signatures of an entity founders or their authorized representatives. Fourthly, the law enhances criminal liability for raiding. Fifthly, it introduces some preventive measures. The Ministry of Justice will monitor registration activities in the State Property Rights Registry. In case of violations, the Ministry of Justice will conduct inspections of public registrars. Based on the results, their access to the State Property Rights Registry will be blocked/canceled.
Adoption of the law will add a few percentage points to the GDP. For if a property right is a mere fiction, nobody will invest into the country – neither international investors nor domestic ones."
— Oksana Prodan, the Member of Parliament
Expert's comment
"Anti-raider law" limits the opportunities for illegal acquisition of assets and establishes liability for the most common misuses. From now on, signatures on the documents that are the most significant in the process of asset owners' change should be certified by a notary. Such requirements complicate forgery. Appeal period against registrar actions has been extended from 30 to 60 days. A number of procedural aspects, namely the registration actions on the basis of court decisions, have been resolved. The liability of notaries, registrars and third parties on the so-called "raider" violations has been defined by the law.
However, the adoption of this law shows the entrenched problem of Ukrainian law-making – lack of consistency and responding to problems rather than trying to prevent them.
— Zoya Mylovanova, VoxUkraine Law
Chart 3. Value of іMoRe components and number of events October 24 – November 6, 2016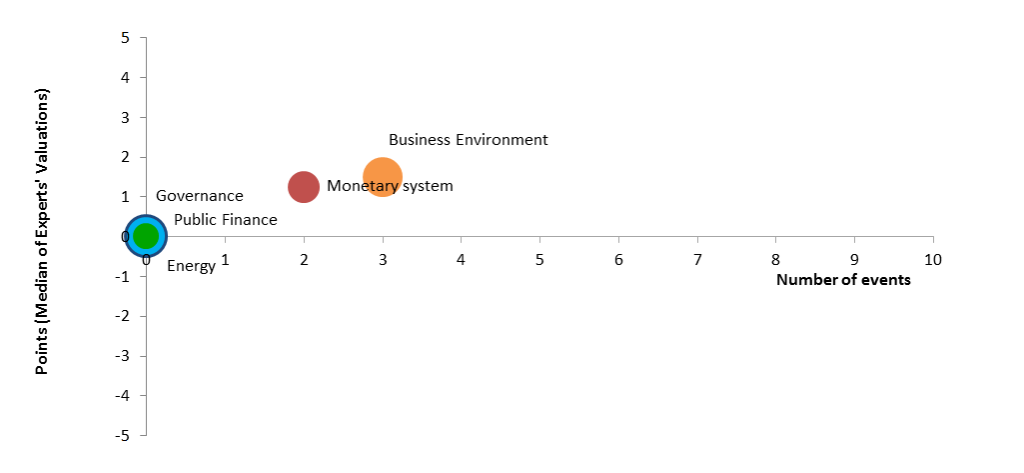 ---
(Please see other charts on the website http://imorevox.in.ua/?page_id=577, http://imorevox.in.ua/list_rounds.php)
Note: Index for Monitoring Reforms (iMoRe) from VoxUkraine aims to provide a comprehensive assessment of reform efforts by Ukraine's authorities. The Index is based on expert assessments of changes in the regulatory environment in five areas:
Governance
Public Finance
Monetary system
Business Environment
Energy
For details please visit imorevox.in.ua.
Index for Monitoring Reforms
iMoRe #46. Slow Exit From Summer Break: Reforms Have Accelerated Slightly
iMoRe #45. The Sad Autumn: the Groysman Government can't Accelerate Reforms
iMoRe №44. Dismal Performance: the Rate of Reforms Has Dropped Almost to Zero
Attention
The author doesn`t work for, consult to, own shares in or receive funding from any company or organization that would benefit from this article, and have no relevant affiliations