The index for monitoring of reforms (iMoRe) is +0.4 points for the period from August 6 – August 19, 2018. The main events of the round are new requirements to ensure the stability of banks by the results of stress testing.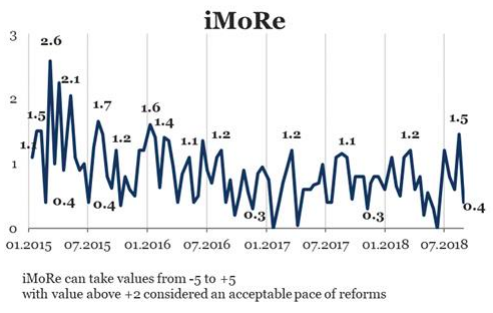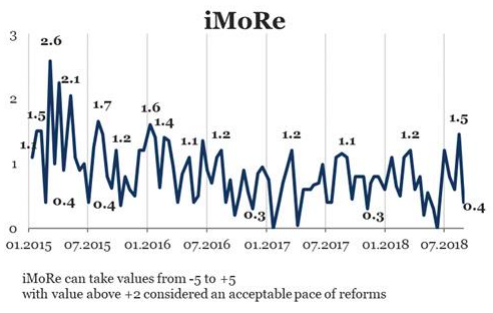 Chart 2. іMoRe and its components in the current round


The major event of the release
New requirements for ensuring the sustability of banks, +2 points
Stress tests are conducted to assess banks' ability to withstand downturns in financial market.
The NBU recommends to take into account the following factors to avoid risk:
economic stability (economic downturn, radical change in the economic development vector, defaults of first-class borrowing companies, etc.);
significant fluctuations of the exchange rate of the national currency;
openness and accessibility of the interbank market;
the level of political and international stability;
stability of financial markets, including opportunity to counteract speculative attacks; changes in interest rates, e.g. LIBOR, discount rates, etc .;
possibility of property depreciation provided for usage by means of lending bank operations (in particular, through falling prices in the real estate market, the crisis of certain sectors of the economy, etc.);
volatility of prices for energy resources;
microeconomic indicators: bank has the ability to access external sources of liquidity maintenance; bank's competitive position (determined by SWOT analysis as a generalized assessment).
Chart 3. Value of іMoRe components and number of events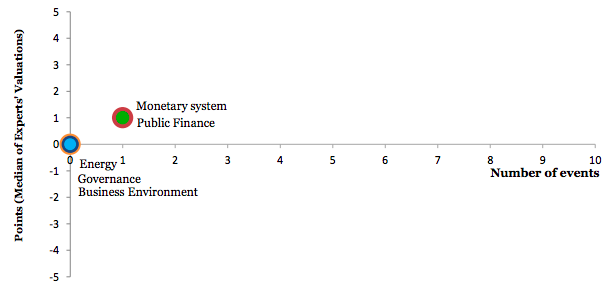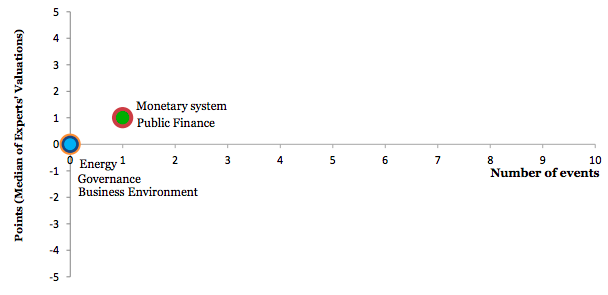 (Please see other charts on the website)
Note: Index for Monitoring Reforms (iMoRe) from VoxUkraine aims to provide a comprehensive assessment of reform efforts by Ukraine's authorities. The Index is based on expert assessments of changes in the regulatory environment in five areas:
Governance
Public Finance
Monetary system
Business Environment
Energy
For details please visit imorevox.org.
Attention
The author doesn`t work for, consult to, own shares in or receive funding from any company or organization that would benefit from this article, and have no relevant affiliations