According to the information spread on the Internet, the lawmaker Serhiy Taruta allegedly stated that all civilians who were hiding in the Drama Theater blown up by the russian occupiers on March 16 are alive. It is also alleged that before that, the President of Ukraine Volodymyr Zelenskyi said that all the people in the drama theater had died.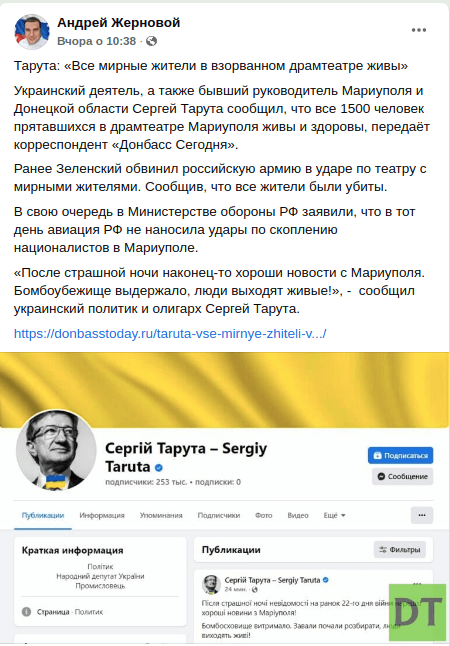 However, this is not true, as Zelensky did not say that all the people hiding in the Mariupol Drama Theater died, and Taruta did not say they all survived.
Volodymyr Zelenskyi first commented on the bombing of the Drama Theater in Mariupol in a night appeal on March 16. The president said that the theater building was destroyed, and the number of deaths is still unknown. According to various estimates, from 1,000 to 1,500 people were hiding in the theater building.
Taruta in his post on March 17 at 10 a.m., said that the bomb shelter of the Drama Theater had withstood the bombing of the occupiers, the rubbles began to be dismantled, and people came out alive. At the same time, the lawmaker did not name the number of rescued civilians or the number of victims and dead.

On the night of March 18, the lawmaker clarified in his post that at least 130 people survived under the rubble dismantled by Mariupol residents themselves. According to estimates of the survivors, at least 1,300 people remained in the bomb shelter and the theater building.
According to Taruta, it is unknown how many people remain under the rubbles how many are injured and killed. The only clear thing is that people do not have a chance to get out of there on their own. Nobody dismantles the rubbles because the state, municipal and rescue services were destroyed during the blockade. According to Taruta, this means that all those who survived the bombing will either die under the rubble of the theater or have already died.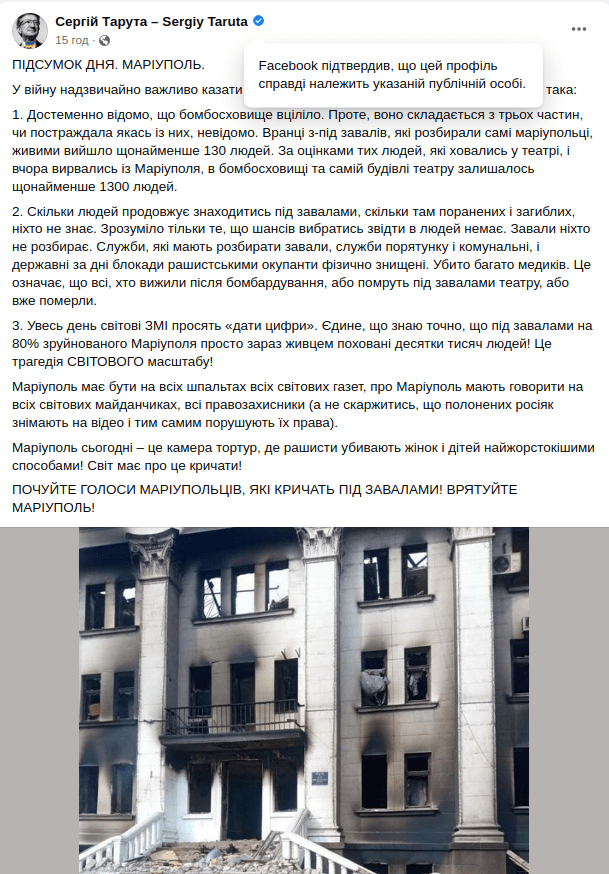 Attention
The authors do not work for, consult to, own shares in or receive funding from any company or organization that would benefit from this article, and have no relevant affiliations