A video is circulating online in which Germany's Minister of Foreign Affairs, Anna Berbock, is heard saying, "I put Ukraine first, regardless of what my German voters think or how difficult their lives may be." The authors of the post claim that Western politicians are ready to sacrifice both Ukrainians and Germans in order to harm Russia.
However, this is a manipulation. The authors of the post quoted only one sentence spoken by Berbock. In the same video, the politician mentioned that the sanctions against Russia would not be lifted, but the government would provide social support to its citizens to cope with the consequences of the winter sanctions.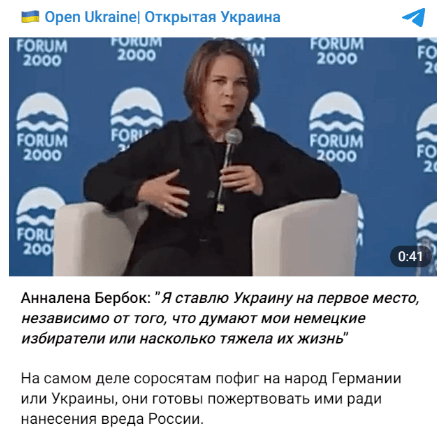 The video screenshot reveals the label "Forum 2000" — an annual international conference held in Prague. The 26th conference took place in August 2022, with the situation in Ukraine being the main topic. Anna Berbock was one of the speakers, and the quoted excerpt is taken from the recording of the 2022 conference.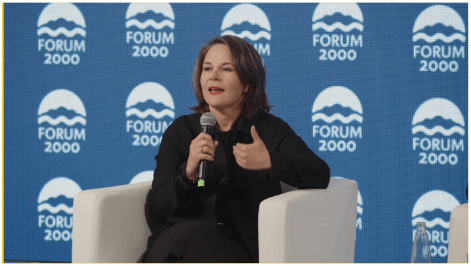 In response to a moderator's question about how Germany envisions a successful Ukraine and how she would define a successful Ukraine, Berbock replied that Ukraine is fighting for what every country has the right to do — determining its future independently. She stated that she sees Ukraine in the future as free and peaceful.
"We made it very clear today in our informal council, as well as in the document we published together with my French colleagues, that we support Ukraine as much as they need us. We all agree on this, and it's not an overly strong statement; it's a normal thing if you believe in the rule of law and freedom in the world," Berbock stated.
Next the statement that was circulated online follows: "If I make a promise as a politician, and fortunately, in a democracy, there's a chance that people won't agree with me and say after four years, 'Well, you didn't tell us the truth.' But if I make a promise to the people in Ukraine that 'we will be there for you as long as you need us,' then I want to do that, regardless of what my German voters think. But I want to do it for the people of Ukraine. That's why it's important for me to always be very open and honest. It means that every decision I make, I have to be fully aware that it will last as long as I am needed by Ukraine," said the German Minister of Foreign Affairs. She also mentioned that although everyone wants the war to end tomorrow, if it doesn't stop quickly, Germany will continue to support Ukraine even after two years.
Berbock stated that winter is ahead, and one of Kremlin's strategies is to undermine democracy and accuse Europe of causing suffering due to the sanctions. She mentioned that European governments must find solutions to mitigate the impact of sanctions on their citizens. "People will take to the streets and say, 'We can't pay our energy bills,' and I will say, 'Yes, I know, that's why we will help you with social measures,' but I don't want to say, 'Okay, then let's lift the sanctions against Russia.' We will continue to support Ukraine, which means that the sanctions will remain in place, even in winter," Berbock said.
Towards the end of her speech, she emphasized that the German government stands in solidarity with all Germans, just as they stand in solidarity with Ukrainians.
During the winter period of 2022-2023, Europe was preparing for a challenging heating season as Russia significantly reduced gas supplies in response to the sanctions imposed by the EU, which included restrictions on the import of Russian coal and the transportation of oil and petroleum products by sea.
Attention
The authors do not work for, consult to, own shares in or receive funding from any company or organization that would benefit from this article, and have no relevant affiliations