Verification within Meta's Third-Party Fact-Checking Program
A video is circulating on the Internet, in which men, members of the Canadian Parliament, dressed in pink women's high-heeled shoes, walk around the table. In the post, the authors claim that in this way politicians wanted to support women who suffered sexual violence and add that it would be better if they improved the work of the police.
However, this is manipulation.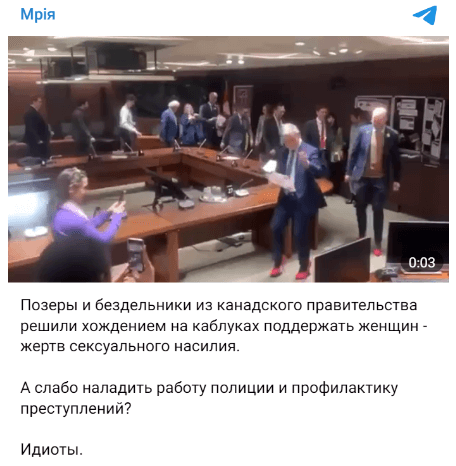 A screenshot of a post that is being shared on the network
On April 20, Canada's Minister of Transport, Omar Alghabra, shared a video on his Twitter page in which he and other members of the Canadian Parliament parade in pink women's high-heeled shoes. In a post under the video, he noted that the politicians wore the signature pink shoes of the "Hope in High Heels" project, which raises awareness of various forms of violence against women and encourages men and boys to join in solving this problem. He noted that men should be aware of the consequences of their actions and words in order to make the world safer for women.
«Educating men and boys is part of the solution, and it is all of our responsibilities to end gender based violence», — wrote Canadian MP Karina Gould.
This action was initiated by the organization Halton Women's Place, which provides shelter and helps in crisis situations to women and their dependent children who have experienced not only sexual but also physical, emotional or financial abuse. The campaign has been running for four consecutive years, with participants wearing pink and walking around the city to draw public attention to the problem of violence against women. There is also a collection of funds to finance shelters.
Canadian politicians have decided to support the action and draw attention to the problem, but this is not the only way to fight gender-based violence in Canada. Thus, in 2017, the government developed a strategy to prevent and combat gender-based violence. The program involves informing the population, conducting testing and training to prevent violence, making changes to the judicial system.
In addition, the government develops draft laws and funds initiatives to combat violence. Specifically, in 2020, the Canadian government invested more than $240 million in emergency assistance to 1,400 women's shelters, sexual violence centers and other organizations, including nearly 140 organizations that care for indigenous people. Funds are also allocated for programs to improve services and respond to sexual violence in higher education institutions, support victims and their families, and preventive measures.
Every year in Canada, the 16 Days of Activism Against Gender-Based Violence campaign is held to raise awareness among the Canadian public. Organizers are trying to convey the idea that gender-based violence is not just a personal problem, but a systemic cycle in which every member of society must contribute to ending it.
Canada is also fighting gender-based violence at the international level in cooperation with other countries by supporting resolutions aimed at eradicating violence against women and girls. Canada is a member of the Global Call to Action to Protect Against Gender-Based Violence in Emergencies. In cooperation with other countries, with the assistance of the United Nations, Canada has developed a Roadmap that outlines actions to end gender-based violence in emergencies, covering the period from 2021 to 2025.
Also in 2022, the Government of Canada allocated 4.3 million US dollars to support projects aimed at ending gender-based violence around the world. In June of the same year, Canada joined the Global Partnership to Combat Gender-Based Online Harassment and Violence.
Attention
The authors do not work for, consult to, own shares in or receive funding from any company or organization that would benefit from this article, and have no relevant affiliations