Verification within Meta's Third-Party Fact-Checking Program
Russian propagandist Olga Skabeeva shared a video of the march of people and said that the celebration of Easter in Los Angeles has turned into a march and fight for LGBTIQ+ rights.
This is manipulation, because the march and Easter simply coincided in time. On April 9, 2023, Easter was celebrated in the United States, and a march in support of LGBTIQ+ rights was also held in Los Angeles on this day.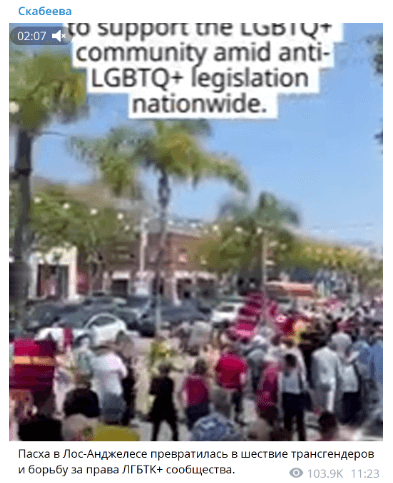 With the help of the caption on the picture, we managed to find similar videos of this march on the Internet and in the American media. In particular, on the website of The Pride magazine in Los Angeles, we found news from April 4, 2023 that a march in support of LGBTIQ+ rights is planned to be held in the city on April 9.
At the beginning of 2023, at least 417 anti-LGBTIQ+ bills were introduced in the US legislature. To oppose these laws, 40 LGBTIQ+ organizations, religious groups and activists gathered on the march on April 9, 2023. In addition, more than 2 thousand residents of Los Angeles came to the march.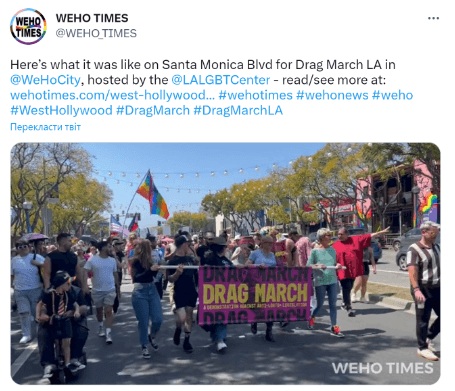 March in support of LGBTIQ+ rights in Los Angeles. Source: WEHO Times media
On April 9, 2023, there was also an Easter celebration in Los Angeles. However, the march for LGBTIQ+ rights and the Easter celebration are two separate events. On Easter in Los Angeles, church services were held, people gathered on beaches, parks, cemeteries and backyards.
Attention
The authors do not work for, consult to, own shares in or receive funding from any company or organization that would benefit from this article, and have no relevant affiliations