Verification of facts in partnership with Facebook.
The network is spreading information that a rally in support of the residents of the so-called people's republics "DPR" and "LPR" took place in Vienna. Activists in the city center unfurled banners, allegedly "demonstrating the rise of neo-Nazism in Ukraine" and opposed "Western anti-Russian propaganda."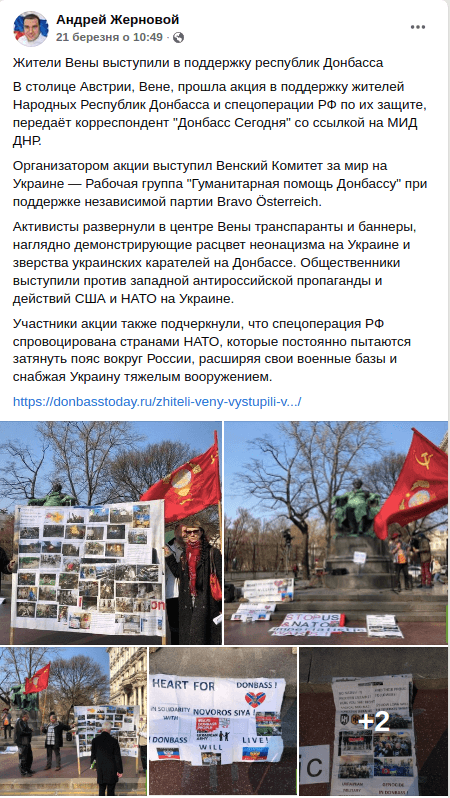 However, this is a manipulation.
As can be seen in the video broadcast , which was presented by the organizers of the event themselves – the party Bravo Osterreich, the rally was small. Among the direct participants of the rally, who held banners, delivered speeches and sang songs, we counted up to eight people. Another 100 people marched in a column with flags along the street during the rally.
As for the locals, the rally attracted the interest of a few of them – at first the majority of them just passed by, but there were those who stopped and tried to argue with the participants. However, in total, more than twenty-five people stopped to look at this event.
The fact that the rally was held by locals in Vienna is also questionable by the fact that, as you can hear at the beginning of the broadcast, several organizers speak Russian to each other.
As for the organizers of the rally, it is the party Bravo Osterreich, which is registered in Austria. The organizers define it as a "meta-party" whose goal is to "save and preserve the homeland, living space and way of life." The party's Facebook page has 66 followers, but they are not active – there are almost no discussions or reactions in the comments below the posts.
The party is led by Austrian Herbert Schlezak. On his Facebook page , he spreads anti-Ukrainian propaganda , insulting posts about Ukraine and President Volodymyr Zelensky, as well as posts in support of COVID dissidents and opponents of the COVID-19 vaccination.
Another member of the party who was managed to be found was Chris Mach. The party's website states that she works there as an editor. Numerous posts with anti-vaccination propaganda can be seen on Mach's Facebook page. She also spread anti-Ukrainian propaganda from Russian resources.
Support for COVID-dissidents and opponents of vaccination is enshrined at the level of the party itself – there is a separate section "Corona Tyrannei" ("Crown Tyranny") on its website, which states that the "fake pandemic, which has long been staged around the world " aims to realize " an attempt of a coup d'etat and an elimination of democracy, the rule of law and the constitutionally guaranteed rights and freedoms of the people of Austria." The party also spreads fakes that the COVID-19 pandemic does not exist, and the SARS-COV-2 virus has not yet been detected in the laboratory. We will remind, earlier VoxCheck already refuted both the first , and the second fake.
Reliable information about the course of the war can be found in the following sources:
Attention
The authors do not work for, consult to, own shares in or receive funding from any company or organization that would benefit from this article, and have no relevant affiliations