According to the information spread on the Internet one of the shells fired from Ukraine on Feb. 19 allegedly exploded 2 km from the Russian-Ukrainian border on the outskirts of the village of Mytyakinsk, Tarasiv district (Rostov region). It is also claimed that another shell destroyed an outbuilding on the territory of a private household in the village of Manotsky, Tarasiv district. Then it is concluded that Ukraine allegedly attacked Russia.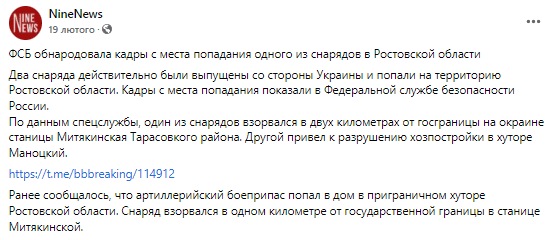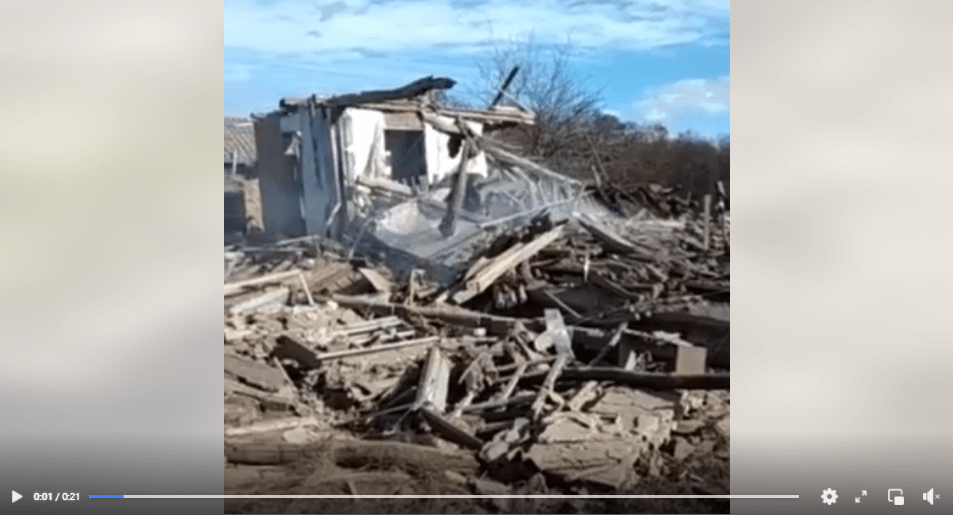 Video shared in this context
However, Ukraine did not fire on Russia. The shelling was fired from the village of Sukhodil, Luhansk region, which has been under the control of the Russian occupation forces since 2014.
On Feb. 19, 2022, the Investigative Committee of the Russian Federation reported that "Unidentified persons, being on the territory of Ukraine, using a multiple rocket launcher, fired on the border area of ​​Tarasiv district of Rostov region."
The Center for Strategic Communications and Information Security noted that the artillery units of the United Forces were more than 21 km from the line of contact. Instead, the maximum firing range of multiple rocket launchers "Grad" and 122-mm guns of the Armed Forces is shorter.
The international volunteer community InformNapalm analyzed the video, published on Feb. 20, 2022 on the NewsFront portal. The video allegedly confirmed that the artillery shelling was carried out by Ukraine.
The authors of the video video claimed that the shelling took place near the village of Bolotene, on the north side of the Seversky Donets River. However, the coordinates of the camera's location in the published video confirm that it was located in the village of Sukhodil. Since 2014, this territory has been controlled by the Russian occupation forces.
Attention
The authors do not work for, consult to, own shares in or receive funding from any company or organization that would benefit from this article, and have no relevant affiliations