Verification within Meta's Third-Party Fact-Checking Program
Since May 31, information has been circulating online about Pfizer CEO Albert Bourla allegedly stating during the World Economic Forum that one of the team's five goals was to reduce the world's population by 50% by 2023. To prove this, they cited a video of Bourla saying: "When we started in 2019, in the very first week that we met – in January 2019 in California – we set up goals for the next five years, and one of them was to reduce the number of people in the world by 50% by 2023."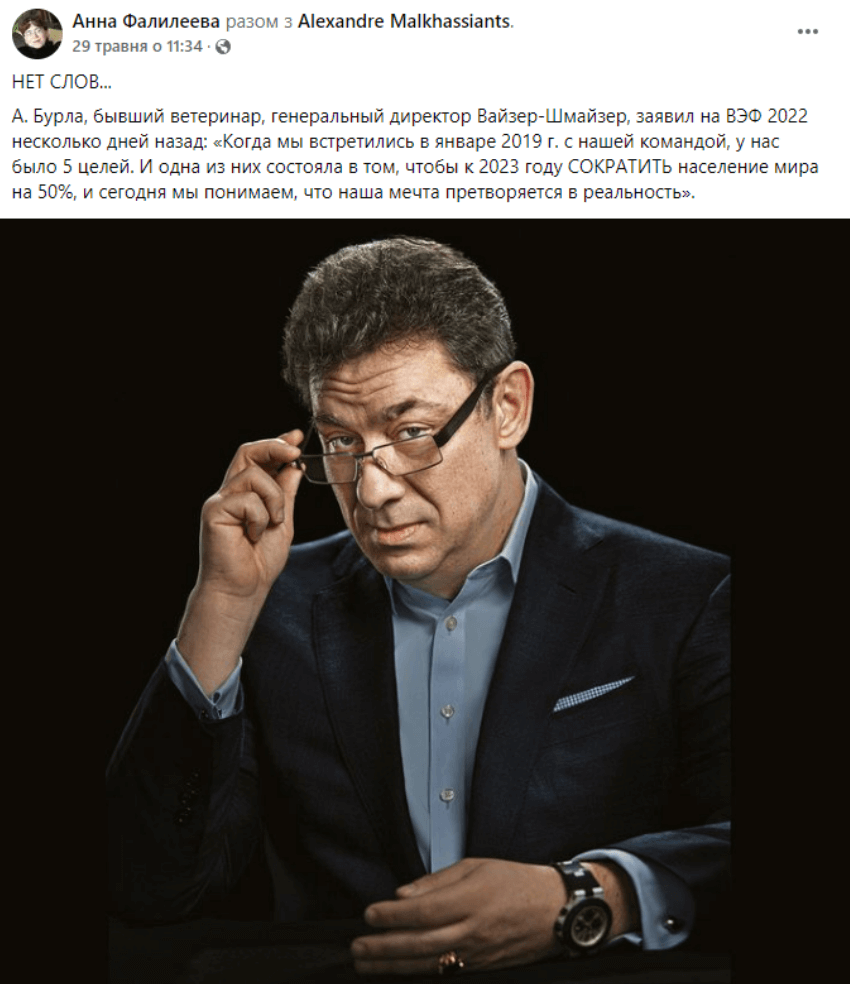 However, Albert Bourla said he wanted to reduce by 50% the number of people in the world who cannot buy their medicine by 2023.
On May 25, 2022, there was a conversation between Klaus Schwab and Albert Bourla at the World Economic Forum in Davos. In the original video, Bourla says, "The first week we met in January 2019 in California, we set up the goals for the next five years. And one of them is to reduce the number of people in the world that cannot afford medicine by 50% by 2023. I think today this dream is becoming a reality."
Therefore, Albert Bourla spoke about reducing the number of people who cannot buy medicine, not decreasing the world population. In a post shared on a Telegram channel, an edited video was published where the authors deliberately omitted the part where Bourla says the phrase "those who cannot afford medicine." 
Earlier, we debunked the fake news about the Pfizer CEO being arrested for fraud and the collapse of the shares of pharmaceutical companies. However, no authoritative sources reported Bourla's arrest or indictment. Also, Keanna Ghazvini, Pfizer's senior associate of global media relations, confirmed in an email to Reuters that the news was false.
Attention
The authors do not work for, consult to, own shares in or receive funding from any company or organization that would benefit from this article, and have no relevant affiliations