In August 2023, VoxCheck monitored 83 media outlets from Poland, Slovakia, Hungary, Czech Republic, Italy, and Germany, and identified 1150 cases of disinformation about Ukraine. The highest number of disinformation cases were found in Polish (242), German (217), and Hungarian (203) media. In August, European media were most active in promoting narratives about Western control over Ukraine and using it for their own purposes, discrediting or ridiculing Ukrainian authorities, as well as promoting the narrative that Ukraine's victory in the war is impossible.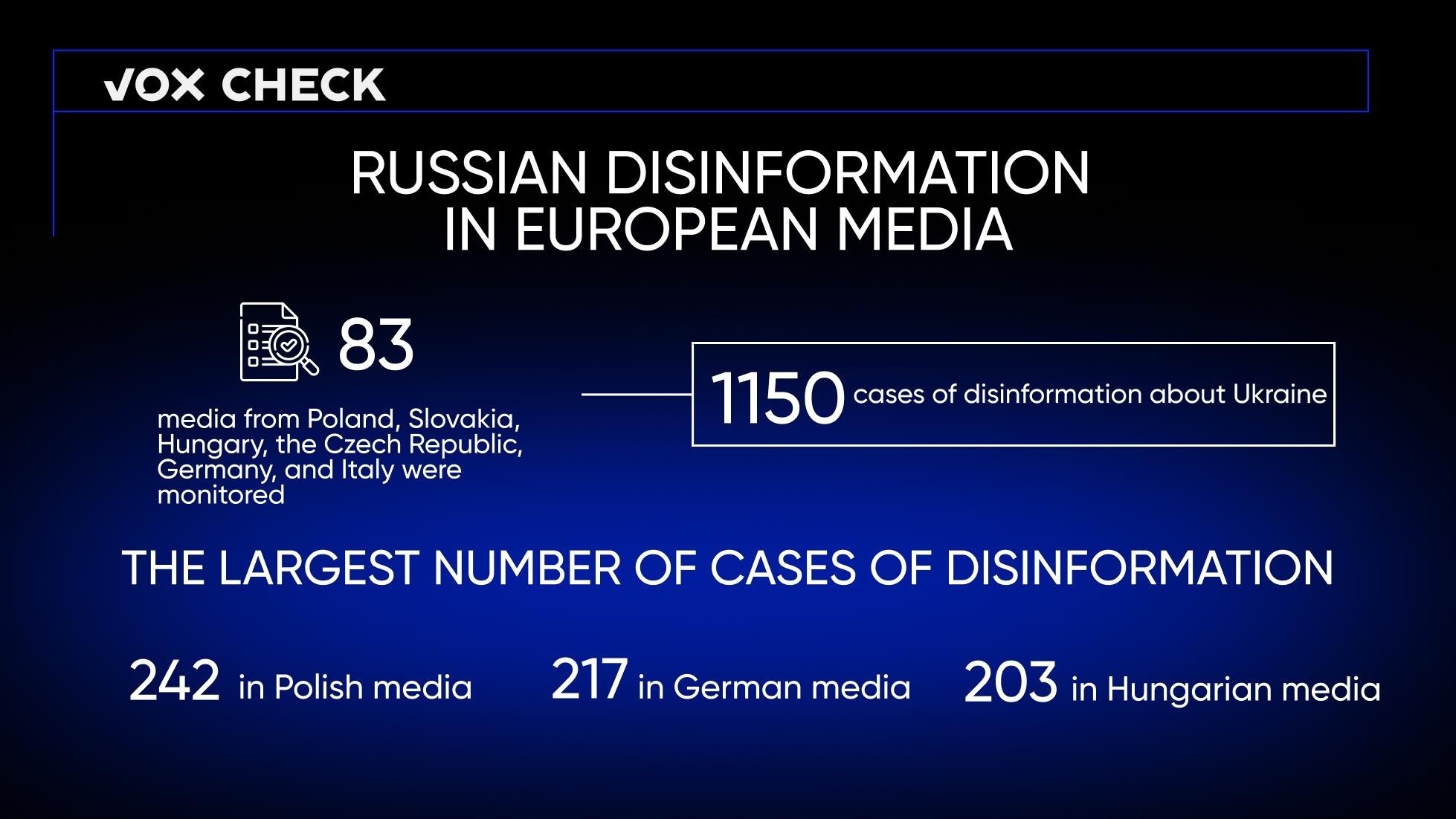 VoxCheck monitors the media in European countries (Germany, Italy, the Czech Republic, Slovakia, Poland, and Hungary) and analyzes the disinformation narratives about Ukraine spread by these media. For the most part, the detected fakes and manipulations are consistent with the main narratives of russian disinformation campaigns. Every month, the VoxCheck team publishes a report on the monitoring results. All disinformation messages, grouped into narratives and their refutations, will be displayed on the "Propaganda diary" database website. 
Poland
During the monitoring of 12 Polish media outlets, we identified 242 cases of disinformation, which can be grouped into 22 narratives. Pro-Kremlin media in Poland most actively promoted narratives about Western control over Ukraine and its use for their own purposes (50 cases), disinformation about Ukrainian refugees (36), and the narrative about weapons provided to Ukraine by Western partners (32).
Within the narrative claiming that the West controls and uses Ukraine, we encounter new fakes in Polish media: Ukraine is purportedly a colony of the West, and so is Poland itself. Therefore, propagandists assert that Poland will not be able to "profit from the reconstruction of Ukraine" as much as other NATO countries. Meanwhile, they claim that the Ukrainian nation has already been sold into slavery to the United States, completely negating its agency. Against this backdrop, disinformation spreaders write that Volodymyr Zelenskyi will soon be eliminated by US intelligence agencies due to the Ukrainian army's failed offensive, and American officials will continue their policy of "fighting Russia to the last Ukrainian."
When writing about Ukrainian refugees, propagandists make every effort to instill a hostile attitude towards them, while simultaneously criticizing the ruling Polish party "Law and Justice," aiming to turn readers against it ahead of parliamentary elections. They claim that due to the party's decisions, Ukrainian refugees in Poland live more affluent lives than Poles, frequently drive drunk, carry cold and firearms, and may even be carriers of cholera. The authors of pro-Kremlin publications emphasize that the ruling party will not be held accountable for any of this. Likely because it is untrue.
The third largest pro-Russian narrative in Polish media concerns the weapons provided to Ukraine by Western partners. The media spread fakes about Western tanks being unsuitable for combat in Ukrainian terrain, Ukrainians being dissatisfied with the functionality of Abrams tanks that aren't even in Ukraine yet, and Western partners mostly sending outdated weapons they want to get rid of, thereby creating the illusion of assistance. Overall, fake authors insist that the process of arming Ukraine will not change anything, but at the same time, the transfer of F-16 fighter jets to the Ukrainian army poses a threat to both Ukraine and all of humanity.
During this period, they also traditionally disseminated the narrative that Ukraine is not a democratic state (4 cases). Disinformation spreaders argue that Ukraine lacks the rule of law, is under police terror, and that "real" opposition is prohibited. However, the authors provide no evidence for these claims and present them as established facts. They also write about the imprisonment of the Metropolitan of the Tulchyn Diocese of the UOC MP for 5 years, portraying it as if the Ukrainian authorities are depriving citizens of their religious rights. Propagandists casually mention that the Metropolitan was convicted for justifying the aggression of the Russian Federation, not for belonging to the Moscow Patriarchate, yet they still consider it unlawful persecution of the UOC MP.
Italy
As part of the monitoring of 13 Italian media outlets for August, we identified 97 cases of Russian disinformation and 23 narratives. The highest number of reports were recorded within the narratives regarding Western control over Ukraine (16 cases), Russia's alleged necessity to start the war due to actions by Ukraine and the West (13), and disinformation claiming that Ukraine's victory in the war is impossible (9).
Italian media typically echo Russian claims that the West uses and controls Ukraine: NATO is at war with Russia on Ukrainian territory, sacrificing the lives of Ukrainians, the leadership of the United States, from the beginning, had a plan to weaken Russia through war, thus "hindering the establishment of peace" between Ukraine and Russia in the first weeks of the full-scale invasion, condemning Russia's actions. Propagandists also accuse U.S. President Joe Biden of the ongoing Russian-Ukrainian war, asserting that he, along with "European henchmen," is forcing Ukraine to continue its counteroffensive.
Russia, in turn, purportedly claimed it was forced to start the war with Ukraine due to its potential NATO membership — a fake narrative that we once again observe in pro-Kremlin Italian media. The leadership of Russia, disinformation creators assert, did not want to initiate a large-scale war and did everything possible to avoid it. However, feeling an "existential threat" from the potential expansion of NATO and "almost racist hatred" towards Russian culture for decades, if not centuries, Russia began a full-scale offensive. At the same time, it supposedly understood that it couldn't conquer all of Ukraine. Thus, the ongoing war is part of the Russian leadership's plan, as they claim.
To spread disinformation that Ukraine's victory in the war is impossible, propagandists use an old fake claim that the Ukrainian army's counteroffensive has not achieved any success. Referring to the Russian Ministry of Defense, they emphasize that at least 43,000 Ukrainian soldiers were killed in Ukraine in June and July, and 25 Leopard tanks were destroyed. In one of the media outlets, the authors provide different figures, claiming that at least a thousand Ukrainian fighters are supposedly dying on the battlefield every day, leading to a halving of Ukraine's population. Overall, the authors cite pro-Russian disinformation propagator Douglas Macgregor and argue that Ukrainians no longer hope for victory but are simply trying to survive the war.
In the Italian media space, fake claims about Ukraine's allies wanting to divide it continue to circulate (2 cases). The political elite of Poland allegedly considers Western Ukraine its territory, and thus, they will try to seize it. Or at least send "peacekeepers" there after Ukraine's "inevitable defeat" in the war with Russia, thereby occupying the western territories of Ukraine. While NATO countries do not explicitly express support for this idea, in reality, they are in favor of such a development, as it would allow for an expansion of NATO presence in Eastern Europe.
Germany
In 15 German media outlets, we identified 217 cases of disinformation about Ukraine, which can be grouped into 22 narratives. The largest number of cases falls under the narrative of discrediting the Ukrainian army (25 cases). The second most popular narrative suggests that the West supposedly controlled and continues to control Ukraine for its own purposes (24). The third most prevalent narrative is that Russia is at war with the West on Ukrainian territory (22 cases).
In an attempt to discredit the Ukrainian army, pro-Russian German media outlets spread fakes similar to those in Italian media: claiming that from the beginning of the full-scale invasion, at least 500,000 Ukrainians have been killed in action, the counteroffensive has failed, and within one week Ukraine lost about 20% of the equipment and weapons provided by Western partners. Additionally, they allege that Ukrainian army commanders were supposedly selling Western weapons to other countries at the start of the full-scale invasion. In this way, the creators of these fake narratives try to create the impression that the Ukrainian army is unprofessional and unreliable, and any attempts to assist or resist Russia are futile.
German propagandists also, as usual, spread the narrative about Western control and use of Ukraine. In an attempt to diminish Ukraine's agency in the eyes of the readers, the authors claim that the United States is testing "lethal biological weapons" in Ukraine and sabotaging peace negotiations between Russia and Ukraine in order to prolong the war and thereby weaken Russia. Fake creators also refer to the Russian Minister of Defense, Sergey Shoigu, stating that Ukraine is being used to test Western weapons and that the "Zelenskyi regime" permits this. In August, within this narrative, we recorded a large number of citations of fakes from pro-Russian disinformation propagators: Douglas Macgregor, Konstantin Kosachev, Sergey Lavrov, and Scott Ritter.
The next largest pro-Kremlin narrative in German media is about Russia waging a war against the West on Ukrainian territory. As usual, propagandists refer to the Russian-Ukrainian war as a "proxy conflict," but this time, they acknowledge that Putin made a mistake by attacking Ukraine. They claim that through this attack, he allegedly wanted to compel NATO to come to the negotiating table and agree on not expanding the organization to the East. However, the member countries turned out to be "irrational," and he did not take this into account. Consequently, Russia had to fight on Ukrainian territory against the "collective West," and recently, "some countries" from the Asia-Pacific region have also joined them.
German disinformation creators also claimed that Ukraine is not a democratic state (11 cases). They justify this assertion, in particular, by pointing out the existence of the "Peacemaker" list — the so-called "Ukrainian execution list," which allows for the "killing of enemies of Ukraine." According to the authors, those who dare to criticize the Ukrainian government or "attempt to understand Russia's political course" end up on this list. In addition, they allege that the "Zelenskyi regime" supposedly orchestrated an explosion at the St. Transfiguration Cathedral in July, in order to definitively break the opponents of autocephaly and expedite the process of transitioning church communities to the OCU.
Hungary
In 16 Hungarian media outlets, we identified 203 cases of disinformation about Ukraine, grouped into 23 narratives. Among them, the most prominent are narratives about the provision of weapons to Ukraine by Western partners (23 cases), Ukraine and the West's refusal of peaceful negotiations (21), as well as narratives about Western partners' control and use of Ukraine (19).
"Moscow has repeatedly warned that supplying weapons to Ukraine by the United States and their European allies will only prolong the fighting and increase the risk of direct confrontation between Russia and NATO," — with these words, Hungarian media attempted to convince readers that providing weapons to Ukraine makes no sense. Disinformation creators also suggest that the weapons provided to the Ukrainian army end up on the black market and that the counteroffensive is unsuccessful. Additionally, with reference to Scott Ritter, the disinformation authors claim that the F-16 fighters, which will later be handed over to Ukraine, are outdated and dangerous, and therefore they will be destroyed by Russia within one month.
 Within the narrative about Ukraine and the West's refusal of peaceful negotiations, we have identified new fakes: referring to Maria Zakharova, propagandists claim that the leadership of the United States ordered Ukraine to withdraw from peace negotiations in April 2022. Furthermore, they write that the Ukrainian government has completely prohibited legislative-level negotiations with Russia — although, in reality, it concerns the impossibility of negotiations with Russia during Putin's presidency. Moscow, however, supposedly is ready for negotiations and would like to conduct them. Disinformation creators also quote pro-Kremlin Prime Minister of Hungary Viktor Orban, suggesting that achieving peace depends entirely on the leadership of the United States because if the United States stops influencing Ukraine and assisting it, the war will end.
A number of Hungarian media outlets are echoing longstanding Russian claims that Ukraine's Western partners, particularly the United States, are using it as a tool to overthrow Putin's government, forcing Ukraine to participate in a proxy war and condemning "ordinary Ukrainians" to suffering. Pro-Russian propagandists characterize the assistance from Western allies as a neo-colonial policy aimed at profiting from the war and harming Russia, rather than helping Ukraine achieve victory. This is why, they claim with reference to Dmitry Medvedev, the West opposes peaceful negotiations between Ukraine and Russia, even though the latter wants to conduct them.
Hungarian pro-Kremlin media outlets have also propagated a narrative claiming that Ukrainians want to join Russia (4 cases). Allegedly, the Luhansk, Donetsk, Zaporizhzhia, and Kherson regions have "officially" become part of Russia as a result of conducted "referendums." At the same time, Kyiv and its Western partners, for reasons unknown to disinformers, still consider these referendums illegal and the results fake. Additionally, fake news sources, citing Russian propagandist media, claim that residents of the "liberated" Mariupol supposedly celebrated Russia's flag day in August, which would allegedly indicate their support for the occupation.
Slovakia
As part of the monitoring of 13 Slovak media outlets in August, we identified 202 cases of Russian disinformation, which can be grouped into 23 narratives. The highest number of reports were recorded in narratives claiming that Ukraine's victory in the war is impossible (31 cases), that the actions of Ukraine and the West provoked Russia to start a full-scale war (25 cases), and in disinformation discrediting representatives of the Ukrainian government (24 cases).
When speaking about the impossibility of Ukraine's victory, Slovak propagandists use the same fakes we have already identified in other countries: claims of the unsuccessful counteroffensive, and significant losses in personnel and technical equipment of the Ukrainian army. Like last month, disinformers predict the rapid capture of Odesa by Russia. Now, they write, Russia will definitely do it because earlier, it simply had no intention of taking the city in order to "avoid escalating the conflict." Moreover, one media even suggests that Ukraine has already lost, and therefore, the United States needs to sit down for negotiations with Russia; otherwise, it will be "too late," and the "Collective West" will have to enter the war.
As part of the narrative that Ukraine's actions, along with those of the West, provoked Russia to start a full-scale war, disinformers quote the pro-Russian filmmaker Oliver Stone. He claims that the roots of the full-scale war lie in the "state coup" of 2014, sponsored by the United States. Additionally, in his opinion, the fact that the U.S. did not recognize the "autonomy" of Donetsk and Luhansk is just further evidence that the States did not seek an end to the war. Similarly, Volodymyr Zelenskyi does not want to establish peace, as he supposedly could have simply abandoned the course for NATO membership to stop the hostilities, or even entirely avoid the war if he had done so earlier.
Slovak pro-Russian sources, in an attempt to discredit or ridicule Ukrainian government representatives, typically spread numerous fakes about Volodymyr Zelenskyi specifically: they claim that his alleged corruption is the reason for the "failure" of the Ukrainian counteroffensive, and as a result, NATO plans to remove him from power in Ukraine. Furthermore, some media outlets, citing former CIA analyst and Putin supporter Larry Johnson, assert that U.S. intelligence agencies will attempt an assassination on Zelenskyi and blame Russia for it. In another pro-Kremlin Slovak media outlet, it is suggested that Volodymyr Zelenskyi could be removed through elections, but they do not rule out the possibility that the U.S. and the UK might still attempt an assassination.
In addition, Slovak pro-Kremlin authors spread a narrative about "Nazi ideology" in Ukraine (10 cases). They cite quotes from an article by Ukrainian collaborator Viktor Medvedchuk, claiming that since 2014, "neo-Nazi forces under Western supervision" have been imposing a "cult of death" on Ukraine and calling for a full-scale war with Russia to kill as many Russians as possible. Children are allegedly being raised with "sadistic cartoons and Nazi slogans," while adult citizens are being driven to madness by Russophobia. Referring to Scott Ritter, disinformers also assert that "Banderites are everywhere," and this yea, they even organized a camp for Ukrainian children in the USA where children are required to wear uniforms similar to those worn by Hitler Youth members.
The Czech Republic 
In 14 Czech media outlets, we identified 189 cases of disinformation about Ukraine, which can be grouped into 19 narratives. The largest number of cases falls into the narrative of discrediting the Ukrainian government (37), followed by the narratives claiming that the West controls Ukraine for its own purposes (34), and the belief that Ukraine will not be able to win the war (20).
In their efforts to discredit the Ukrainian government, disinformation creators are also propagating falsehoods about a future attempt by Western allies to assassinate Volodymyr Zelenskyi. They explain this by asserting that the United States has concluded that "Zelenskyi is unstable, prone to irrational actions, and extremely unreliable in terms of preserving information." Given that he purportedly knows about corrupt schemes involving leaders of the Western world, leaving him alive is considered dangerous. Additionally, disinformers from one media outlet label him as a "vassal" of the West; however, they later state that the Ukrainian government disregards American advice on conducting the war, and Zelenskyi boycotts NATO summits.
The propagandists attempt to convince readers that the Western partners are using Ukraine with the following arguments: 'Regardless of the outcome of this war, Ukraine is nothing more than a bargaining chip in high-level politics and a resource base for other countries in the future.' They insist that the West 'dragged' Ukraine into a war that is actually a conflict between the United States and Russia, aiming to weaken Russia and subsequently target China. According to the creators of this disinformation, Ukraine lacks any agency and thus cannot independently make decisions about how to act in the war — these decisions are imposed on it by Western partners.
In the narrative about the impossibility of Ukraine's victory, we have identified new falsehoods: Russia supposedly will not only achieve victory, but also cause the dissolution of Ukraine and NATO, and most Western countries are aware of this. Therefore, NATO members have already decided to stop assisting Ukraine, but it seems they have not announced it publicly yet. The authors typically spread various versions that contradict each other to confuse readers or give them the illusion of choice: in various media outlets, they state that while Western partners are aware of the inevitability of Ukraine's defeat, they will continue to help and "fight to the last Ukrainian," even if the existence of Ukraine and NATO is at stake.
Czech propagandists also spread a narrative about black transplantology in Ukraine (5 cases). With references to Maria Zakharova and Secretary of the Security Council of Russia Nikolai Patrushev, they claim that Ukraine has become one of the world leaders in black transplantology. This includes the alleged secret removal of organs from wounded fighters of territorial defense and police in the Odesa and Zaporizhia regions by the Ukrainian military command. However, in the same article, propagandists later write that potential donors must give their consent for blood and possibly organ donation, or else they will be sent to the front lines.
Attention
The author doesn`t work for, consult to, own shares in or receive funding from any company or organization that would benefit from this article, and have no relevant affiliations