In our previous article, we discussed quantitative dominance of Russian studies within Slavic studies in leading US universities. Now  we look at the qualitative side of curricula. Namely, we examine the description of courses in culture, literature and history and look for biases, mistakes and Russian narratives there (spoiler: we find quite a few).
In a famous experiment on imprinting, geese used to follow researcher's boots to which they were exposed soon after birth. Of course,  humans are more developed than birds but we have priming biases too (see Kahneman's "Thinking fast and slow"). For example, we tend to trust the information which we see first, even if this information is not true. Unfortunately, if bad ideas are imprinted early on, they persist and may even start their own lives. Antivaxxers' messages are an extreme example of lies that directly result in many deaths but other imprints can be damaging in other ways. 
Western universities by and large continue to imprint into students Russian "greatness" or "unique culture", offering not only many more courses on Russia than on other countries in the region but also propagating Moscow-centric narratives. This take fails to portray the real Russia – an empire that wreaks havoc around the globe but is corrupt and weak behind the macho facade. The cost of imprinting this "great Russia" narrative comes in things big and small:  businessmen selling weapon parts to Russia or limiting the use of Starlink in Ukraine, politicians trying hard to "save Putin's face", philosophers urging Ukraine to surrender, and even the Pope praising imperialist tsars to Russian youth. In light of how much pain Russia causes in Ukraine and elsewhere, all of these things are absurd and cruel but they are consistent with the thinking that Russia must be respected because it is "great". Sadly, universities continue to breed new generations of Russia-Verstehers. 
What are the facts?
We collected unique textual descriptions of Slavic studies courses offered to undergraduates by 13 top US universities in 2021/22 and 2022/23 academic years. We looked at courses that can be broadly classified as "Literature" (only readings), "Culture" (these may include readings but also music, films, architecture, etc.) and "History" (these may also include readings and culture). Since course descriptions are used to "sell" courses to students, we looked for promotional words and narratives in the descriptions. Examples are "great/greatest", "masterpiece", "talented", etc. We call them "superwords". We also looked for misconceptions or mistakes, such as tracing the origins of modern Russia or the Russian Empire to medieval Rus or portraying Russia  as uniformly "Russian" (there are over 150 peoples in the Russian Federation). 
Literature and culture: promotion of Russian "greatness"
Figure 1 presents the use of "superwords" in the descriptions of courses in literature and culture (we turn to history courses in the second part of this article). It shows that literature is much more skewed towards Russia both quantitatively and qualitatively (tables A1 and A2 in the Annex provide the details). 

Figure notes: the horizontal axis shows the number of course descriptions that do and do not utilize "superwords". Y-axis shows geographic categories (the details can be found in the tables A1 and A2 in Annex). "Russia" means courses devoted solely to Russian literature or culture, "Russia & other" includes courses that study literature or culture of both Russia and other countries/regions, e.g. Eastern Europe, "other" category includes courses that study countries and regions except Russia.
Almost one-third (31%) of course descriptions on Russian literature have 'superwords', while the corresponding figure for non-Russian literature is 11%. Moreover, descriptions of courses on other Slavic literature use more "modest" words. For instance, compare "notable artistic skills" (Serbia) or "a delightful act of defiance"(Poland) with "literary masterpieces that transcend time and place" (Russia). 
Course descriptions in Culture are more balanced – only 14% of them use "superwords". However, for courses on Russia this share is 24% compared to 11% for courses in non-Russian cultures.  We also looked at the number of courses devoted exclusively to one artist/writer. We found quite a few of them in literature (and even quite a few courses devoted to just one book) – 49 courses in Russian literature, 1 in Serbian and 2 in Polish. In culture, there are three such courses for Russia and one for Poland (see Tables A4 and A5 in the Annex). 
What is the appropriate benchmark? Comparing literatures (cultures, histories, etc.) is an utterly difficult task but one may argue the Nobel prizes convey quality and so may provide an imperfect but useful metric. As of 2023, Nobels in literature were awarded to a number of authors in Eastern Europe: 6 Poles, 5 Russians, 1 Hungarian, 1 Bulgarian, 1 Czech, 1 Romanian, 1 Yugoslav, 1 Belorussian. Yet, somehow few courses focus exclusively on Polish writers or praise them as much as Russian writers.  
Four courses each in Literature and Culture equate medieval Rus and Russia, and five courses in each of them equate Russia and the USSR. One course places Chornobyl in Russia which is of course absurd. 
Cultural appropriation is quite common too. Not only Gogol and Chekhov are routinely labeled "Russians" (although they wrote in Russian, they considered themselves Ukrainians; one may also remember that the Russian Empire implemented very harsh Russification policies, including the prohibition of Ukrainian language), but Andriy Kurkov and Yevgenia Belorusets, who have Ukrainian passports, are also included into Russian literature courses. 
Appropriation of Ukrainian artists (and artists of other colonized nations) is just one method used by the Russian Empire to erase national identities of subjugated peoples. Another is killing people: a whole generation of Ukrainian artists is called Executed Renaissance.   Tragically, this "execution" approach is far from over. One of the courses on Ukrainian culture which we considered includes interviews with Ukrainian writers. Among them is Victoria Amelina who was killed by a Russian missile a few months ago. During just the 20th century, the Russian Empire (and later USSR) killed thousands of Ukrainian writers, artists, scientists, musicians etc. 
History: promotion of Russian propaganda
We adopted a slightly different approach to studying History course descriptions. Although we still looked for "superwords", which in this case included "superpower", "world power", "heroes", etc. (Figure 3, Table A3), we concentrated more on identifying false narratives.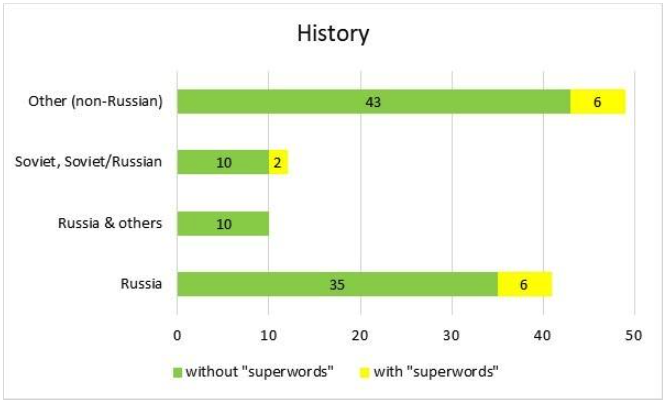 Figure notes: the horizontal axis shows the number of course descriptions that do and do not utilize "superwords". Y-axis shows geographic categories (the details can be found in the table A3 in Annex). "Russia" means courses devoted solely to Russian history, "Russia & other" includes courses that study history of both Russia and other countries/regions, e.g. Eastern Europe, "other" category includes courses that study all countries and regions except Russia or USSR, and Soviet/Russian category includes courses that include the Soviet Union.
Here again we see placement of Rus into Russian history (6 courses, one of which even writes "Kievan Russia", which is complete nonsense – see box) and equating Russia and USSR (10 courses).  We can also see more modern manipulations, such as "unification of Russian state by Muscovy" (brutal occupation of other lands by Muscovy dutchy), Great Patriotic War (German-Soviet war within WWII), "conflict in Ukraine", "Russia-Ukraine conflict", "events in Ukraine" as euphemisms for the Russian war of aggression, etc. 
It is Kyiv, not Kiev. And Rus is not Russia
The name 'Russia' was adopted by the Muscovy Dutchy in the first half of the 18th century. It is the appropriation of the name of the medieval state of Rus (Rothia in Greek), which had its center in Kyiv. Rus is first mentioned in the 9th century, and between 12th and 19th centuries the names "Ukraine" (which means "country" or "land" in Ukrainian) and "Rus" were used in parallel to denote the territory more or less in the borders of today's Ukraine. Until the late 19th century Ukrainians who lived in the Austrian-Hungarian Empire called themselves Rusyns – the term derived from Rus. When the Ukrainian nation was being formed in the late 19th – early 20th century, it adopted the name "Ukraine/Ukrainian" to clearly distinguish itself from Russia [1].
Deriving the history of Russia from medieval Rus is the same as deriving the history of Romania from ancient Rome. Indeed, several cities of today's Russia were colonies of Rus. However, Moscovia is much more related to the Golden Horde than to Rus.
By appropriating Ukrainian history, Russia tries to link itself to Byzantium (since the Cristianity arrived to Rus from Byzantium) and justify its imperial ambitions (Moscow as a Third Rome etc.). It appropriates Ukrainian history and culture not only ideologically but also physically. For example, just two Russian museums contain 110 thousand (!) archeological artifacts from Ukraine; 12th century mosaics from Mykhailivsky monastery destroyed by Bolsheviks are now displayed in Tretyakov gallery, and since 2014 Russia continues to rob museums in the occupied territories of Ukraine.
Finally, the Ukrainian spelling of Ukraine's capital is Kyiv. Spelling it in the Russian way – Kiev – is supporting Russian colonization of Ukraine.
Some course descriptions made us wonder if the instructors understood history. For example, one course on Eastern Europe discusses "70 years of departure from Western values and at last effort to turn back to them". We read this as suggesting that Eastern Europe deliberately abandoned Western values and turned to communism after WWII, completely ignoring the fact that Britain, the US and USSR in Yalta in 1945 agreed to leave Eastern European states under Soviet rule and de-facto occupation. 
Another course suggests that "church politics and inter-Christian conflicts play a major role in the politics of contemporary Ukraine". While there indeed were tensions between Catholic and Orthodox churches in the 16th-19th centuries in Ukraine, starting from the 20th century and definitely in modern Ukraine this is no longer true. The only "church conflicts" that are present in Ukraine today are the tensions between the anti-Ukrainian Russian orthodox church controlled by KGB/FSB and other Ukrainian confessions. 
Yet another course describes Ukraine as a "30-year-old nation" and "a colonial addendum of Poland, Russian Empire, and the USSR", overlooking the fact that the modern Ukrainian nation was formed in the 19th – 20th centuries, in the same way as the majority of European nations. Indeed, Ukrainian president Leonid Kravchuk in 1992 received state symbols from the government-in-exile of the Ukrainian People's Republic that was formed in the early 20th century. Ukrainians fought for their independence both in 1910s-1920s and during WWII, and this fight was inspired by the earlier Cossac state (Hetmanshchyna), which in its turn defined itself a descendant of the Rus Kingdom.
Finally, consider this course description: "In three centuries [1613-1917], [the Romanovs] transformed [Russia] from a landlocked country, inhabited largely by ethnic Russians, into a sprawling, western-oriented, multi-ethnic empire, governing well over 100 million people across some 8.6 million square miles."  This sentence is a collection of imperial myths. First, until the early 18th century the country in question was called Muscovy (Moscovia). The concept "ethnic Russians" is problematic even today, and it was non-existent in the 17th century (the territory of the European part of Russia was inhabited (and is still inhabited) by Finnish-Hungarians). The Western orientation of the Russian empire is also quite questionable – rather, it used to contradistinguish itself from the West, both in the military and cultural dimensions. Finally, being large in terms of territory and population becomes much less appealing if we remember the methods by which this "largesse" was achieved – continuous wars and genocides that last even today.
Sources of pro-Russian bias: money, inertia, ideology
What are the sources of these pro-Russian biases in today's academia? From our analysis and conversations with people who provided feedback on our first article, we see three main reasons: money, inertia, and ideology. Let us consider them in turn.
First, Russia invested billions of dollars into promotion of "its" literature and arts as well as its view of Eastern European history abroad. It still invests a lot of money into promoting false historical and geographic narratives: thus a history book that you buy for your child may well contain false narratives that medieval Rus and Russia is the same country, and a map may show Ukraine without Crimea or even without the territories occupied by Russia in 2022. Russia invests billions of dollars into foreign think tanks and politicians who help proliferate its point of view and describe Russia as a "force that should be respected and feared" and into political projects that help wreak havoc in Western societies. The return to Russia on these investments is the weakening of democratic countries, destruction of the international legal order, and fewer challenges to false narratives that benefit Russia. 
Second, many authoritative voices are proliferating Russian propaganda (e.g. Noam Chomsky and Jeffrey Sachs). This situation is not new – for example, Bernard Shaw was writing about "hopeful and enthusiastic working class" in March 1933, when thousands of Ukrainians were dying every day from the famine engineered by the Kremlin (this massacre killed at least 3.9 million people during 1932-33). Albert Einstein praised 'Russia' (the USSR) for protecting Jews, although anti-semithism was the state-level policy of both the Russian Empire and the USSR. These examples illustrate the effectiveness of Russian propaganda. Moreover, not only foreigners were fooled. Many people who were forced to emigrate or tried hard to escape from the Russian/Soviet concentration camp soon developed nostalgia, probably forgetting why they emigrated in the first place. A prominent example is the Nobel-prize winner Joseph Brodsky with his infamous poem "On independence of Ukraine." Having escaped the country where he was bullied for being Jewish and was not allowed to freely express his opinion, he nevertheless denied Ukrainians the right to exit the Soviet GULAG and have their own nation state.
Third, many intellectuals around the world (e.g. Jean-Paul Sartre) were blinded by the communist ideology proclaimed by the USSR. This ideology of freedom and 'universal equality' seems appealing – until you see its practical implementation. Everywhere – in the USSR, in Latin America, in China, Cambodia, or North Korea – implementation of the communist ideology resulted in dictatorships, concentration camps, mass murder, famines and wars. Even if communist ideology led to some brighter future (it does not because elimination of private property leads only to poverty), this would be too high a price for it. Yet, many in Western societies prefer listening to Walter Duranty who received the Pulitzer prize for his mendacious reports on "wonderful" life in the Soviet Union in 1920s-1930s rather than to Gareth Jones who told the truth about the famine in Ukraine. Perhaps the reason for this is the imprinting performed by Russian studies?
What to do?
The situation needs to change. While we understand that money, inertia and ideological bias are considerable stumbling blocks to this change, we also believe that the role of intellectuals in society is adoption and proliferation of new ideas and new paradigms when old ideas no longer pass the reality test. We don't think that Western intellectuals want to play the role of those scientists who refused to look into the telescope when invited to do so by Copernicus.
Specifically, as stated by Dr. Smith-Peter, Russia should be studied in the "empire and", not in the "empire but" framework. This means recognizing that Russia is a typical empire, only more cruel and better at propaganda than other empires. Second, studies of Ukraine, other Eastern European and Central Asian states as well as post-Soviet countries should use sources from these countries rather than only Russian sources (it would be strange if American students studied the history of India solely from British sources, right?). 
There is no lack of qualified historians, linguists or economists from these countries, many of whom work at US or European universities. There is no lack of studies that tell the truth about the nature of Russia either (e.g. publications by Serhiy Plokhy or Timothy Snyder). One only has to recognize the unpleasant truth: that the "imprint" of the "great Russia" is false. Russia is (and has always been) an aggressive totalitarian state whose only export product is chaos and destruction. We believe that university professors should imprint the truth rather than Russian propaganda into their students.
Annex
| | | | |
| --- | --- | --- | --- |
| country/nation/ region | total number of courses | number of course descriptions with "superwords" | examples of "superwords" |
| Albania | 1 | 0 | – |
| Bulgaria | 1 | 0 | – |
| Eastern Europe | 10 | 0 | – |
| Eastern Europe & post-Soviet | 3 | 0 | – |
| Europe & Russia | 1 | 1 | imperial conflict between russia and the west, "The Great game" |
| Jewish | 2 | 1 | classic authors |
| Poland | 5 | 1 | Reading Tokarczuk is a delightful act of defiance!  |
| Russia | 134 | 42 | "masterpieces" (13 times), "great/greatest" (12 times, including "the world greatest novel"), "brilliant", "hidden gems", "most vivid and tenacious characters in world literature", "Russia as home to a unique culture… especially literature, universally acclaimed for its humanistic ethos, empathy, and psychological depth", "literary masterpieces that transcend time and place", "[Tolstoy] came to be viewed as a second Tsar in Russia and as a moral authority throughout the world"; "philosophically challenging novels"  |
| Russia & Eastern Europe | 8 | 2 | "monumental conceptualization", "pioneering work", "great" |
| Russia & the West | 1 | 1 | magisterial "War and Peace" |
| Russia & US | 2 | 1 | "great" (refers to both Russian and US writers) |
| Russia & Ukraine | 1 | 1 | "masterpieces" (refers to both Russian and Ukrainian writers) |
| Russian & Soviet | 3 | 2 | "one of the world's richest traditions of science fiction writing"; "one of the richest and most controversial literatures of modern times" |
| Serbia | 1 | 1 | "notable artistic skills" |
| Soviet & post-Soviet | 1 | 0 | – |
| various | 1 | 0 | – |
| undefined | 1 | 0 | – |
| total | 176 | 53 | – |
| | | | |
| --- | --- | --- | --- |
| country/nation/ region | total number of courses | number of course descriptions with "superwords" | examples of "superwords" |
| Baltic | 1 | 1 | important contributions to Western civilization |
| Belarus | 1 | 0 | – |
| Czech | 1 | 0 | – |
| Eastern Europe & Asia | 6 | 0 | – |
| Eastern Europe & post-Soviet | 2 | 0 | – |
| Eastern Europe & Russia | 16 | 1 | great Russian, Polish and Yugoslavian story-tellers |
| Eastern Europe & Russia & Eurasia | 1 | 0 | – |
| Europe & Russia | 2 | 0 | – |
| Jewish | 5 | 0 | – |
| Poland | 12 | 2 | "the hidden genius", prominent role that theater and dramatic texts continue to play in Polish society |
| Roma | 2 | 0 | – |
| Russia | 46 | 11 | "masterworks", "prominent writers", "astounding religious-philosophical flowering", "Russian culture as a formative force of national identity", "iconic works"; "innovative system of film thinking…known in the history of cinema as Russian/Soviet Montage"; "Russian sport has risen to world domination"; "in 2018, Russia hosted – very successfully – by far the biggest single-sport event in the world: FIFA's World Cup";  "great writers, artists, architects, and composers"; "unique Euro-Asian culture, nation, and world power"; "the death of the Soviet utopian project has been one of the most consequential events in the history of the twentieth century"; "powerful texts" |
| Russia & Asia | 1 | 0 | – |
| Russia & post-Soviet | 3 | 0 | – |
| Russia & US | 2 | 0 | – |
| Russian & Soviet | 10 | 2 | "some of the most influential films in the history of cinema"; "impressive body of Russian and Soviet cinema" |
| Russian Jews | 1 | 0 | – |
| Serbia | 1 | 0 | – |
| Soviet | 6 | 0 | – |
| Soviet & "third-world" | 1 | 0 | – |
| Soviet & post-Soviet | 3 | 0 | – |
| Ukraine | 7 | 1 | hidden gems |
| Ukraine & Russia | 1 | 0 | – |
| Eastern Europe | 16 | 3 | "unique films", "talented and committed filmmakers", "powerful films", "talented sculptors" |
| undefined | 2 | 0 | – |
| total | 149 | 21 | |
country/nation/ region

total number of courses

number of course descriptions with "superwords"

examples of "superwords"

Baltic

1

0

–

Czechia

2

1

Prague: "one of the most beautiful and culturally vibrant cities in Europe"; "magnificent streets and buildings"

Eastern Europe

21

0

–

Eastern Europe & Russia

3

0

–

Eurasia

3

2

one of the most influential regions of the world; home to several of history's most powerful overland empires, as well as its most notorious figures: Genghis Khan, Alexander the Great, Ivan the Terrible, and others.

Europe

1

0

–

Global South

1

1

Cold War, traditionally defined as a conflict between two superpowers and their respective allies

Jewish

3

0

–

Poland

3

1

this course will offer plenty of heroes

Roma

1

0

–

Russia

35

6

"one of the greatest powers in Europe and Asia"; "In the span of a single century, Russia went from unstable empire to revolutionary proving ground, from scene of mass starvation to space pioneer, from the geopolitical sidelines to a seat among superpowers — all before falling back again"; "empire of difference"; "literary masterpieces"; "question of the West-Russia's most passionate romance and most bitter letdown"; "largest country in the world (2)"; "the colossus that stretched from Central Europe to the Pacific Ocean"

Russia & Ukraine

6

0

–

Russia & US

1

0

–

Russia/Soviet

2

0

–

Soviet

10

2

"superpower"; "world power";

"transformation from being unique and exhilarating to being much like everyone else" 

Ukraine

7

1

"the most significant geopolitical crisis of the 21st century"; "the largest land war in Europe since WWII"

total

100

14
| | | |
| --- | --- | --- |
| country | number of courses | "single-course" writers/ books |
| Serbia | 1 | Pekić |
| Poland | 2 | Gombrowicz, Tokarczuk |
| Russia* | 49 | see below |
| of them | | |
| | 2 | Pushkin |
| | 1 | Bakhtin |
| | 6 | Tolstoy |
| | 4 | Tolstoy "War and Peace" |
| | 8 | Nabokov |
| | 1 | Nabokov "Pale Fire" |
| | 1 | Nabokov "Lolita" |
| | 3 | Tolstoy & Dostoevsky |
| | 7 | Dostoevsky |
| | 1 | Dostoevsky "Devils" |
| | 1 | Dostoevsky "Crime&Punishment" |
| | 1 | Dostoevsky  "Karamazov Brothers" |
| | 1 | Grossman "Life & Fate" |
| | 2 | Bulgakov "M&M" |
| | 1 | Pelevin |
| | 1 | Pasternak |
| | 1 | Zamyatin |
| | 4 | Chekhov |
| | 3 | Gogol |
| | | |
| --- | --- | --- |
| country | number of courses | "single-course" artists |
| Russia | 3 | Shostakovich, Eisenstein, Dostoevsky "Crime & Punishment" |
| Poland | 1 | Bruno Schulz |
Attention
The authors do not work for, consult to, own shares in or receive funding from any company or organization that would benefit from this article, and have no relevant affiliations