This week, pro-Russian media assured us that Russia would only attack if provoked, in tune with Russian politicians. The new provisions of the law on languages traditionally stirred a wave of hatred and manipulation. Now print media are allowed to be published in other languages in Ukraine if the same edition is published in the state language. Like Russian media, pro-Russian platforms wrote about "caveman-style Russophobia" and "discrimination against Russian-speaking."
VoxCheck analyzes how Russian narratives get into Ukraine's information space as part of a joint project with the Center for Strategic Communications. Read the previous publications here. 
Soros as a "universal evil"
Pro-Russian websites such as Klymenko Time, Vesti, Ukrainian News, Golos.ua, Podrobnosti, uaport, Fraza.ua, Mir, Vector News, and Kherson Life spread the news of a rally against George Soros held near the Presidential Office. They wrote about the rallies' demands as if using a Russian propaganda manual: "against the country's external governance and interference in Ukraine's affairs from outside." Rupor, Forum, and Bagnet wrote that the rallies against Soros and his activities in Ukraine were held as far away as Zakarpattia.
Vesti has never parenthesized Soros's "subversive activities." They have hardly questioned it, given their previous publications. The news piece "They demand that Soros's acolytes be thrown out of Ukraine" reads: "The Renaissance Foundation, this bulwark of George Soros in Ukraine, has been active in trying to influence political and economic events in the country. One of Soros's main activities is exerting control over the media. Soros is also very interested in Ukrainian land and the possibility to buy it."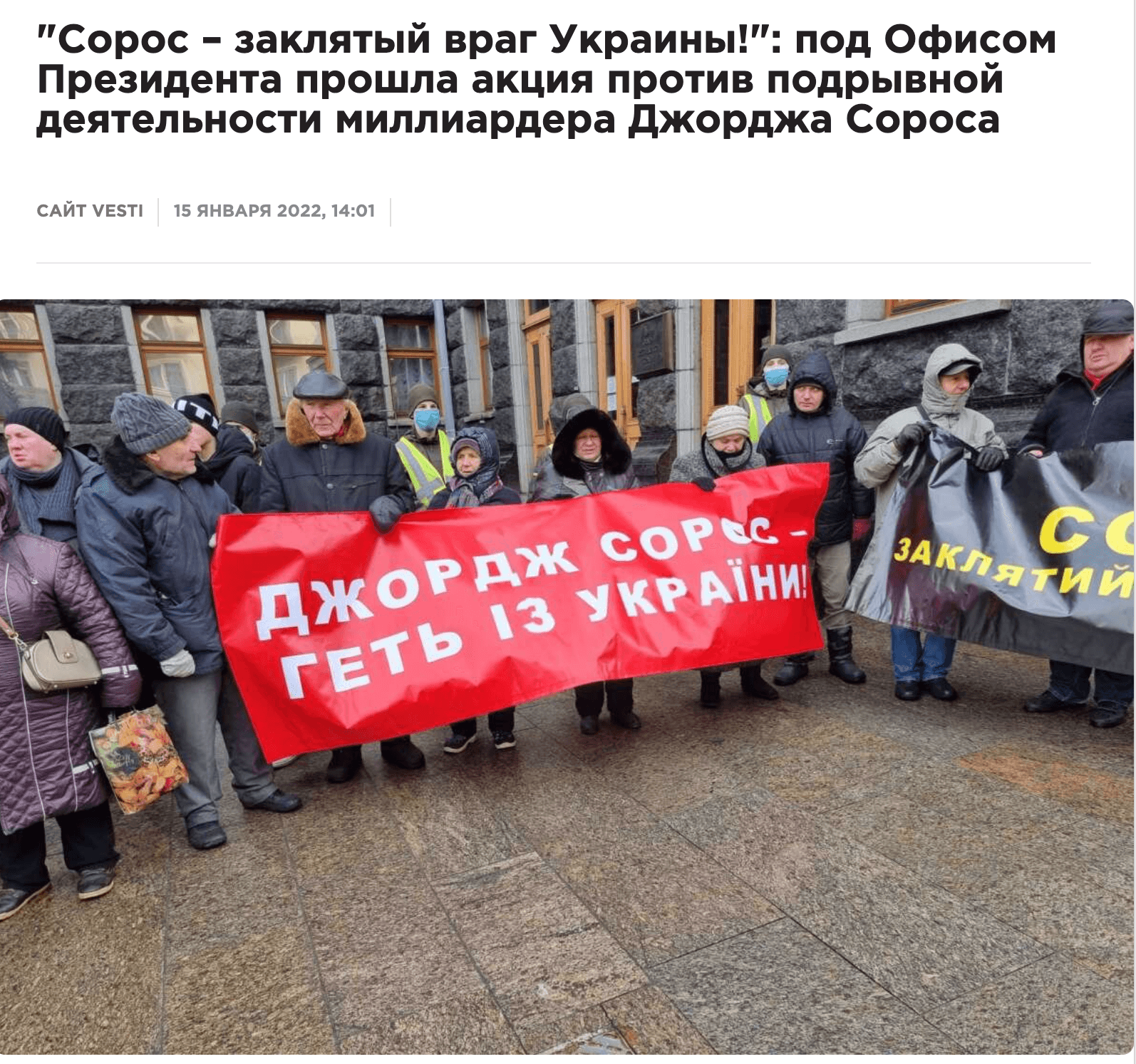 Translation: "Soros is the sworn enemy of Ukraine!" A rally was held against billionaire Soros's subversive activities near the Presidential Office
Vesti's animus towards Soros is understandable. According to the media outlet, Viber refused to showcase their channel in the Explore section as it bases the list on the quality media rankings from the Institute of Mass Information (IMI). "According to open data, this platform (IMI – ed.) is supported by the G. Soros USAID program," Vesti wrote. However, USAID is the United States Agency for International Development established in 1961, not one of Soros's programs. It turns out they published that many pieces about him in vain.
Klymenko Time got back to Soros a week later. It specifically wrote that "Poroshenko turned the country into a sort of public thoroughfare for foreigners by awarding medals to George Soros and Joe Biden." Paying close attention to Soros is Klymenko Time's traditional news hook. This media outlet even dedicated an entire weekly column to him entitled "Sorosisms."
Russian propaganda websites NewsFront and Novorossiya also spread the news of a rally against Soros, citing Klymenko Time. 
What's the reality?
The Center for Strategic Communications and Information Security debunked the fake story that a similar rally took place in Zakarpattia. No one rallied under any such slogans in the Zakarpattia region during the period in question. A similar rally might have taken place at the end of last year. In Lviv and not in Uzhhorod, near the building of the Frankivsk district administration of the Lviv City Council at 85, General Chuprynka Street. The location, pictures of the building, and inscriptions on the official facade signs serve as evidence. In addition, the same participants took part in the rally in Lviv, carrying similar slogans and posters. However, they had slogans against the IMF instead of Soros.
It looks like there was a rally against Soros at the Presidential Office. In a video posted by the Telegram channel "Klymenko Time", we can see New Year installations currently set up at the PO. However, nothing is known about the rally's organizers. There should have been some announcements to notify the participants about the protests. Besides, none of the well-known media outlets wrote about the rallies. The information was quickly disseminated by a website network systematically spreading pro-Russian narratives and promoting OPFL and Medvedchuk.
Some stories about the rally at the OP wrongly indicate that George Soros's activities are banned in Hungary. It is not so. In 2018, Hungary passed a package of laws imposing strict constraints on NGO activities. Because of that, Open Society Foundations voluntarily ceased activities in Hungary.
Earlier in October 2017, Hungarian Prime Minister Viktor Orbán called the country's NGOs "agents of the Soros Empire" undermining his policy. Interestingly, Orbán himself received a scholarship from Soros's Foundations in 1988-1989 which allowed him to study at Oxford). After coming to power, Orban established authoritarian rule in the country. After the 2018 parliamentary elections, OSCE observers noted that the real opposition could not convey their ideas to the people, as Orban controlled the public space. People close to him were controlling the media and industry.
Pro-Russian politicians, including members of the OPFL party, had earlier openly held rallies against external governance.
A conspiracy theory about Soros as someone due to whom countries lost their sovereignty and fell under "external governance" has been spread by Russian propaganda far beyond Ukraine. According to the European External Action Service's EUvsDisinformation project, propagandists say the same about Moldova, Armenia, Kazakhstan, Belarus, and several other countries. The now-closed ZIK TV channel held entire marathons dedicated to George Soros and "external governance." VoxCheck debunked these fake stories in its articles "Smells like Medvedchuk, Kremlin Propaganda, and the Soviet Union"  and "It feels manipulative and perilous on ZIK's air." 
"Draconian measures," say the propagandists about the language law 
Pro-Russian media outlets Strana (here and here), Klymenko Time, 112 (here and here), Ukrainian News (here and here), Vesti, NewsOne (here and here), First Independent (here, here and here), Stena, and Mignews (here, here and here) wrote about the entry into force of the language law's provision on printed media's switching to the state language. The law was referred to as "total Ukrainization," "discriminatory against the rights of Russian-speaking citizens," and "humiliating millions of Russian-speakers." At the same time, they cited numerous statements by OPFL, including those about "anti-Russian hysteria and caveman-style Russophobia in Ukraine." 
In addition, the media outlets regularly promoting Viktor Medvedchuk (112, Vesti, First Independent, From.ua, and Mignews) broadly disseminated his statements about the "unity of the Ukrainian and Russian peoples" and "common history, culture, traditions, and worldview."  
Russian propaganda websites disseminated the same narratives about the language law:
In addition, Strana wrote about "anonymous denunciations" in Ukraine, i.e., citizens' appeals to the language protection commissioner about violations of the language law. "The market barometer shows that the Draconian measures of Poroshenko's law have not changed the language situation in Ukraine. And they can't since what you are forced to do will never be successful," another article on Strana reads. Klymenko Time calls the commissioner a "Sprechenführer."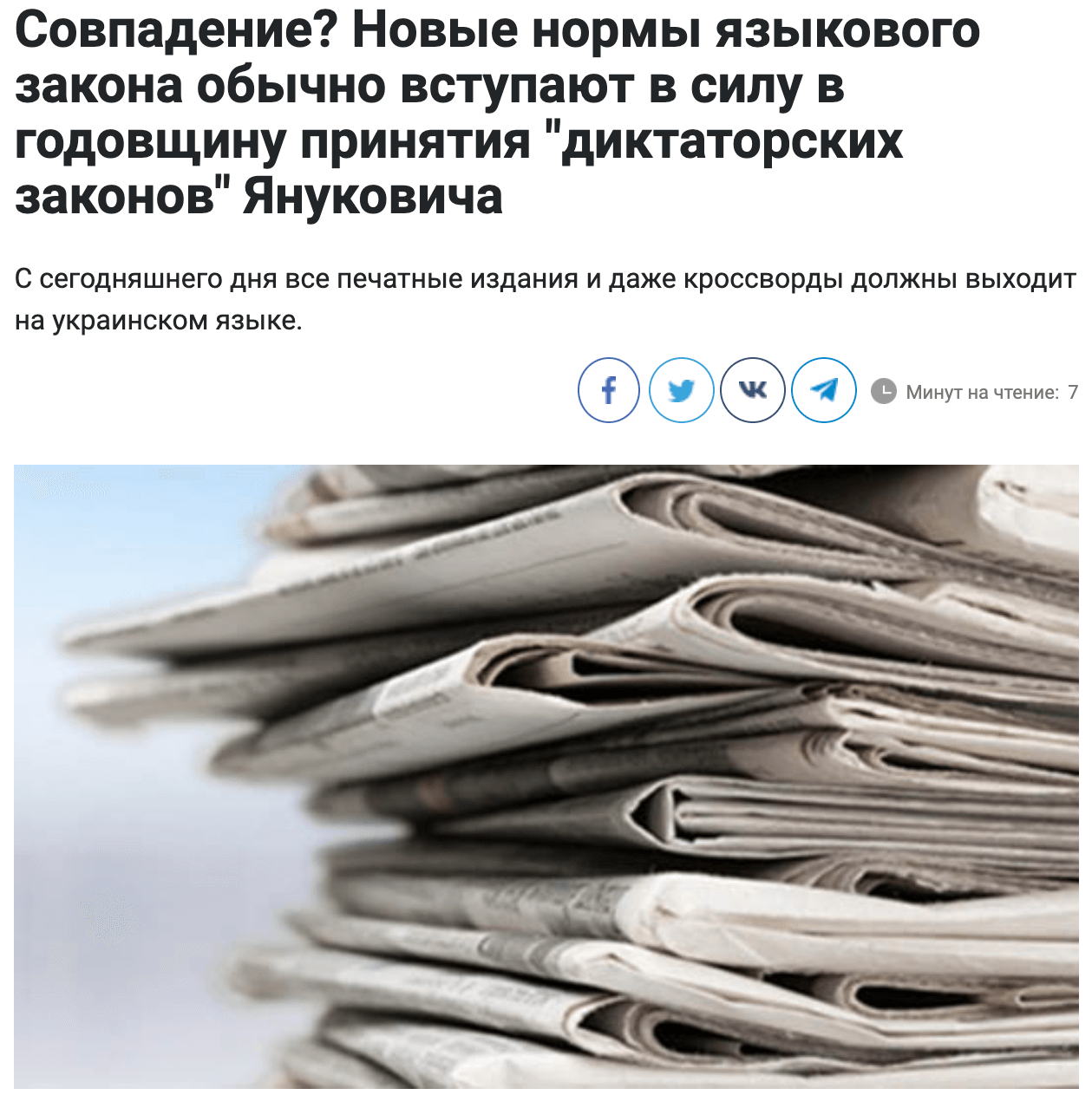 Translation: A coincidence? New provisions of the language law typically come into force on the anniversary of Yanukovych's "dictator laws". As of today, all printed publications and even crossword puzzles must be published in Ukrainian   
Source: Klymenko Time
"Now, every printed publication in another language must also be published alongside the same edition and content in Ukrainian. This provision will make media publishing in Russian unprofitable, and obtaining information for Russian-speaking citizens of Ukraine in their native language impossible," the OPFL text reads, as disseminated by pro-Russian websites. And yet, it is not true. 
What's the reality? 
Not every media outlet publishing content in another language must have the same edition in Ukrainian. Such provisions do not apply to media outlets publishing in the Crimean Tatar language, other languages ​​of the indigenous peoples of Ukraine, English, or some other official language of the European Union. Besides, newspapers and magazines have had over 2.5 years to switch to the state language since the law's adoption. 
The United States is using Ukraine in its "anti-Russian" policy
Pro-Russian websites Strana, 112, Klymenko Time, and Vesti reinforced the narrative of the United States only using Ukraine in its confrontation with Russia. They spread a message in line with Russian propaganda that the United States is "flooding Ukraine with weapons." Pro-Russian media outlets also wrote that Ukraine is entirely dependent on the United States.   
For comparison, here is a quote from the Russian broadcasting platform Russia Today:
Another leading narrative is that cooperation with the United States is unprofitable for Ukraine, and NATO membership will never be achievable. 
Russia's state-run TASS and Vesti.ru insisted on the same: Ukraine will probably never join NATO, and its membership in the Alliance is not even being considered. 
What's the reality?
Interestingly, Russian propaganda and pro-Russian media in Ukraine do not even provide concrete proof of how Ukraine's so-called "colonial status" is manifested. It is supposed to be taken "for granted."
As for NATO, Ukraine cannot become a member of the Alliance "here and now" as this requires many changes to be made to bring our country to the level of NATO member states. These reforms are useful for Ukraine, giving us a chance to develop stable state institutions, a free economy, and the rule of law in our country. 
Cooperation with NATO brings our country closer to the community of developed western nations. It helps us get rid of dependence on Russia – a country for which Ukraine was not an imaginary but an actual colony for several hundred years. Cooperation with NATO is also helpful for Ukraine's domestic political situation. Rapprochement with the Alliance involves reforms bringing living standards in Ukraine closer to those of developed Western democracies. These reforms aim to liberalize the economy, increase the transparency of state authorities, strengthen civil society, fight corruption, and implement the rule of law.
How the propagandists' narrative about Russia's possible invasion of Ukraine has been changing
Pro-Russian websites Strana and 112 wrote that the United States would pressure Ukraine to accept the political part of the Minsk agreements. Strana wrote in tune with the Russian media, assuring Russia would not attack but only defend. E.g., if Ukraine produced an escalation in Donbas. "Therefore, even if we take the American figures on the 100,000-strong force in the regions bordering Ukraine as a basis, it does not look like an invading army but a rapid reaction force to an escalation, e.g., in Donbas. By the way, the Armed Forces are deployed there in similar numbers," the article reads. 
Even if this were the case, the question of why Russia should respond to an escalation produced by an army beyond its own borders somehow does not even arise. 
Russian media (Russia Today, Gazeta.ru) and politicians also turn things upside down: as if Ukraine can cause an escalation and Russia cannot attack. For comparison, here is a typical statement by Russian officials: "Deputy Speaker of the Federation Council, Konstantin Kosachev, said Russia does not intend to attack Ukraine. However, he warned Moscow could send troops into the country if Ukrainian forces attacked people in Donbas who received Russian citizenship. Earlier, pro-Russian media outlets had spread the narrative that reports of Russian forces building up on Ukraine's borders were nothing but a US information campaign. And that Russia did not need to invade anybody, and it would not happen (Read more here). The rhetoric has changed little. 
For instance, Strana cited anonymous sources writing about "reports in the Western media aimed to finish Ukraine economically and force it to do what the Americans demand." Later, Strana blurred the line between cause and effect: "Late last week, the United States said that Moscow was preparing provocations it would use as a pretext for war. These and other statements are already actively devaluing hryvnia, creating in Ukraine the very instability Putin has been accused of." Strana and Klymenko Time ridiculed the fact that earlier predictions about the time of Russia's attack had not come true. 
What's the reality?
First, according to the latest available budget program passport of the Armed Forces of Ukraine (August 2021), a little over 40,000 service members participate in the JFO. That is by no means the number comparable to the Russian 100,000-strong force, as Strana wrote. 
Whenever Russia produces an escalation, it seeks pretexts to accuse Ukraine of aggression. For instance, this was the case in April 2021, when Russian troops moved along the Ukrainian border. In truth, there is no reason to say that Ukraine is preparing a scenario for Donbas involving the use of force. Ukrainian officials, including the President, have repeatedly denied this.
The allegation that the United States is trying to "finish Ukraine economically" was thrown in by Strana from anonymous sources. There is no factual basis, so it is impossible to fact-check. The White House publicly denied urging Ukraine to implement the political part of the Minsk agreements. Therefore, the theory of the US exerting economic pressure on Ukraine to fully implement Minsk sounds like a conspiracy. 
Our methodology
VoxCheck analysts monitor the websites and social networks of the Ukrainian pro-Russian media every day to identify the main news or topics of the week that get the most airtime and attention in the news feed. We identify the key narratives of the past week and analyze their origins.
We monitor media outlets such as Strana, Klymenko Time, Vesti, Ukrainian News, Podrobnosti, Apostrof, From.ua, Golos.ua, KP in Ukraine, Znaj.ua, Telegraf, 112.ua, Zik, NewsOne, Politeka, Mignews, Glavred, Antikor, Rupor, TV channels Nash, First Independent, etc. We do not claim that these outlets deliberately spread Russian propaganda. Their content, however, contains elements of Russian disinformation. 
VoxCheck searches for fake news stories and manipulations to debunk them. The "click and check" method lies at the core of our fact-checking. Anyone can check our argumentation and sources. Fact-checking can only be based on open data with relevant links. A fact-checked article can only be published if signed by two editorial board members.
Attention
The authors do not work for, consult to, own shares in or receive funding from any company or organization that would benefit from this article, and have no relevant affiliations