Verification within Meta's Third-Party Fact-Checking Program
On June 3, the network spread information that the Commander-in-Chief of the Armed Forces of Ukraine Valery Zaluzhny allegedly informed the President's Office about the impossibility of storming Severodonetsk.
However, there is no evidence that Valery Zaluzhny made such statements.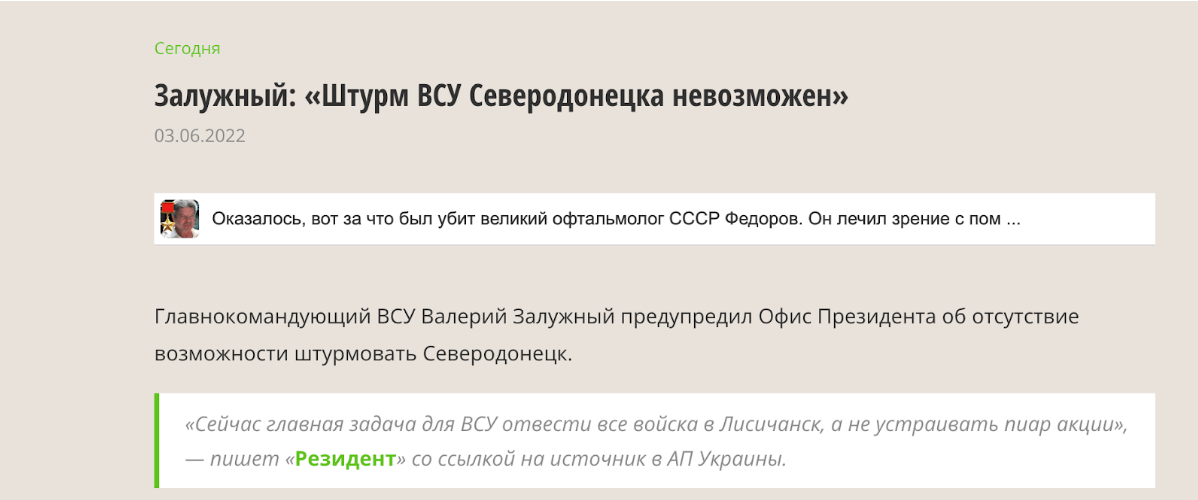 The source of this information is a telegram -can l "Resident". The letter also adds a link to an article from " First News of War ", which recounts the words of the head of the Luhansk OVA Sergei Gaidai about the high chances of liberating Severodonetsk. That is, the "Resident" allegedly denies Gaidai's public statement, citing his own sources.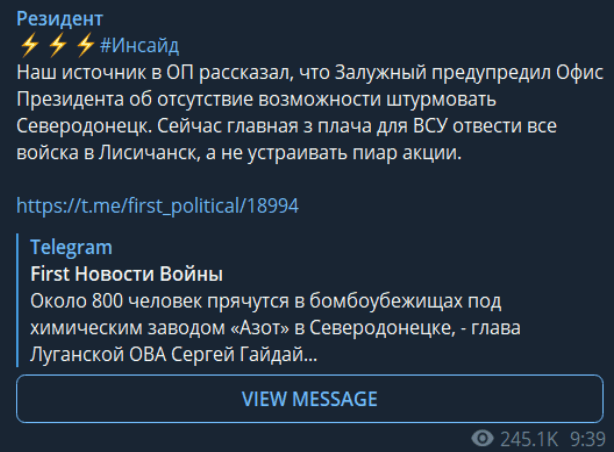 Screenshot of the message in the telegram
Resident is one of the telegram channels created by the russian special services to destabilize the situation in Ukraine. The Security Service of Ukraine announced the discovery of this network on February 1, 2021. News with anonymous sources often appears in anonymous telegram channels. It is impossible to confirm or refute such information from open sources, but such reports are usually russian propaganda.
It was said said on a telethon on June 2, 2022, that the russians had captured most of the territory of Severodonetsk, but continued to suffer heavy losses from the defense of our defenders. Gaidai states that Severodonetsk is holding on and has every chance of being released.
Oleksiy Arestovych, an adviser to the head of the President's Office, also commented earlier on the situation surrounding the talks on fighting. According to him, the retreat from part of the city was a military ploy to "trap Russian troops . " Ukrainian troops counterattacked, despite the superiority of the Russians in aviation and artillery.
Serhiy Haidai did not confirm this statement, but did not refute it: "I will just say this: our defenders really manage to conduct certain local military operations, to achieve success, and this gives us a chance and hope that this can happen in the future. Moreover, the situation in the city itself may really change . "
Attention
The authors do not work for, consult to, own shares in or receive funding from any company or organization that would benefit from this article, and have no relevant affiliations