An implication of parents to the educational experience of their children is an inevitable factor of students' success in school. The OECD research shows that students have better results in those countries where they practice an implication of parents to the educational experience of their kids – at least while passing the PISA test, a program of international evaluation of students that is being supervised by OECD and systematically evaluates the quality of the educational systems through checking a competence level of students in more than 70 countries in the world.
The parents' role can be different: starting with discussing the educational process with teachers, observing the educational experience of their kids at home and ending with something more active, like participating in formatting of the educational experience of students. Those countries that have wide school autonomy and are oriented for a complex personal development, try using social resources in educational purposes. Parents become those people who open their own business, establishments for practical studying of students, organize activities beyond the school, integrate local business into co-working with educational institutes.

In the research called 'Skills of modern Ukraine' authors indicate that the main skills which are nowadays determinative for success at the job market, such as socio-emotional, cognitive, teamwork skills are being created at preschool and school age. (paragraph 26, "Skills for a Modern Ukraine"). 
If we go back to Kant's sense of cognition, we can imagine that cognition is a glass of water where knowledge is a shape, meaning the glass itself, and experience that a person gains is the contents of that glass. Therefore, to get rid of thirstiness and learn some things we need both knowledge and experience, which create competence of students. The role of parents in this process in constantly important, as due to cooperation with a teacher they can create conditions for studying and education of their children.
What to begin a partnership with?
With the dialogue and finding something in common.
According to our experience with schools at 'About the worlds' we would like to point out a few things that need to be discussed and changed. First of all, it's a lack of good quality communication between a person who runs a school, teachers, students and their parents about educational experience. The important thing is that not only the kind of conversation matters (parents' gatherings, private meetings), but also its content. Due to the lack of communication there is not enough trust to the changes that can cause sabotaging them.
We have done a poll at 'About the world' recently in order to understand parents' opinion. 310 parents from 13 communities 'About the world' work with participated in it. We would like to clarify that it is not representational poll, it can only give an idea about tendencies of parents' attitude to school and their role. The results of the poll show that we have quite enough reasons for optimism since parents want the same things for their children as teachers.
Something in common is an ability to learn
79.1% of parents who participated in the poll agreed that 'nowadays we should constantly learn something new'. 66.1% are convinced that good quality education is an investment for a child's future. 65.8% think that studying is a constant process. Also 68.4% confirmed that their studying did not end at the moment they graduated from the school or university.
Skills that are important in parents' opinion are the same as the ones that are declared in the conception of 'New Ukrainian school'.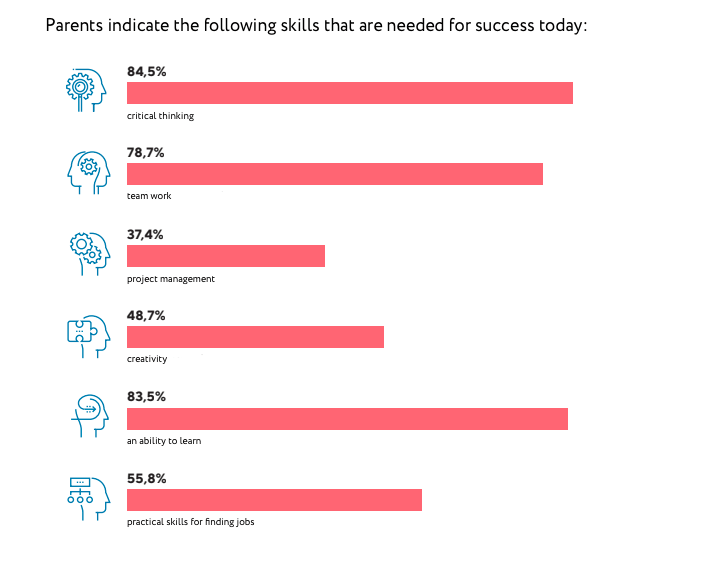 A teacher's professionalism is more important than a student's safely at school
93.5% of parents indicate that while choosing a school they rely on the level of professionalism of the teachers' community. That is even more important to them than a matter of safety of their child at school. 

The willingness to participate in educational experience is high
Even though only 48% of parents consider themselves to be involved in the development of a school, but 59% of respondents are convinced that parents should do something with the formation of preconditions of a school's development.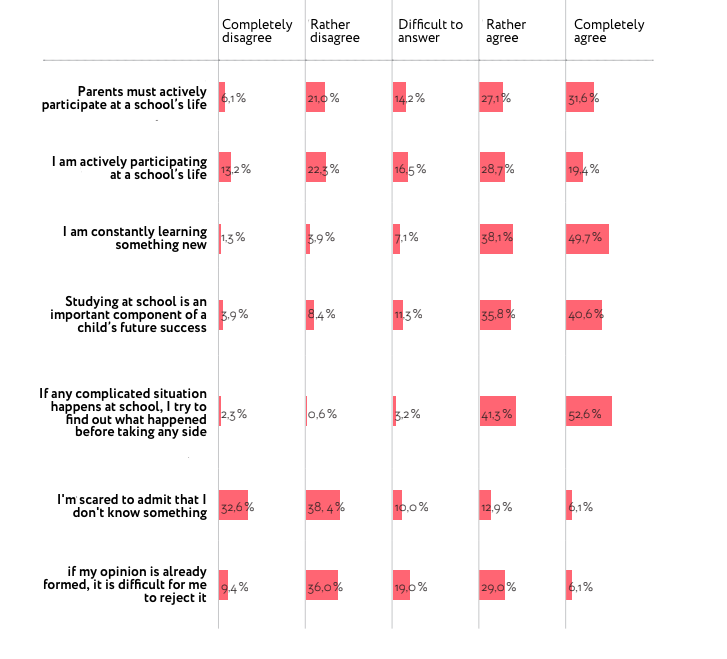 However, parents were a part of the poll indicate that communication regarding the reform is incomplete since 94.5% want a person who runs a school to tell them about the changes.

The important thing in setting the partnership communications is infrastructure. According to OECD research, the main barriers to attracting parents might be a time of the meetings (when parents are busy at work – 33%), and the lack of information about attracting parents – 17%. Only 17% think that their participation is unrelated to student's experience.
Education is an advantage for cities and communities
More than a third of parents indicated that education is an important thing while choosing a place for living. The important thing that restrains them is a financial ability to move, however cities and communities that will invest in personal development might later win a fight for talents.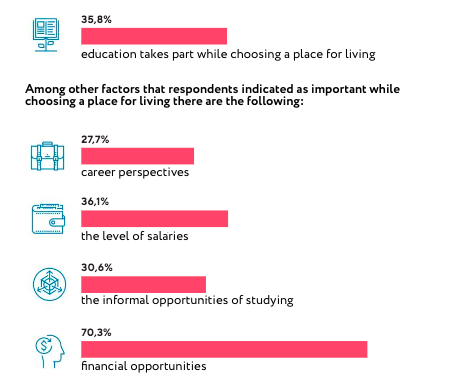 So while there is a wave of finishing the school year in Ukraine we can use it for searching for a new form of communication between each other. The first step for creating a partnership and a better quality cooperation can be a dialogue about the division of roles in educational experience of students, setting some expectations from each other, a division of responsibilities and formation of the mutual idea about the next school year.
The changes of methodology is not enough for realization of competence strategy, it requires new management strategies, such as communication of strategy vision and communication between players, orientation for attracting all parties and team work, finding something in common at a school's development. The experience of the mentors of 'About the world' who work with 13 communities and 27 schools at the moment shows that a lack of management competence of school heads and educational managers and a good communication is the main problem that causes devaluation of everything at reforming school education.
It is interesting to indicate that school heads and educational managers agree that 38% people who run schools do not have good enough management skills, according to the poll that involved 84 school heads and educational managers which was done by 'About the world' in December 2018.

The world is quickly heading to the formation of the local educational ecosystems, we are not an exception, this is why at this time of changes we have a chance to be brave enough to make an experiment and participate at educational life of our children more.
VoxUkraine is a unique content worth reading. Subscribe to our e-mail newsletter, read us on Facebook and Twitter, see the latest video on YouTube.
We believe in the power of words and that ideas have the main impact. VoxUkraine gatherers the best economists and help them to deliver their ideas to tens thousands of Ukrainians. Content VoxUkraine is free (and always will be free), we don't sell ads and we don't make lobbyism. For do more research, create new influenced projects and publish more quality articles we need clever people and money. We have people! Support VoxUkraine. Together we will do more!
---
Disclaimer
The author doesn`t work for, consult to, own shares in or receive funding from any company or organization that would benefit from this article, and have no relevant affiliations