Google Trends show that since the onset of the full-scale war on Ukraine, Russians started thinking much more about buying dollars and emigration. They also tried to understand what would be the effect of sanctions on them and whether food products would become more expensive. After some information on captured Russian soldiers reached Russia, they started looking for prisoners of war. The highest number of such searches originate from Buryatia, Irkutsk, Volgograd, Penza and Saratov regions.
It is not an exaggeration to say that the Russian invasion of Ukraine has rocked the world. People are watching and searching for live news about the war, as its impacts would go far beyond the Russian – Ukrainian borders. At the same time, they are also interested in knowing what is happening in Russia or the mindset of people in Russia. Yet, getting such information is proven to be difficult these days, given that international news outlets such as BBC and CNN have suspended reporting in Russia while Russia has completely blocked or restricted access to popular social media platforms like Facebook and Twitter.
In this article, we resort to Google Trends to get some insights into what people in Russia are thinking about in recent days. In a nutshell, using Google Trends, one could get a search index indicating a proportion of the search interest for a specified keyword or topic relative to all searches on all topics on Google at a specific time and location. Thus, the Google search index could help understand how popular one topic is as well as allow for comparison of the popularity across topics. While not perfect, this could give us a sense of the thinking process of people in Russia over time and across regions.
Trends in economic related search
First, we compare the search volume of "buy dollars" versus that of "sell dollars" over the last 30 days (Figure 1). Prior to the onset of the invasion, there was a very small difference in the search interests of these terms. However, since Russia announced its recognition of the so-called Donetsk and Luhansk people's republics on February 21st, the search volume of "buy dollars" increases while the search volume of "sell dollars" remains stable, suggesting a rise in demand for US dollars. The search index for "buy dollars" peaked on  February 24th when Russia launched a full-scale attack on Ukraine.This sharp increase in the demand for dollars is not surprising, given the anticipated devaluation of the ruble following the crippling sanctions imposed by the US, UK, European Union (EU) and other countries.
Given the potential negative impact of the sanctions on the Russian economy, one would expect an increasing interest in understanding the sanctions and their implications. To explore whether people were searching for such information, we make use of the "related topics" feature on Google Trends for two keywords: sanctions and sugar. That is, the related topics of "sanctions" ("sugar") are the search terms/topics which users searching for "sanctions" ("sugar") also researched for. As can be seen in Figure 2, popular search terms related to sanctions were Sberbank, VTB, Alfa Bank, and Tinkoff bank, reflecting the significant impacts of sanctions on the financial sector, hence, great interest in the topics. At the same time, the related search queries of "sugar" (i.e., where did the sugar go; why there is no sugar in shops; where is sugar; sugar 1 kg price; price for sugar today) show a sign of people's concern about potential (food) shortage and increasing prices.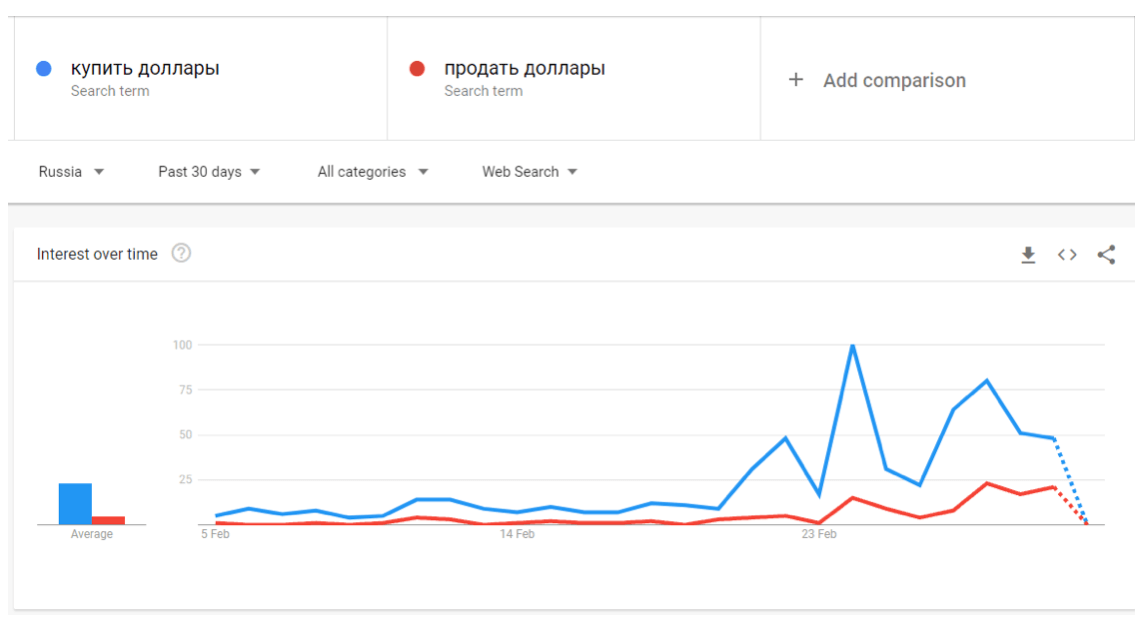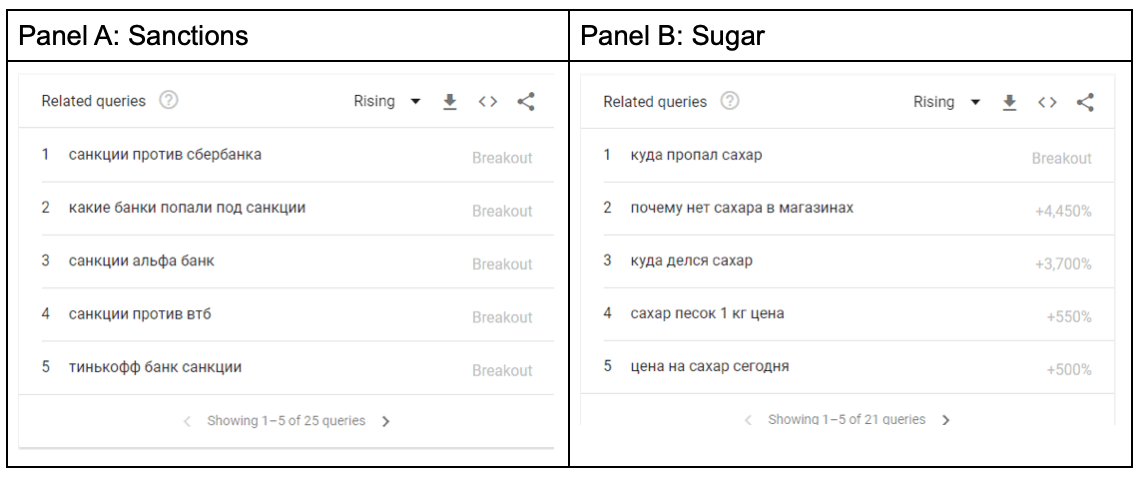 Trends in socio-political related search
Next, we obtain the Google Trends data for the term "emigration" (Panel A – Figure 3). Again, we observe an increasing interest in this term since the onset of the war. To shed more light on the thought process while searching for "emigration", we also look at its related queries. It is shown that while searching for "emigration", people were also interested in immigration to Georgia and emigration from Russia. This suggests that foreign nationals, or even Russian people, might be looking for a way to leave Russia amid financial and political uncertainty brought by the invasion.
To add credibility to the earlier argument that the Google search index is useful in determining people's mindset and reflecting the current events, we collect the search data for the terms "VPN" and "Russian ship". Given the global media crackdown by the Russian government which led to restricted or even blocked access to international media outlets and social media platforms, it is understandable that people in Russia were interested in searching for VPN and Instagram access, its related search query. Moreover, while there was no search for the term "Russian ship" before the war, the search interest for this term exploded since 25 February when the video of Ukrainian guards on Snake Island and their encounter with a Russian warship went viral on social media.
Figure 3. Dynamics of searches for Emigration, VPN, and Russian ship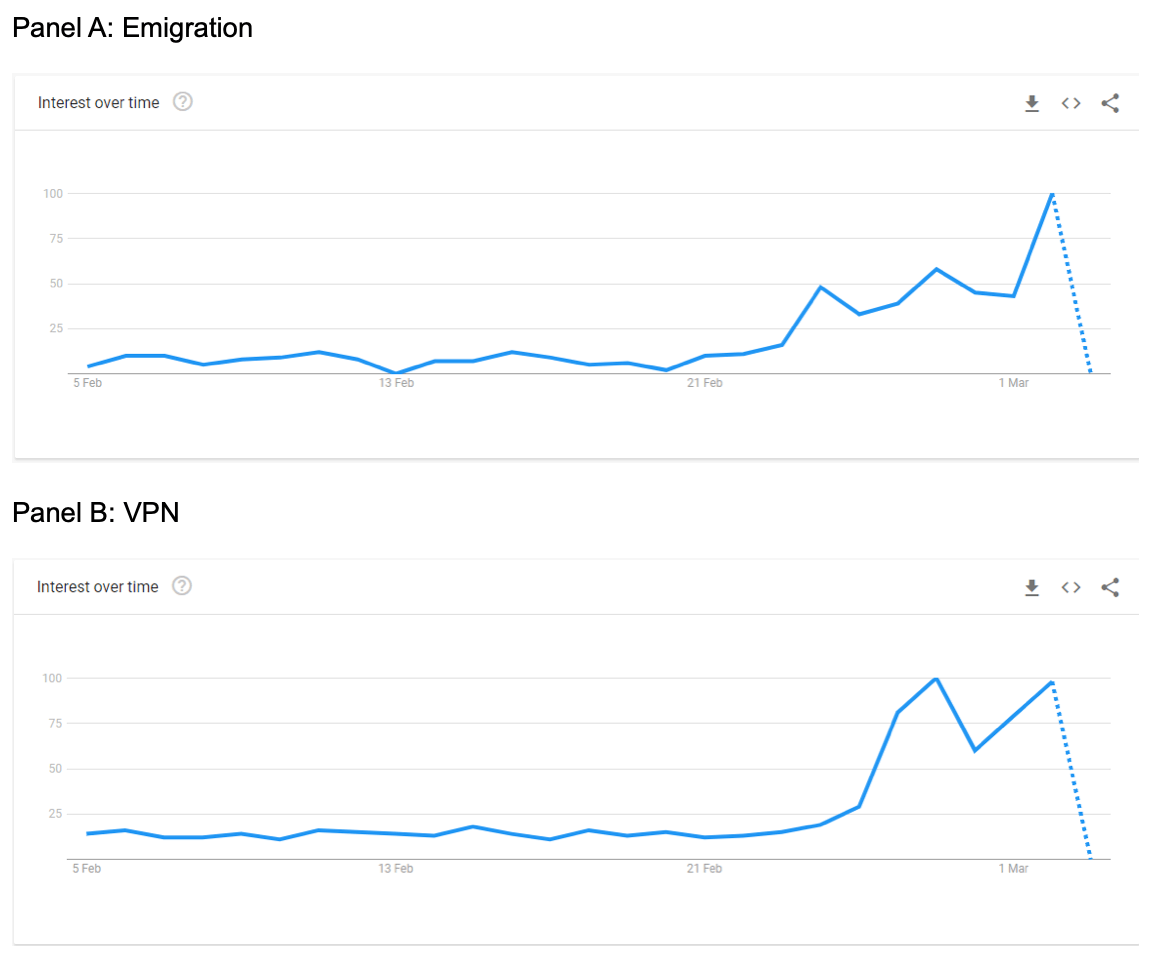 Is there a regional difference in Google search?
Figure 4 shows the search interests for "prisoner of war" and "emigration" by region. Unsurprisingly, the most intensive search interest for "prisoner of war" was from people in the Buryatia region, from where a number of Russian soldiers were captured by the Ukrainian army. Additionally, the word "emigration" was most searched in the Belgorod region, followed by Moscow and St Petersburg. This, again, suggests people's interest (especially those living closer to the border with Ukraine and in economically/politically important cities which are likely to be hit harder by sanctions) in escaping the heightened uncertainty in Russia.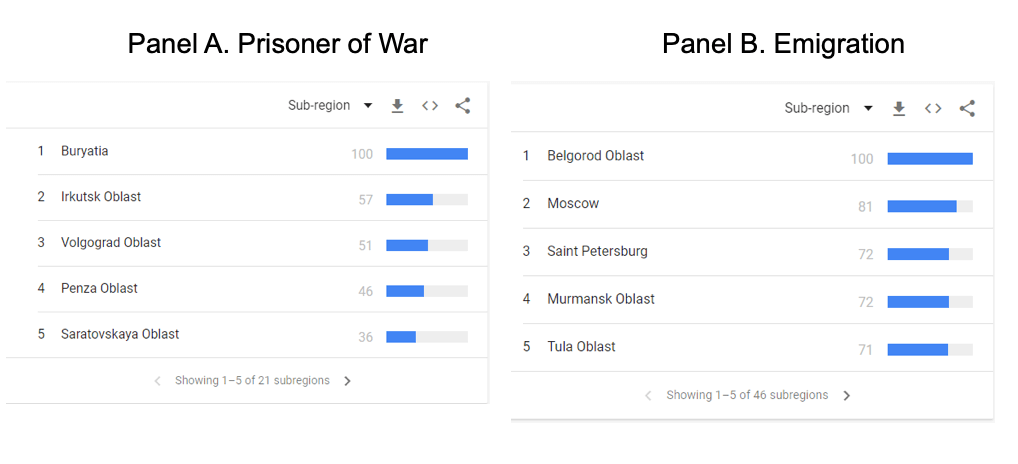 Overall, the above results show that Google Trends is a useful tool to understand the mindset and/or the "sentiment" in a country. However, it is worth noting that while the results offer some insights into the parallel between the search trends in Russia and the current events, we are not able to ascertain the causes that trigger such trends.
Attention
The authors do not work for, consult to, own shares in or receive funding from any company or organization that would benefit from this article, and have no relevant affiliations