The information becomes available (distributed) on Facebook that "Ukrainian nationalists" shot dead a column of refugees moving from Kharkiv to hide themselves in the Svyatogorsk Mountains. They were allegedly shot dead in the town of Izium on their way from Kharkiv to Sviatohirsk. The posts refer to the propaganda source Donbass Segodnya, which published this "news" on February 28.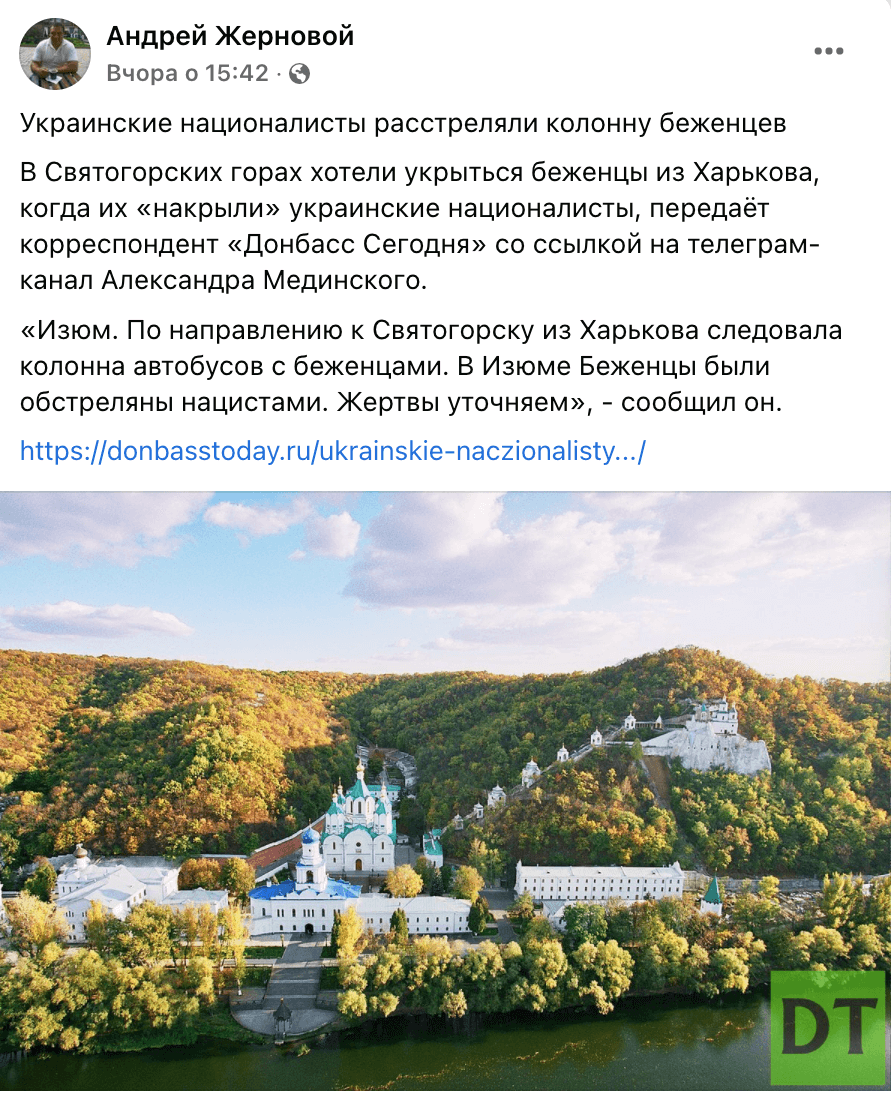 This is not true: the day before, Russian military fired on civilian buses on the Izyum-Kharkiv highway.
Screenshot post on Facebook.
The publication on Donbass Segodnya does not provide any evidence that this really happened and that the buses were fired upon by the Ukrainian troops. The only source is the little-known "blogger Alexander Medinsky." In addition, the publication does not even indicate the date.
In fact, two days earlier, on February 26, buses with civilians were fired upon on the Izyum-Kharkiv section of the highway. 5 people died, 6 were injured, all of them are residents of Toretsk community. They were on a bus that got under fire from the Russian occupation forces near the village of Volokhiv Yar in the Izium district of Kharkiv region. This was announced by the head of the Donetsk regional military administration Pavlo Kyrylenko. Probably, the propagandists wanted to attribute this crime to the Ukrainian military.
For stronger emotional reaction, the victims are called "refugees". But it is noteworthy that Svyatogorsk is a city in the north of Donetsk region. It is illogical that civilians are leaving the shelters in Kharkiv not in the western direction, where most evacuation routes are directed and where the situation is less threatening (as of March 2), but closer to the demarcation line in the Joint Forces Operation.
Attention
The authors do not work for, consult to, own shares in or receive funding from any company or organization that would benefit from this article, and have no relevant affiliations