In the previous round, the index was +0.9 points.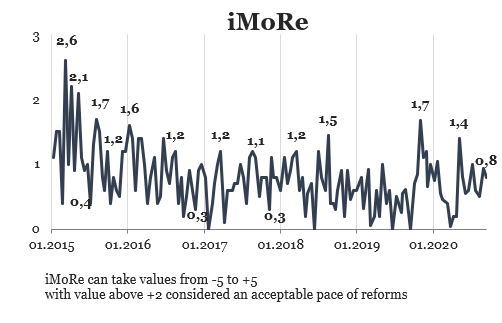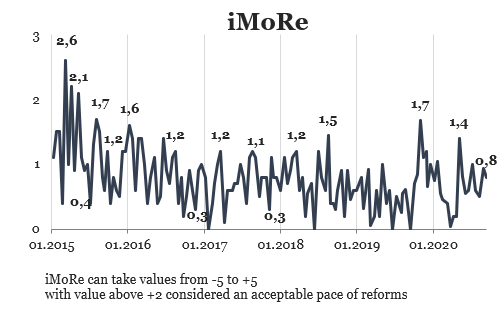 Chart 2. іMoRe and its components in the current round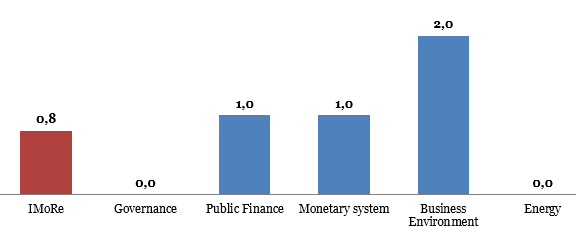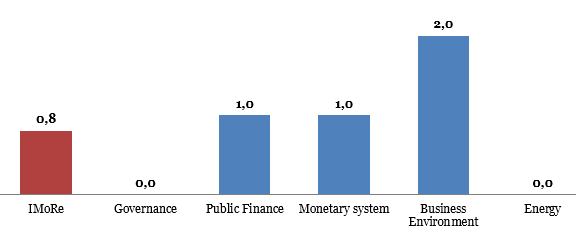 Law on capital market regulation, +3.0 points
Ukraine has a poorly developed stock market. The vast majority of people having money invest their savings in bank deposits or real estate. On the stock exchanges, the participants mainly enter into contracts regarding government bonds, with trading other financial instruments accounting for about 5% of total exchange contracts in 2014-2018. The scope of the contracts regarding derivative financial instruments does not exceed 1% of total contracts.
Having a developed stock market, where the participants could invest in various instruments, would solve a number of problems in the economy. Businesses could more easily attract investment and insure against risks.
Law 738-IX of 19.06.2020 fills up the existing gaps, creating a legislative framework for a market of derivative securities and derivative contracts, and tools to guarantee implementation of derivative contracts. It also strengthens the protection of bondholder rights by changing the regulation of commodity exchanges, now virtually non-existent.
Law on patent legislation reform, +2.0 points
Law on strengthening the protection of rights to trademark and industrial models, +2.0 points
Presently, the patent law hardly fulfills its task of protecting intellectual property rights. The Government has been gradually improving copyright law (iMoRe No.89), trying to strengthen the capacity of institutions protecting intellectual property rights (iMoRe No.138), and changing the rules to strengthen the protection of intellectual property rights during import (iMoRe No.122).
Law 816-IX on the patent law reform changes the rules of the game in the protection of property rights on inventions and industrial models.
The patent system is there to provide legal protection for intellectual property rights on inventions. Laws of some countries, including Ukraine, define another type of intellectual property – utility models. Unlike inventions, utility models are subject to less stringent requirements for the inventive step, with easier procedures for obtaining a patent for them, and with a shorter protection term. Protection of utility models is usually introduced to develop local innovation.
Ukrainian legislation on the protection of rights on inventions and utility models had a number of gaps. Although utility models are subject to less stringent requirements than inventions, their legal protection has turned out stronger in practice. Consequently, applicants were able to "circumvent" intellectual property rights on inventions by acquiring utility model rights.
Many utility model patents do not meet the requirements for legal protection as they are not new, and a patented product or production method has been used around the world for a while. However, the owners of such patents have the right to ban the use of the patented object or even recover damages for its use.
Law 816-IX is an attempt to solve this problem. It lists objects that can be inventions or utility models, procedures for obtaining a patent, and conducting a qualifying examination, etc. It retains the possibility of quickly obtaining a utility model patent, but also makes it possible to promptly cease the activities of unscrupulous patent holders via the administrative procedure for annulling the rights in the Appeals Chamber.
Law 815-IX changes the rules of the game in the protection of property rights on inventions and utility models, harmonizing them with EU legislation.
It introduces the possibility of submitting electronic trademark or industrial models applications. 
It makes it possible to register a collective trademark. The law clarified the procedures for denial of registration, legal protection, and invalidation of trademark registration.
With regard to industrial designs, the law introduces an additional criterion of their protectability (individual nature), extends the validity of rights (from 15 to 25 years), and the possibility of pretrial certificate revocation in the Appeals Chamber.
Law on defense procurement, +2.0 points
Defense procurement in Ukraine is associated with numerous corruption scandals, due to being designated as a state secret and a lack of a detailed defense budget.
The new law on defense procurement (808-IX) is an attempt to start reforms in this field. Defense procurement can become more transparent due to introducing an open register of producers of defense products, the procurement of which is a state secret. This register is currently closed. The law also introduces competitive procedures when purchasing products classified as "secret".
Law on legalization of gambling in Ukraine, 0.0 points
The gambling business in Ukraine has been operating in the shadows. Parliament recently passed a law setting out the conditions, under which legal gambling businesses can operate.
Casinos can be located only in 4 and 5 star hotels, and slot machines in 3, 4 and 5 star hotels. These hotels must have at least 50 rooms in Kyiv and 25 rooms in other regions, and be located no closer than 500 meters from schools.
Casino licenses will cost from UAH 141 million: UAH 283 million in Kyiv, UAH 30 million for online casinos, and UAH 35 million for slot machine lounges. An establishment will have to pay a fine of UAH 170 thousand for working without a license, in case of violating the law for the first time. For repeated violation, the law enforcement agencies can impose a fine of UAH 680 thousand or imprisonment.
Placing bets and paying out winnings is only possible using bank cards. The players should be no younger than 21. If a younger person is found in the lounge, the institution will have to pay a fine (UAH 2 million).
The law also introduces a register of addicts, i.e. those addicted to gambling. Gambling establishments should not allow such people into the lounge. A person can enter themselves in the register or be entered by relatives.
Expert opinions on the law vary. Some assess the law positively as it helps bring this activity out of the shadows, and some negatively, because of the perils of gambling addiction. This law's median score is 0 points.
Chart 3. Value of іMoRe components and number of events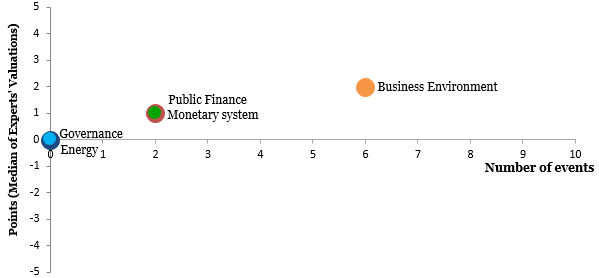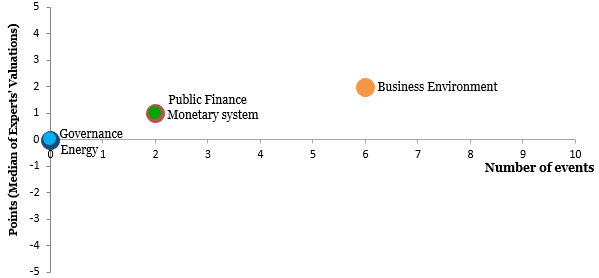 Note: Index for Monitoring Reforms (iMoRe) from VoxUkraine aims to provide a comprehensive assessment of reform efforts by Ukraine's authorities. The Index is based on expert assessments of changes in the regulatory environment in five areas:
Governance
Public Finance
Monetary system
Business Environment
Energy
For details please visit imorevox.org.
Attention
The author doesn`t work for, consult to, own shares in or receive funding from any company or organization that would benefit from this article, and have no relevant affiliations