Since the beginning of the full-scale war, introducing new sanctions against russia has become one of the most critical areas of fighting, alongside working on accelerating the supply of heavy weapons to Ukrainian troops and attracting international funding. We used open source information to calculate which countries have adopted most sanctions packages since February 24, what and who is affected by the restrictions, and what efforts Ukraine has been making to expand anti-russian sanctions.
Sanctions by world countries
After the full-scale invasion of Ukraine on February 24, russia became the most "sanctioned" country in the world. The United States, Great Britain, Japan, Canada, and EU states have been leading the way in implementing restrictions on the world's biggest aggressor.
The most common types of restrictions are sanctions against individuals and companies, limiting russian imports, prohibiting aircraft from entering the countries' airspace, and banning propaganda outlets.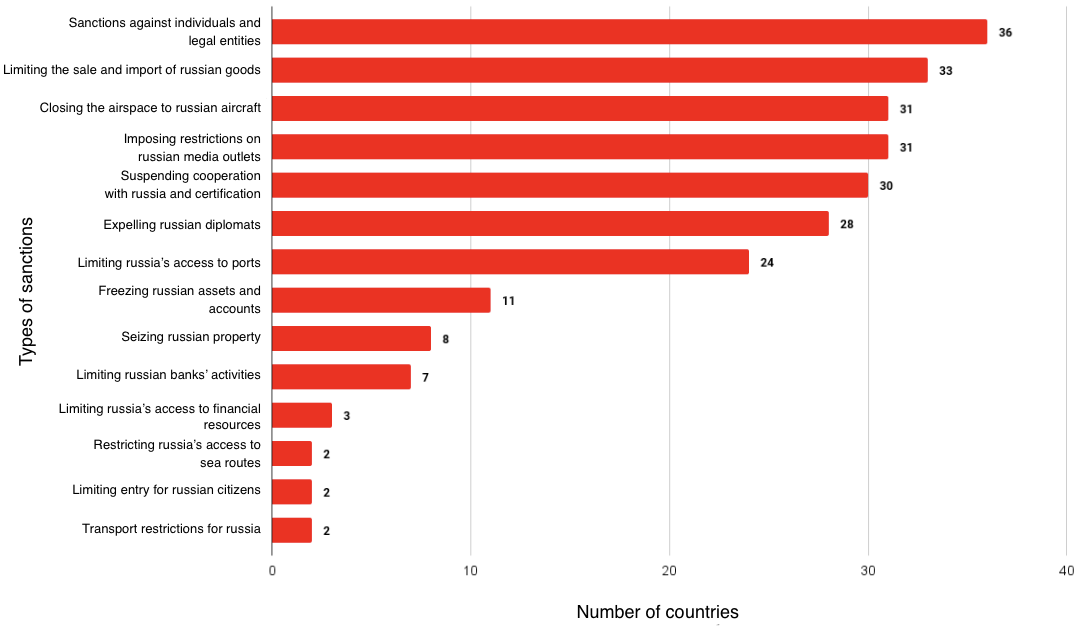 Regarding sanctions against particular individuals and legal entities, according to YouControl analysts, the total number of russian persons under sanctions (February 24 to late June) was about 1.5 thousand individuals and over 650 companies.
What sanctions has Ukraine implemented?
Since February 24, the National Security and Defense Council has adopted, and the President signed five packages of sanctions, affecting 298 russian citizens, five legal entities (two banks), and 236 educational institutions.
In late May, russia's president vladimir putin and all russian ministers came under sanctions, totaling 35 people. The officials were banned from obtaining visas for entry into Ukraine, fly, and drive through its territory. In addition, the sanctioned government officials were prohibited from taking money out of Ukraine, using property registered in Ukraine, participating in privatization, buying plots of land, obtaining licenses for subsoil use, and using radio frequency resources. If these were owed money in Ukraine, repayments stopped. These and other restrictions against russian politicians will remain in effect indefinitely.
It will be recalled that on March 14, the russian union of rectors released a statement in support of the war in Ukraine. It specifically said it was necessary to support russia and the russian army, which allegedly "maintains security." The statement was signed by 261 heads of higher learning institutions, who were eventually sanctioned indefinitely (more than one person signed the statement from some higher education institutions). In particular, they were prohibited from entering Ukraine, using the property on our territory, withdrawing money, or receiving repayments of debt. They were also banned from transferring technology and intellectual property rights, and deprived of all Ukrainian state awards.
Two hundred thirty-six russian higher learning institutions were placed under permanent sanctions alongside their leaders. Cultural exchange, scientific cooperation, educational and sports programs, etc., were put on hold. 
V.Yevtushenkov, one of the wealthiest russian oligarchs, also fell under indefinite sanctions. In russia, he owns 64% of AFK Sistema PAO (also under perpetual sanctions). In turn, the company owns one of the world's largest defense companies, RTI Systems, producing engineering equipment, radios, and control systems for the russian army.
In addition, the NSDC imposed indefinite sanctions on Kronstadt Group, a joint-stock company manufacturing drones, geoinformation systems, and aviation equipment. Sanctions were also imposed on the private company "Information and Control Technologies and Systems" (ITIS). The sanctions include blocking assets and prohibiting taking them outside Ukraine, restricting trade operations, suspending repayments of debt owed to these enterprises, and canceling licenses.
Indefinite sanctions continue until an NSDC decision lifts them. The conditions for granting exemption from sanctions are detailed in the special Roadmap of the International Working Group on Russian Sanctions.
The NSDC imposed sanctions for three years against Aleksei Likhachev, head of the state corporation Rosatom, an umbrella company for russia's nuclear enterprises and nuclear weapons complex. Similarly, the National Security and Defense Council added two russian banks to the sanctions list (International Reserve Bank (MR Bank) and Dom.rf) for three years to reduce russia's influence on the Ukrainian financial system and prevent capital outflows.
How the sanctions process works in Ukraine
According to the Law of Ukraine On Sanctions, the Verkhovna Rada, the President, the Cabinet of Ministers, the National Bank of Ukraine, and the Security Service of Ukraine can submit sanctions proposals for consideration by the NSDC.
Since February 24, 2022, the Cabinet of Ministers has prepared proposals for nine sanctions packages. These include russian government officials and rectors of higher educational institutions, singers, actors, propaganda media workers, and archeologists involved in illegal excavations in temporarily occupied Crimea – a total of 466 people and 258 institutions. The NSDC supported three of the nine sanctions packages.
Since the beginning of the full-scale war, the Verkhovna Rada has prepared proposals for three sanctions packages. They comprise 176 cryptocurrency exchanges cooperating with russian banks, six russian oligarchs, and four russian orthodox church (ROC) figures, including moscow patriarch kirill gundyaev. A resolution proposing sanctions against ROC officials has been adopted and signed, while the other two are under consideration by the Verkhovna Rada's Committee on National Security, Defense, and Intelligence.
The National Agency on Corruption Prevention (NACP) also collects the names of candidates for international sanctions lists. In early July, the agency had seventeen lists ready, including 17,284 individuals and 3,860 companies. The NACP then submits the lists to the Ministry for Foreign Affairs and the Prosecutor General's Office.
There are other formats for handing out sanctions against russia and belarus. In late March, the International Working Group on Russian Sanctions (the so-called Yermak-McFaul Group) was established, comprising about 50 Ukrainian and international independent experts developing proposals for sanctions against russia and belarus.
On April 20, the group presented the Action Plan for the governments of Ukraine and the world to strengthen sanctions against russia. Inter alia, it includes the following measures:
expanding oil and gas sanctions and embargo on russian oil;

introducing blocking sanctions on state shipping companies and insuring russian and belarusian ships and cargo;

imposing financial sanctions, including isolating russian financial institutions, diminishing all russian ownership in the US, the EU, and other allied countries, freezing all russian central bank reserve holdings abroad, etc.;

designating russia as a sponsor of state terrorism;

strengthening individual sanctions, including against all top-level officials and their family members, heads of state-owned companies, owners of propaganda outlets, members of supervisory boards, etc.;

expanding export controls and banning imports;

discouraging trade with and investment in russia.
According to the head of the President's Office, Andrii Yermak, as of July 7, Ukraine and the governments of various countries implemented 55% of the measures spelled out in the action plan. In addition, the working group produced road maps for energy, individual, and financial sanctions against russia.
Although the sanctions implemented globally have still not achieved their primary goal of stopping russia's war in Ukraine, they are significantly reducing the aggressor country's ability to finance hostilities and supply its troops with weapons. According to Ukrainian intelligence, russian defense enterprises can no longer find components for aircraft, and freezing nearly 60% ($350 billion) of russia's gold and currency reserves led to its actual default on foreign debt in late June. Consumers in russia could not evade the sanctions "punishment:" with foreign companies exiting the country, the shortage affected household appliances and even paper.
However, as long as the war continues and Ukrainians keep dying from russian weapons, the sanctions pressure must increase. The most anticipated sanctions measures by world leaders are the continued isolation of russia's financial system, in particular, by disconnecting all russian banks from SWIFT and moving toward a complete refusal to buy russian energy sources. Ukrainian authorities should speed up the introduction of sanctions against russian citizens involved in the war and supporters of the invading regime in Ukraine, including their property. For instance, the wealthiest russian oligarchs, State Duma members recognizing the "independence" of the so-called L/DPR, Ukrainian quislings like the former OPFL MP Illia Kyva, the Kherson provocateur Kyrylo Stremousov, Volodymyr Saldo, appointed by the occupiers "head of the Kherson region," and many other less visible but no less dangerous accomplices of the enemy have not yet received their well-deserved punishment.
With support

Attention
The author doesn`t work for, consult to, own shares in or receive funding from any company or organization that would benefit from this article, and have no relevant affiliations