Having unique geographical location – being on the crossroads of Europe and Asia – Kyiv can become a regional air hub. Utilizing the existing infrastructure of Boryspil airport Kyiv can handle up to 25 million passengers annually. This will help create new jobs and boost local economy.
Nowadays when experts or newspapers are talking about the drivers of the Ukrainian economy they mainly mention agriculture and IT. These two sectors for sure can help maintain Ukrainian economy alive when traditional drivers such as industrial production and construction are declining at the annual pace of more than 20% [1].
However, there are other sectors that Ukraine can develop in order to strengthen its economy and long-term competitive position. In this article we are focusing on the transportation sector and, in particular, on the benefits of transforming Kyiv Boryspil airport into one of the largest regional air hubs. This issue has been discussed for a long time. In 2013 the Ukrainian Government even adopted the "Concept of Government program for airports development until 2023."
So what are the advantages that Kyiv has over other regional air hubs, and what are the direct immediate benefits it can bring to the local economy?
There are three main reasons why we believe Boryspil can become a regional air hub. The main reason is geographical proximity of Ukraine to all major economic centers in Europe and Asia. Figure 1 shows the flight times (for direct flights) from Kyiv to the main airports in Europe, Asia, Middle East, and North America. Ukraine's unique position between Europe and Asia makes both continents easily accessible from Kyiv by plane. For example, New York is less than 10 hours flight from Kyiv, and Singapore is just 11 hours direct flight. To illustrate this advantage let's look at three alternative ways of travelling from Beijing to London – with stops in Dubai, Istanbul (top choices at popular air travel planning website Skyscanner), and Kyiv. According to The Travel Math web-site, the average distance of the flight Beijing-Istanbul-London is almost 1000 km longer than Beijing-Kyiv-London. Compared to Beijing-Dubai-London, the advantage of Kyiv is even more visible – the total route through Kyiv is 2700 km shorter.

The second reason is a huge transit potential of the Boryspil airport. The airport is the main air gateway of Ukraine. However, in 2014 Boryspil accommodated only 6.9 million passengers. For comparison, Istanbul Ataturk airport, which is just 2 hours flight from Kyiv and has relatively similar geographical location, handled 57 million passengers in 2014. By passenger flow, Boryspil is also well behind all other major Eastern European airports. Speaking specifically of the transit potential, in 2014 only about 6% of total passengers at Boryspil carried by the major carrier were transit passengers, while at Frankfurt this figure was 53%, at Schiphol – 42% and at Heathrow – 35%. Worth mentioning is that the share of transit passengers at Boryspil has increased in the first half of 2015.
According to the Boryspil airport information, variable cost which depends on the number of accommodated passengers, constitute only 3% in its cost structure. So increase in the number of transit passengers is a "net profit" for the airport as total costs virtually remain the same.
Also, if we compare Boryspil ratio of handled passengers to the population of the Kyiv city to other Eastern European airports and cities, such as Vlacval Haval Airport and Prague, Frederic Chopin Airport and Warsaw and Liszt Ferenc Airport and Budapest we will see how far Kyiv is behind. This ratio (as for 2014) for Vlacval Haval is 8.5, for Frederic Chopin – 6.1, for Liszt Ferenc – 5.2, and for Boryspil only 2.4 (data on cities population is taken from Eurostat). Even though this indicator is not the perfect one, it definitely can be used to illustrate that Boryspil virtually doesn`t use its potential as a regional air hub.
In addition, as the result of economic downturn in Ukraine and sharp hryvna devaluation, the cost of workforce in Ukraine became one of the lowest not only in the Eastern Europe but in the whole world. Also, electricity prices in Ukraine are lower than in the Eastern Europe [2]. So, theoretically, the cost of running airport infrastructure in Boryspil should be considerably lower than in other Eastern European airports.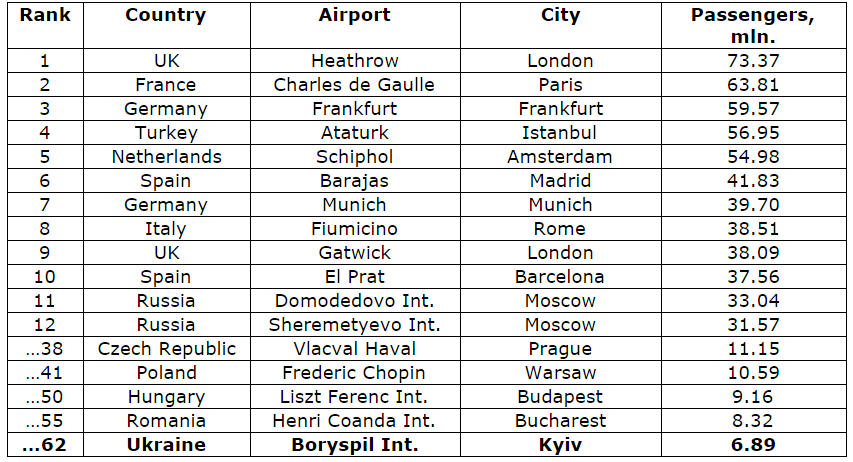 Source: http://topairlinesrankings.blogspot.co.uk/2015/02/top-ranking-100-biggest-airport-in.html
The third factor that goes in favor of our proposal is existing infrastructure and spare capacity. As a part of preparation to the Euro 2012, two terminals were built at Boryspil. Currently out of 5 terminals only one is in use – Terminal D. And even this terminal is used only at about 30% of its capacity [3]. So, even without any additional investment into infrastructure Boryspil can handle at least 3-3.5 times more passengers per year than it does now. If Boryspil can utilize the spare capacity, it can increase the number of passengers up to 21-25 million per annum. This will place Boryspil among top-20 busiest airports in Europe and make it the third largest in the Eastern Europe after the two Moscow airports.
Now we will look at the potential benefits (the list is not exhaustive):
creating new jobs. If the airport works at full capacity, or at least closer to its potential, it will generate new jobs within itself;

development of the serving/related industries such as ground services, advertising, transportation to and from the airport;

enhancing tourism. Increasing passenger flow through the Boryspil airport will inevitably lead to the increase in tourism. Some people will prefer to make a longer stop-over so they can visit the city. Especially it can be the case for passengers travelling from Asia to Europe or North America.
We should admit that transforming Kyiv into a regional air hub will require time but, in our view, it can be done in a medium-term perspective. Of course, there are some obstacles on a way:
Security issues. While ATO is still in place some travellers, and it can be quite substantial share, will be worried about their security. On the other hand, there are hopes that ceasefire agreement will be soon implemented in full.

Regulatory restrictions and limitations. Ukraine still hasn't signed the "open sky" agreement with the EU. It has been in a process since 2007. However, due to legal disputes between Spain and Great Britain regarding the Gibraltar the signature of the agreement is postponed again. In this situation Ukraine decided to start signing agreements with each country separately. This process might take some time and postpone the entrance of European airlines into Ukrainian market.

No systematic approach to the development of the Boryspil airport. This reason is

stated

as one of the main ones by both the regulatory body (the Ministry of Infrastructure) and the main carrier (Ukrainian International Airlines).
All in all, we affirm that Boryspil has a potential to become a regional air hub. Becoming a hub will boost local economy. If Kyiv wants to secure its place on the regional air map it should act fast because the main competing air hubs are developing too. For instance, the Istanbul Grand Airport company announced the start of construction of a new Istanbul airport with total capacity around 90 million passengers per year at the end of the first stage and up to 150 million passengers when the airport becomes fully operational. This will make the new airport the largest in the world. The first stage is expected to be completed by late 2017. The busiest Russian airport – Domodedovo – is also rapidly developing and planning to increase its capacity to 60 million passengers by 2023. So, time is playing against the Boryspil airport.
---
Notes
[1] First review under extended arrangements – International Monetary Fund – August, 2015
[2] Ukraine 2015: Brains, Hands and Grains. Horizon Capital, July, 2015
[3] Ministry of Infrastructure of Ukraine – www.mtu.gov.ua
The participant of MindSketch Competition
Attention
The author doesn`t work for, consult to, own shares in or receive funding from any company or organization that would benefit from this article, and have no relevant affiliations