Pro-Russian media were busy commenting on the buildup of Russian troops on Ukraine's borders, suggesting that Russia would not attack. Instead, it was allegedly Ukraine provoking an escalation in Donbas. In addition, they typically used manipulation regarding the right-wing radicals in Ukraine and "external governance" by the United States, the EU, and even the United Kingdom.
VoxCheck analyzes how Russian narratives get into Ukraine's information space as part of a joint project with the Center for Strategic Communications. Read the previous publications here. 
Russia will not attack?
This week, the German newspaper Bild published a map of a possible Russian invasion of Ukraine that would unfold in three stages. Bild referred to its sources at NATO and the security services. Naturally, the map was immediately criticized in Russia. Russian Foreign Ministry spokeswoman Maria Zakharova said the published map resembled a 1942 Nazi map. Pro-Russian media in Ukraine also picked up this narrative (Where did Bild get the map of the Russian invasion? From Wehrmacht maps?). However, they did not publish it on their behalf but in the "Social Media Newsfeed" section.
In recent weeks, pro-Russian media outlets spread the narrative that reports on Russian troop buildup on Ukraine's borders and a possible Russian invasion of Ukraine were part of an information campaign by the United States to achieve its political goals. For example, they deliberately sought to amplify the situation to gain more from the talks between Joe Biden and Vladimir Putin. 
"…all these "maps of an offensive" without the names of units that could attack Kyiv, Kharkiv, and Odesa do not look like intelligence data, but estimates of the journalists or analysts writing about military matters. It is likely yet another informational and psychological operation called "Putin will attack soon," Strana writes.
In some news reports in the background, Strana gave only the Russian side's arguments referring to Russia's Director of the Foreign Intelligence Service, Sergey Naryshkin, who called the potential Russian invasion a "malicious propaganda operation by the US State Department." The media outlet also published an article citing "anonymous sources in Ukrainian intelligence" that the probability of war was 10%. And that Russian troops were merely relocating to their new places of permanent deployment. 
Instead, they spread a counter-narrative that Ukraine contributed to an escalation in Donbas. It is argued that an increase in shelling was recorded only by the OSCE and in non-government-controlled territories. That is not true: violations of the ceasefire by the occupiers were reported by the JFO headquarters. The militants fired on settlements located in territories controlled by Ukraine. Stanytsia Luhanska was shelled twice during the week. 
Ukraine is accused of "destroying the remnants of the ceasefire in Donbas," including its decision to use the Bayraktar UAVs. However, that is not true: Bayraktar UAVs were used in response to shelling by militants firing 122-mm howitzers prohibited by the Minsk agreements on civilian targets and the Armed Forces positions. The ceasefire had long been breached. The militants did not stop shelling even after the Ukrainian side used the standard response mechanism requesting a truce through the OSCE SMM. Under the terms of the July 2020 armistice, retaliatory fire is allowed in the event of a failed effort to use the response mechanism.
Manipulation: Everyone from Zelensky to ordinary Russian-speaking citizens are kept in fear by the right-wing radicals
"We are all very well aware of how Ukrainian "patriots" react to Russian-speaking Ukrainians. They harass them not only on social networks or use phone spam attacks but also physically assault them," Klymenko Time writes (a media outlet controlled by Oleksandr Klymenko, former Minister of Revenue and Duties of Ukraine from "the Yanukovych family").
"The extreme right has long turned into a sort of ideological police force in Ukraine, allowed to persecute anyone not fitting in with their image of a "true Ukrainian," Strana writes. 
"Ultra-right," "extreme right," "right-wing radicals" are the favorite topics of Russian and pro-Russian media. Like in many developed countries or Russia, there are representatives of the extreme right in Ukraine. However, these organizations are few and far from enjoying as much support from society or the government as the pro-Kremlin media try to show (as evidenced by the election results: nationalist parties obtain results closer to zero). The Russian media constantly exaggerates the influence and importance of far-right organizations in Ukraine. According to pro-Russian media, it is a minority pursuing an aggressive policy against all things Russian. 
The topic of right-wing radicals is so popular with Russian media because it allows them to hide their crimes. According to a Russian myth, the 2013 Euromaidan was organized by the radicals, not Ukrainians choosing European integration. Crimea and Donbas had to be occupied to be "saved" from the radicals. These regions did not support the new government and therefore decided to "separate."  
Pro-Russian media in Ukraine also intimidate their audiences with stories of Ukrainian volunteer battalions' "cruelty". On December 1, Volodymyr Zelensky awarded Dmytro Kotsyubaylo, a Right Sector volunteer with the nom de guerre Da Vinci, with the title of Hero of Ukraine. In his interview for NYT in the spring of this year, Kotsyubaylo joked he had fed a wolf with "bones of Russian-speaking children" to make fun of Russian propaganda's fake news about Ukrainian nationalists (The commander, Dmytro Kotsyubaylo — his nom de guerre is Da Vinci — jokes that the fighters feed it the bones of Russian-speaking children, a reference to Russian state media tropes about the evils of Ukrainian nationalists, NYT). The phrase was taken out of context, and it was not suggested anywhere in the manipulative headlines that it was a joke.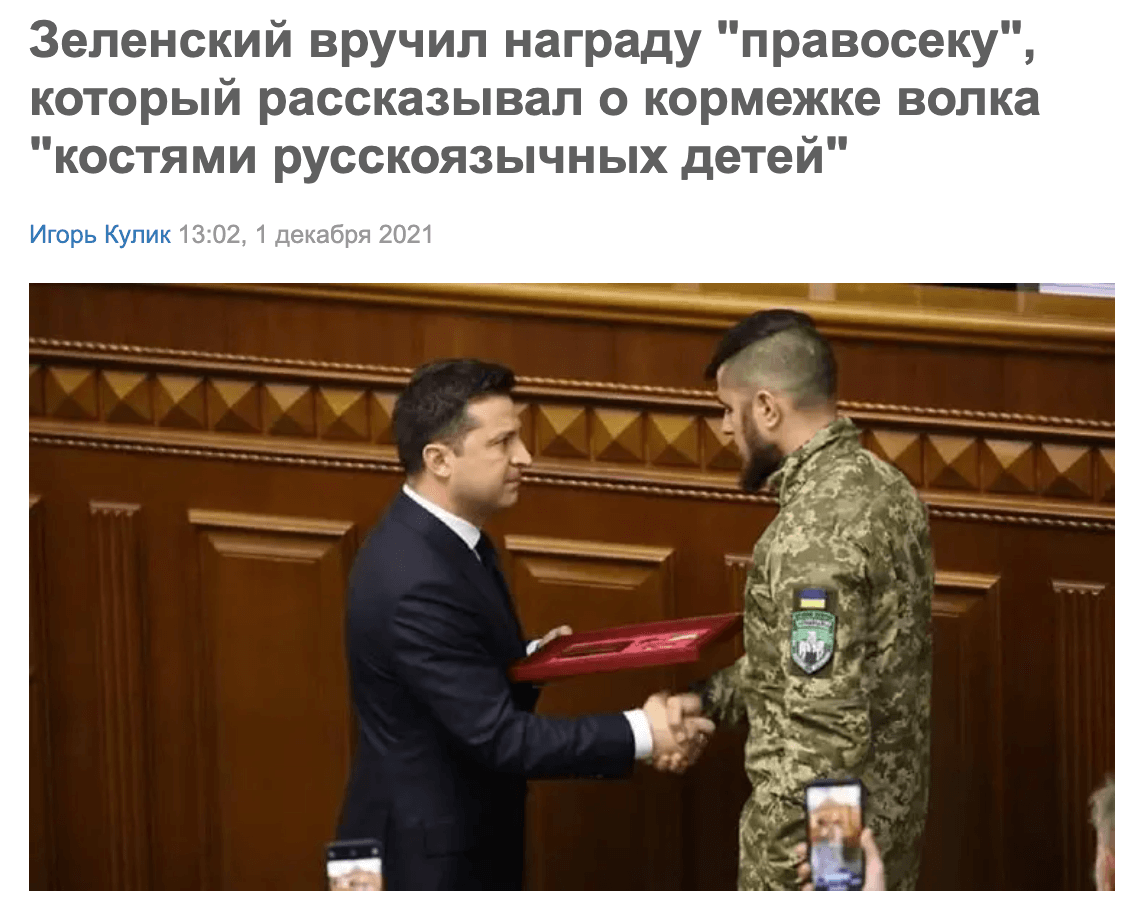 Zelensky awarded the "right-winger" who told the story about feeding a wolf with "bones of Russian-speaking children"
Pro-Russian media also write that "radicals" do not allow President Zelensky to sign the law on war crimes because it would turn out that most of the crimes in Donbas were committed by the Ukrainian army. Similar damaging material was disseminated by the websites of Medvedchuk's pool (112, Zik) and other pro-Russian platforms (from.ua, Vesti, Mignews, etc.).
The UkrLive TV channel also said that the law on war crimes had not been passed in Ukraine for so long because they could not admit that the Ukrainian army was used in Donbas against "Ukrainian citizens." This is very much in line with the fake story of the ongoing "civil war" spread by Russian propaganda. In reality, the Ukrainian army is used against the Russian occupiers and illegal Russian-backed militants. They do not acknowledge this fact in Russia because "they are not there."
Manipulators will always have something to add to "external governance"
Not a day goes by on pro-Russian platforms without mentioning so-called "external governance." Facts are taken out of context, manipulated or openly falsified to convince audiences that Ukraine is not an independent sovereign state, but a dependent country – a "raw material appendage" of the European Union, a "bridgehead" for the United States, or a subordinate to the curators from London. 
Similar messages are often heard on pro-Russian TV channels, including Nash. They are disseminated not only by politicians and pseudo-experts but also by TV hosts. On November 30, host Maks Nazarov argued on the air with Borys Bilyi, a European Solidarity deputy in the Kyiv Oblast Council. When Bilyi commented on the need to develop high-tech enterprises in Ukraine, Nazarov emotionally confronted him: "Well, your signed association doesn't make it possible. They've turned Ukraine into a raw material appendage. Listen, let's go through each point of economic association with the European Union. Let's look at the decisions the European Union has been hammering in recent years regarding Ukraine, regarding, for example, imports of the wood raw material from the Carpathians, i.e., our roundwood."
It is not the first time Maks Nazarov spread anti-Western narratives in line with Russian myths about Ukraine's relations with international partners. In another show, "Simply Nazarov," he talked about Ukraine being a bridgehead for the United States and no one waiting for us in the EU.
Pro-Russian politicians in Ukraine often voice the idea that the Association Agreement with the EU has made Ukraine a raw material appendage. Russian state propaganda also likes to reiterate it since it needs to prove that Ukraine's distancing from Russia and Euro-Atlantic aspirations leads Ukraine to economic collapse. However, this allegation, like in Nazarov's case, is manipulation. 
First, the EU-Ukraine Association Agreement is not about transforming Ukraine into a raw material appendage. It provides freer access to the EU market for Ukrainian goods. The EU has been Ukraine's largest trading partner since 2014. Nearly 40% of exporters and importers benefit from the Association Agreement, and only 6% do not.
Our two largest exports to the EU are industrial products, namely ferrous metals and electric machines. Since 2016, exports of higher value-added products such as machinery and equipment and transport equipment have been growing steadily. The number of companies exporting to the EU increased from 11.7 thousand in 2015 to over 14.5 thousand in 2019. 
Second, the EU demands that the moratorium on roundwood exports be lifted as it is contrary to the terms of the Association Agreement. To preserve Ukraine's forests, the EU proposes to constrain extraction. The current moratorium on the export of wood has not stopped extraction, and domestic production of finished products made from our domestic raw materials has been developing slowly.  
 In the same program, Yevhen Murayev, the owner of Nash, said: "External governance structure's already been built. And with our country's under governance, which is now in the hands of the UK and the US, or their so-called supervisory boards, the International Monetary Fund, the agents selecting judges for our judiciary – they've already gotten theirs."
External governance was also discussed on the UkrLive channel (formerly, First Independent). Nataliia Korolevska, an MP from OPFL, said: "If we come to understand that Ukraine's Energoatom is the last armor of our energy independence today, then we have no right to place it under external governance."
We debunked the fake news about the IMF and "external governance" of Ukrainian courts and supervisory boards at SOEs in detail in this monitoring report. 
Our methodology
VoxCheck analysts monitor the websites and social networks of the Ukrainian pro-Russian media every day to identify the main news or topics of the week that get the most airtime and attention in the news feed. We identify the key narratives of the past week and analyze their origins.
We monitor media outlets such as Strana, Klymenko Time, Vesti, Ukrayinski Novyny, Podrobnosti, Apostrof, From.ua, Golos.ua, KP in Ukraine, Znaj.ua, Telegraf, 112.ua, Zik, NewsOne, TV channels Nash, First Independent, Inter, etc. We do not claim that these outlets deliberately spread Russian propaganda. Their content, however, contains elements of Russian disinformation. VoxCheck searches for fake news stories and manipulations to debunk them. The "click and check" method lies at the core of our fact-checking. Anyone can check our argumentation and sources. Fact-checking can only be based on open data with relevant links. A fact-checked article can only be published if signed by two editorial board members.
Attention
The author doesn`t work for, consult to, own shares in or receive funding from any company or organization that would benefit from this article, and have no relevant affiliations