"If someone in Russia says that the sun rises in the east, in Ukraine, just so as not to be in solidarity with the Russians or fall into the same narrative, they start saying that the sun actually rises in the west and the sun in the east is the Kremlin propaganda." 
 It is a quote from Strana's video blogs on YouTube, for which sanctions were imposed for systematic anti-Ukrainian propaganda. And that is one of the many tools of Russian disinformation to sow distrust and skepticism towards Ukraine's public institutions. After all, if official Kyiv is discredited as a source of information, any statements from the authorities could be questioned. For instance, the ones about who has been shelling Donbas. When no sources are trustworthy, there is plenty of scope for manipulation. Then "facts" can be made up and Russian propaganda pursued under the guise of an "alternative" point of view. 
VoxCheck analyzes how Russian narratives get into Ukraine's information space as part of a joint project with the Center for Strategic Communications. Read the previous publications here.
Manipulation: Ukraine is in a deep economic crisis due to a free trade area with the EU
What happened: On November 3, the Verkhovna Rada Committee on Economic Development adopted the guidelines for deepening Ukraine's trade and economic relations with the EU countries under the Association Agreement. Five years after the Agreement's entry into force in Ukraine, it became possible to review its economic part that does contain unfavorable terms for us. Ukraine has a chronic trade deficit with the European Union, even apart from reverse-flow gas supplies. And we have not been able to make up for losses from exports to the aggressor country under the Agreement.
However, the free trade area granted Ukrainian exporters duty-free access to one of the world's largest markets. Before introducing the FTA, restrictions on exports were greater, including import duties on goods and quantitative restrictions. In place of the traditional quantitative quotas, the EU introduced tariff quotas for some groups of goods, including agricultural and food industry goods. There are no quantitative restrictions on exports. Before the Agreement, duty-free exports were not possible, i.e., the Agreement has improved, not worsened the situation.
However, pro-Russian politicians and media outlets do not so much as objectively criticize the Agreement's shortcomings as manipulate them to prove that the path towards European integration and the refusal to cooperate with Russia leads to Ukraine's collapse. Strana comments with a "sad heart" that "no one published such documents (i.e., the Economic Committee's guidelines) 8 years ago."
"Overall when you read this document, you get a clear impression that the Association Agreement was signed not to benefit Ukraine, but for Europe to make money on us. And, when you're done reading it, you're no longer surprised that Ukrainians' standard of living cannot reach the 2013 level," the article goes on to say.
However, economic indicators suggest otherwise. For instance, in terms of GDP per capita (constant 2015 US$), we exceeded the 2013 level in 2019. In 2020, the indicator's value decreased slightly, in particular, due to the impact of the pandemic.
In 2017, real wages exceeded the levels of 2013. They have been growing annually since then. In 2020, the figure was already 38% higher than in 2013. 
The minimum and average pensions and the subsistence level are still below the 2013 levels, but the minimum wage is already 40% higher than in 2013 (adjusted for inflation).
Criterion
2013, UAH
2021, UAH
2021 measured in 2013 UAH
The difference,%

Minimum pension

949 

1,854

666.9

-29.7%

Average pension

1,470.7

3,915.75

1,408.5

-4.2%

Minimum wage

1,218

4,723

1,698.9

+ 39.5%

Average salary 

3,265

14,239

  

5,121.9

+ 56.8%

Cost of living

1,176

 

2,294

825

-29.8%
And "Europe making money on Ukraine" is one of those eternal Russian manipulative statements saying that it is more beneficial to "be friends" with Russia. 
The websites of Medvedchuk's pool disseminated his statement that while under the Free Trade Area agreement with the EU, Ukraine "has been plunged into a profound economic crisis." At the same time, he directly calls for the return of "industrial cooperation with Russia, joint production, coming back to Russian markets until the completion of import substitution processes there." 
The Ukrainian economy was faltering on the brink of an abyss after Russian aggression, not because of the country's Euro-Atlantic aspirations. When Russia attacked Ukraine, illegally annexed Crimea, and started the war in Donbas, it will be recalled that Ukraine's real GDP fell by 6.5% in 2014 and then another 9.8% in 2015.
Manipulation: the energy crisis forced [us] to "step on the throat of national pride."
Pro-Russian media continued the campaign of spreading panic about the gas and coal crises in Ukraine. Their rhetoric is that Ukraine is to blame for the deteriorating relations with Russia, from which we refused to buy gas directly. "Instead of thinking about our national interests, we've basically made a commitment to the United States, and NATO will be forming an "Anti-Russia" bridgehead here," lawyer Maryna Stavniychuk said on-air on First Independent.
"Heating tariffs will remain stable for households… To achieve this, we have to step on the throat of national pride and open up the possibility of importing coal from Russia," Vesti writes.  
Such a narrative aims at creating the impression that Ukraine ignited the crisis in relations with Russia by keeping up militant rhetoric for 8 years. As if there were no Russian aggression or this fact could be ignored.
Based on a similar principle, pro-Russian media criticize the Ukrainian authorities for not having recognized the self-proclaimed President of Belarus Aleksandr Lukashenka, cutting off air links with the country, and stopping the imports of electricity from Belarus. When there were reports of a possible resumption of electricity imports, pro-Russian media were flooded with ironic headlines: "So, is "Batska" still a tyrant or not?"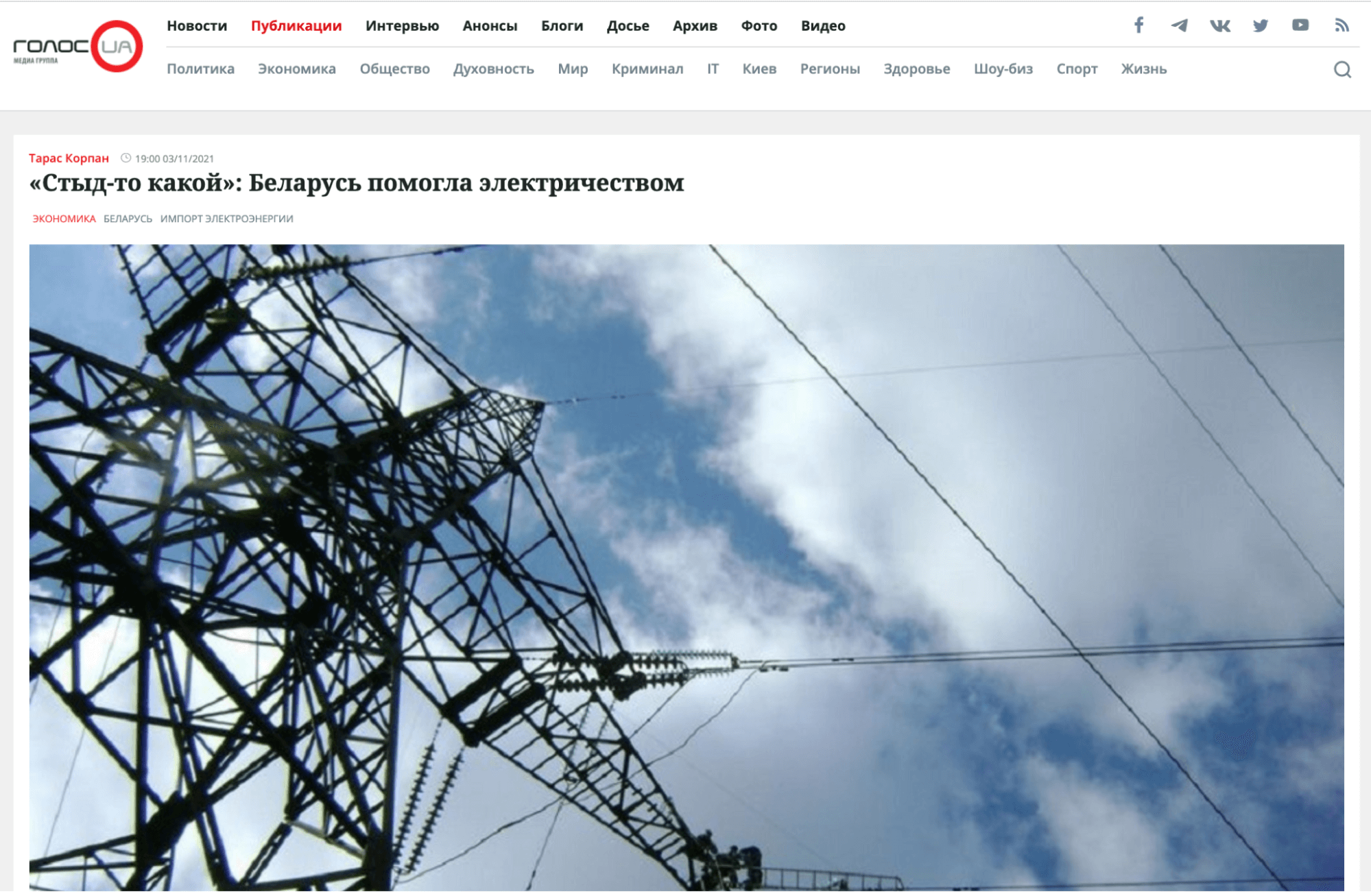 "What a shame": Belarus helps by providing electricity  
Source: Golos.ua. It says that on November 2, Ukraine requested emergency assistance regarding energy supplies from Belarus and Slovakia  
Our methodology
VoxCheck analysts monitor the websites and social networks of the Ukrainian pro-Russian media every day to identify the main news or topics of the week that get the most airtime and attention in the news feed. We identify the key narratives of the past week and analyze their origins.
We monitor such media outlets as Strana, Klymenko Time, Vesti, Ukrayinski Novyny, Podrobnosti, Apostrof, From.ua, Golos.ua, KP in Ukraine, Znaj.ua, Telegraf, 112.ua, Zik, NewsOne, TV channels Nash, First Independent, Inter, etc. We do not claim that these outlets deliberately spread Russian propaganda. Their content, however, contains elements of Russian disinformation.
VoxCheck searches for fake news stories and manipulations to debunk them. The "click and check" method lies at the core of our fact-checking. Anyone can check our argumentation and sources. Fact-checking can only be based on open data with relevant links. A fact-checked article can only be published if signed by two members of the editorial board.
Attention
Автори не є співробітниками, не консультують, не володіють акціями та не отримують фінансування від жодної компанії чи організації, яка б мала користь від цієї статті, а також жодним чином з ними не пов'язаний