Verification within Meta's Third-Party Fact-Checking Program
An alleged announcement from the online service "Doc.ua" is being spread online that from March 1, 2023, the reception of donated blood will be carried out only when the donor is a "pure-blooded Ukrainian". Foreign citizens are prohibited from being donors.
However, the service did not provide such announcements. In Ukraine, ethnicity is not included in the list of criteria for a potential blood donor.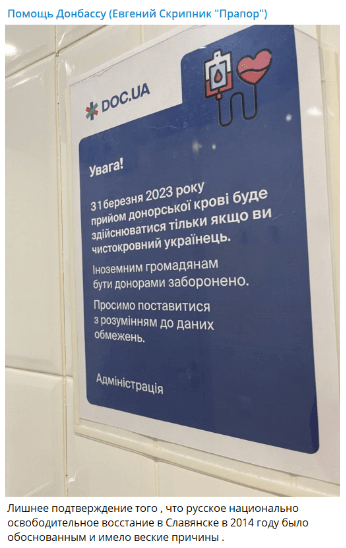 The co-founder of the service Ihor Liski wrote on his Facebook page that the ad does not belong to the service. At first, he assumed that a similar action could be organized by competitors for "black" PR. Later, after finding the same messages on Russian TV channels, he reported that it was a psychological operation by Russian special services to influence Ukrainians.
The service itself denied the ad. "In connection with the dissemination online of inaccurate information from the Doc.ua brand, we would like to note that we are not related to any blood collection or any other procedures related to donation," — stated in a post on the Facebook page Doc.ua.
According to Ukrainian legislation, foreigners and stateless persons can be donors if they have a permanent residence permit in Ukraine. What is important is not the nationality of the donor but the state of his health. Blood donors in Ukraine can be healthy people over the age of 18 and weighing over 50 kg, without temporary (for example, recently ill, taking medication, getting a tattoo or vaccination) or absolute (cardiovascular diseases, diabetes, etc.) contraindications.
Previously, VoxCheck already refuted fakes about blood donation in Ukraine, in particular, that Ukrainian children donate blood for the needs of the Armed Forces of Ukraine or that NATO sent contaminated donor blood to the Armed Forces of Ukraine. Also, last year, a fake was spread that in one of the Ukrainian clinics, allegedly, the biomaterials are accepted only from Ukrainians who do not have relatives from Russia.
Attention
The authors do not work for, consult to, own shares in or receive funding from any company or organization that would benefit from this article, and have no relevant affiliations