Verification within Meta's Third-Party Fact-Checking Program
russian media outlets and social network users spread information about Germany's alleged participation in developing biological weapons in Ukraine, as announced by the chief of russia's radiation, chemical, and biological protection forces, Igor Kirillov. According to him, biological weapons testing projects in Ukraine "were implemented in the interest of Bundeswehr's Central Medical and Sanitary Service. Bundeswehr specialists reportedly paid particular attention to the causative agent of Crimean Congo fever.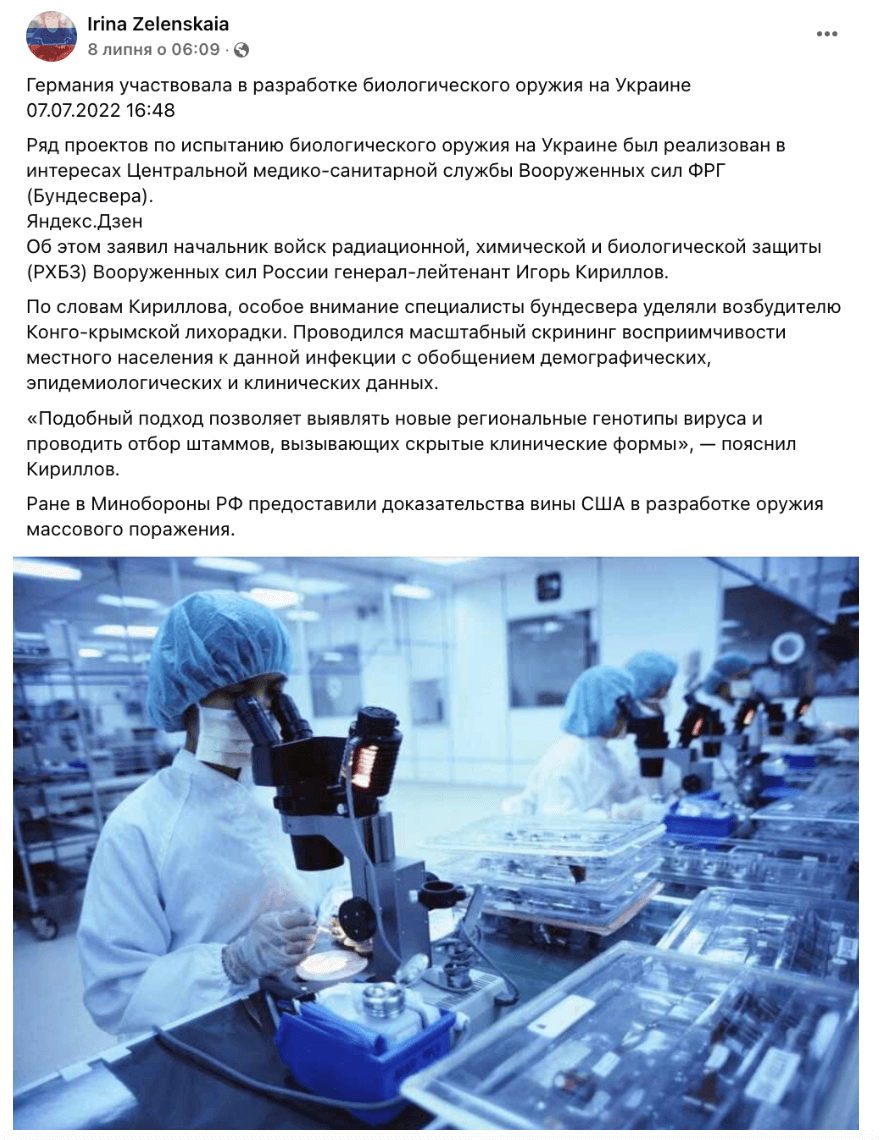 A screenshot of the FB post
It is not the first time russian officials spread fake news about the German biosecurity program. On March 10, Igor Kirillov said that hundreds of blood serum samples of "exclusively Slavic ethnicity" were passed by Ukraine to the German Bernhard Nocht Institute For Tropical Medicine. The German biosafety program was mentioned on the slides of the presentation. The German Foreign Ministry called russia's allegations baseless and absurd. At a briefing on March 11, spokesperson for the German Foreign Ministry Andrea Sasse said: "I can say for one that a meeting of the United Nations Security Council is to take place this afternoon at Russia's request, and that Russia has announced it will raise the allegations there. At this point, I would like to address the allegations: they are absolutely baseless and, from the Federal Government's point of view, completely absurd. In particular, the statement about German institutes researching bioweapons in Ukraine expressly does not correspond to the facts."
In late March, russia's permanent representative to the UN office in Geneva, Gennady Gatilov, said Germany had "military biological programs" in Ukraine. According to him, the Bundeswehr financed them (he must have meant the German Biosecurity Program).
Germany's biosecurity program was launched in 2013 by Germany's Ministry for Foreign Affairs. The program's website says it aims to support partner countries in Africa, Central Asia, and Eastern Europe in controlling bio-risks: from the misuse of pathogens and toxins to outbreaks of pandemics.
Since 2016, under this program, the Bundeswehr Institute of Microbiology (Munich) has been cooperating with the Institute of Experimental and Clinical Veterinary Medicine in Kharkiv. The Bundeswehr Institute of Microbiology website contains information about the "Ukrainian-German biosecurity initiative for managing zoonotic risks near the external EU border," under which cooperation between the institutes takes place. Here you can find information about activities for all years.
In a comment to DW, the German Defense Ministry explained that "research is being conducted (under the German-Ukrainian program) on the spread of anthrax, brucellosis, leptospirosis, African swine fever, and other diseases that occur in nature in animals and can be transmitted to humans."
In a comment to DW, professor Roman Wölfel heading the Bundeswehr's Institute of Microbiology, called russia's accusations against Ukraine "absolutely far-fetched." He visited the laboratory of the veterinary institute in Kharkiv and said that it mainly dealt with animal diseases in agriculture. Wölfel explained the Bundeswehr Institute's participation in the civilian project by the fact that the military has at its disposal technical means and methods that allow for a faster response to the emergence of new sources of diseases.
Therefore, there is no reason to claim that Germany was developing biological weapons in Ukraine because there is none.
The so-called "military biological laboratories" are one of the narratives of russian disinformation campaigns directed against Ukraine. Previously, VoxCheck debunked numerous fake news about US bio-laboratories in Ukraine.
Attention
The authors do not work for, consult to, own shares in or receive funding from any company or organization that would benefit from this article, and have no relevant affiliations