When Russia launched a full-scale war against Ukraine, the international community reacted rapidly to the russian invasion. The West has already introduced 7 packages of economic sanctions against the Russian Federation. They provide for a wide range of measures in various areas — finance, energy, industry, trade.  Some countries have done more — closed the sky to russian aircraft, banned ships from their ports, or even expelled russian diplomats from the country.
However, in addition to sanctions at the national level, an important step was the decision of many international companies to stop working with russia. Businesses that continue to operate in russia actually sponsor russian aggression in Ukraine with their taxes. Now, these companies are forced to participate in the mobilization russia is carrying out, accordingly, their indirect support of war turns into direct one.
Why didn't they leave earlier? For many companies, leaving russia means significant financial losses because it is a huge market. Some holdings in russia had production facilities — these are investments that are difficult or impossible to "withdraw" from the country. Therefore, to leave or to stay has proved a difficult choice for many.  
Various researchers began to follow this process almost immediately. Let's find out who and by what criteria distinguishes international companies between those that have left russia, those that have stayed, and those that hesitate. We will cover the lists of Yale University and the LeaveRussia project in detail.
Who Follows How Companies Leave russia
Perhaps, one of the most popular is the list of Yale University tracking Western corporations' response to the war in Ukraine by following their public statements and websites. 
However, the LeaveRussia project, created by Ukrainian volunteers in March, compiled the most complete list. In July, they joined efforts with the KSE Institute team and its SelfSanctions project that studies the activity of international companies. As a result, they formed a base of companies associated with the russian market.
There are other similar initiatives: 
Besides, the NACP maintains the list of the international sponsors of war. As of now, it only includes 8 companies, but the data have already been included in World-check. This is a base in which foreigners screen their potential business partners to ensure that they are not involved in fraud or terrorist organizations, sanctioned, or otherwise. If the company is in this database, it means that it is risky to cooperate with it.
Yale scientists have been keeping a register of international companies that have left the russian market and those that continue to work there. As of September 18, this list includes 1,385 companies. The researchers divided them into 5 groups, depending on the position regarding doing business in russia:
A — have completely withdrawn from the market;
B — have temporarily ceased their activities, but are considering the possibility to return;
C — have reduced the volume of current operations;
D — have suspended new investment /development.
F — continue to operate without any changes;
Today, 568 international companies continue to operate in russia. In particular, 240 enterprises belong to group F, 159 — to group D, 169 — to group C. For the most part, these are industrial enterprises — 100 companies, and 75 retailers.  Businesses that fell into groups A to D provided up to 40% of russian GDP, according to the study of Yale University.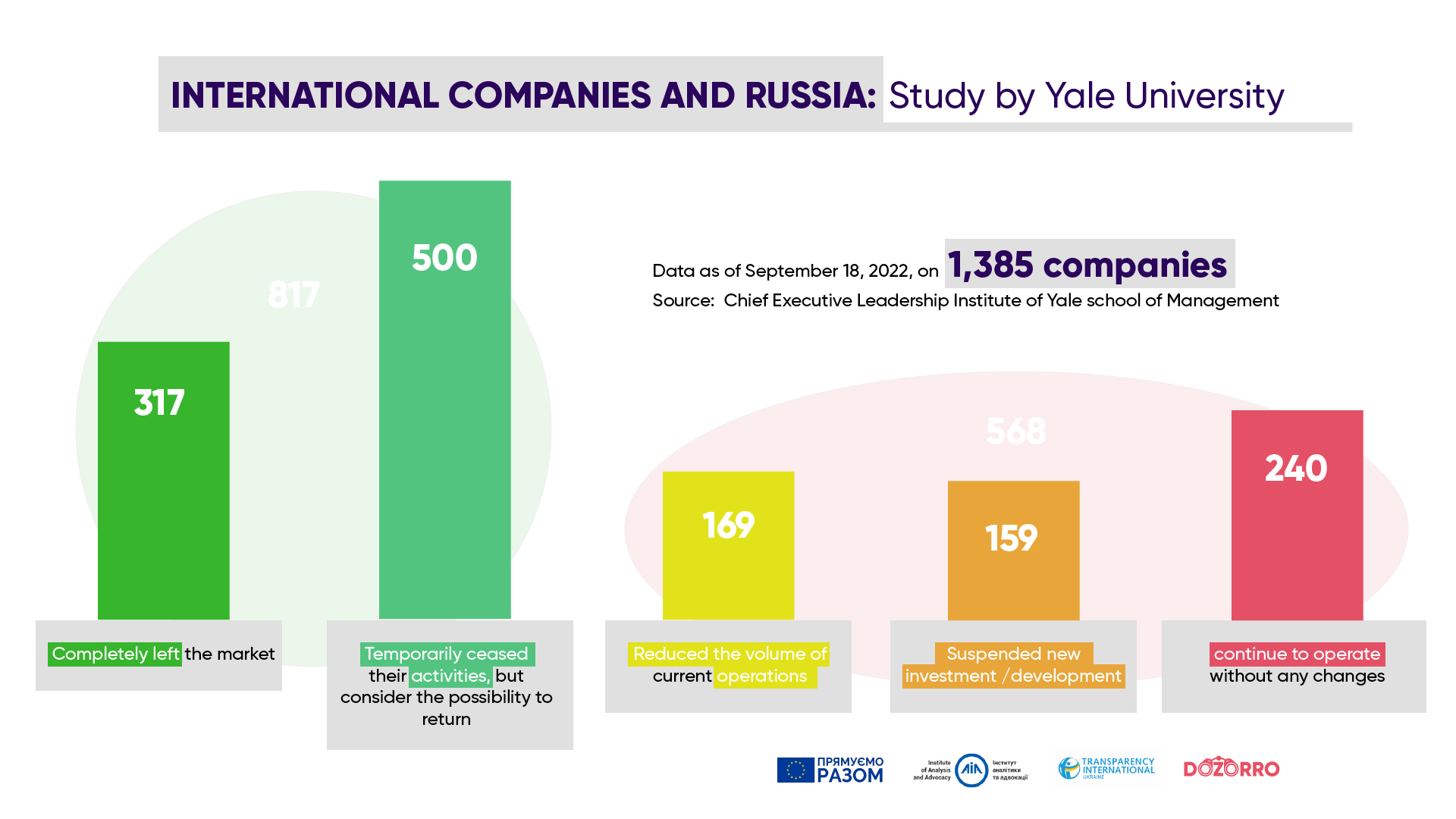 In May, Yale scientists also investigated how the withdrawal of international companies from the Russian market affected their state in the stock markets. Despite the depreciation of assets and the suspension of operations, the business that left russia even benefited from this — its shares were growing. This effect did not depend either on the sector, or the region, or the company size. And the more fully companies curtailed their activities in Russia, the more positive the market reaction was. This is linked to the fact that investors found it important that companies got rid of the risks, associated with working in russia. Scientists also noted although a small, but still a statistically significant increase in the probability of default of those companies that stay in Russia, compared to those that left.
LeaveRussia project numbers 2,868 international companies as of September 18 (approximately 1,300 companies are mentioned both in the Yale and LeaveRussia databases). The researchers divided them into 4 categories (statuses):
 status "stay" — companies that continue to operate in russia (1,143);

 status "wait" — companies that have reduced current operations and suspended new investments (494);

status "leave" — companies that have curtailed russian operations (1,119);

status "exited" — companies that completed the exit from russia (112).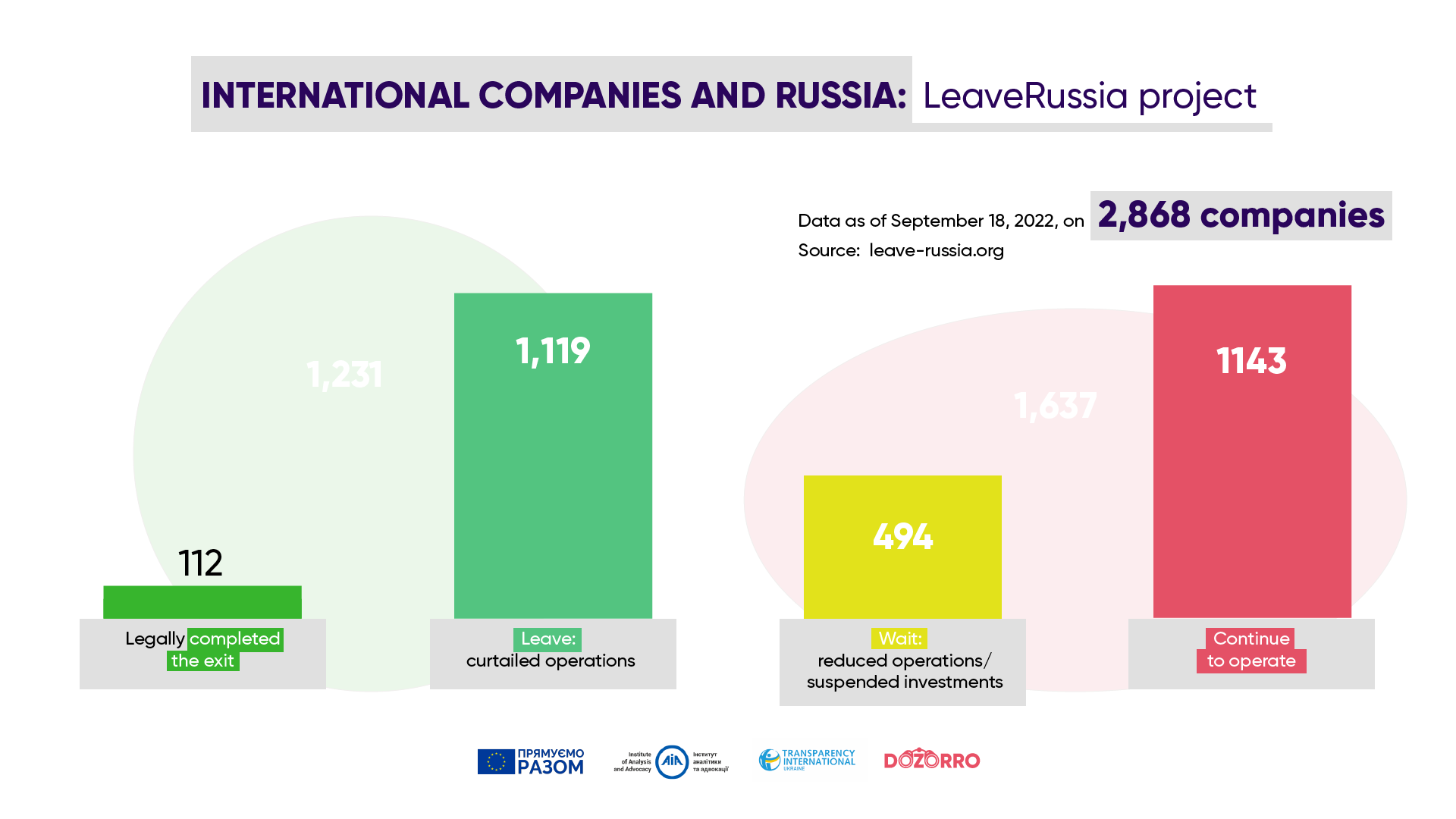 The KSE database is the most complete, regularly updated, and contains much more information than most other similar sources. For example, data on the number of personnel, income, capital, and other financial indicators. Moreover, KSE monitors how companies legally organize their exit from russia, and only companies that have truly completed this process — those that do not sell their goods in russia and have sold russian assets, if they had any, — are classified as those that have exited. 
Continue to Operate in russia: Breakdown by Country
According to LeaveRussia, 1,637 international companies continue to operate in russia today (companies with the status "stay" + companies with the status "wait"). The largest number of such enterprises have their head office in the United States — 294 companies. Representatives of German business come second — 247, France comes third with 107 companies. The fourth and fifth are Japan (98 companies) and the United Kingdom (93 companies).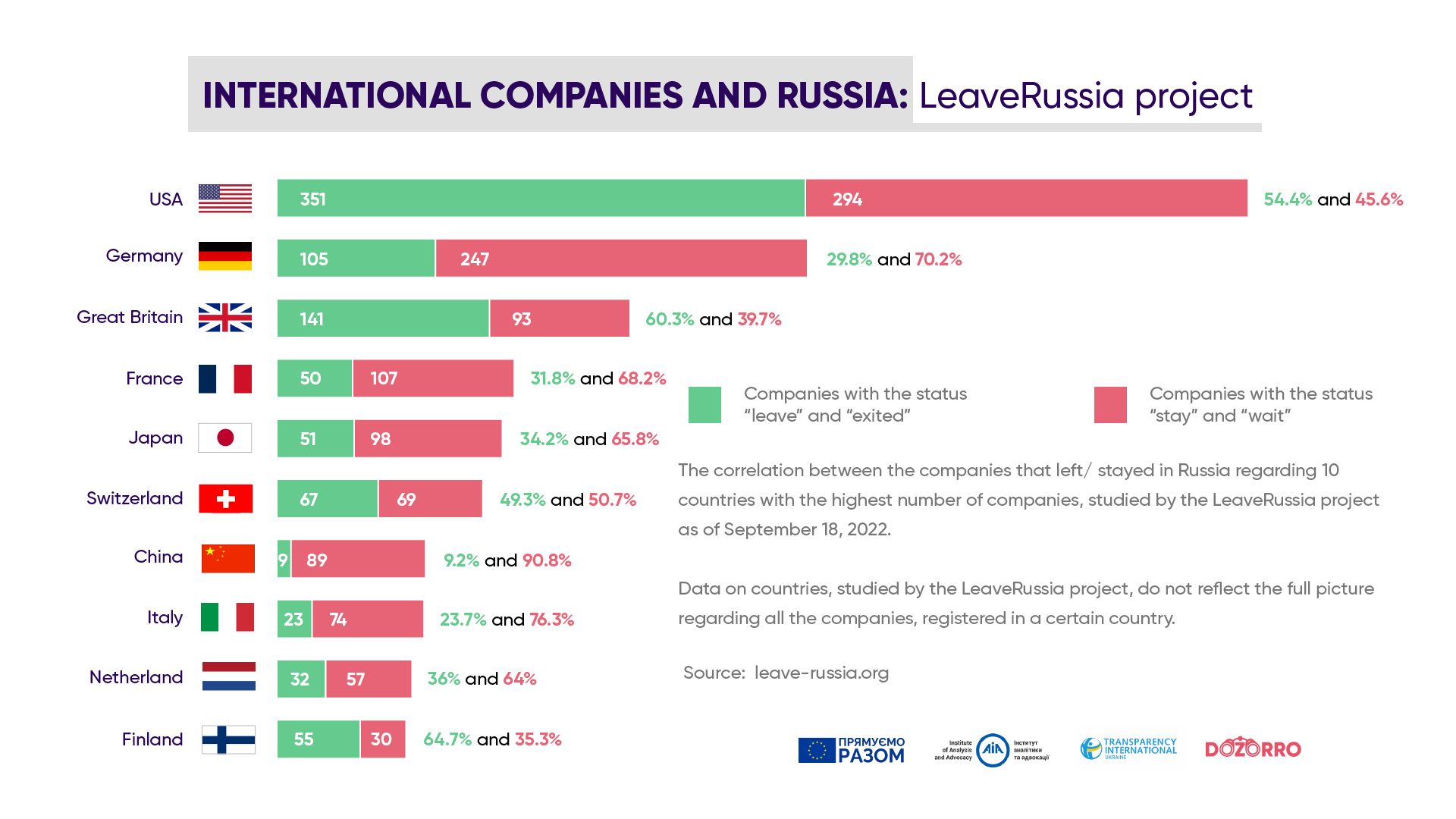 Yale researchers' data also show that the largest number of companies that continue to operate in russia come from the United States (133 companies). The second place was taken by German companies — 63, and the third place — by Chinese companies — 46. French business ranked fourth with a score of 44, Italy ranked fifth with 28 companies.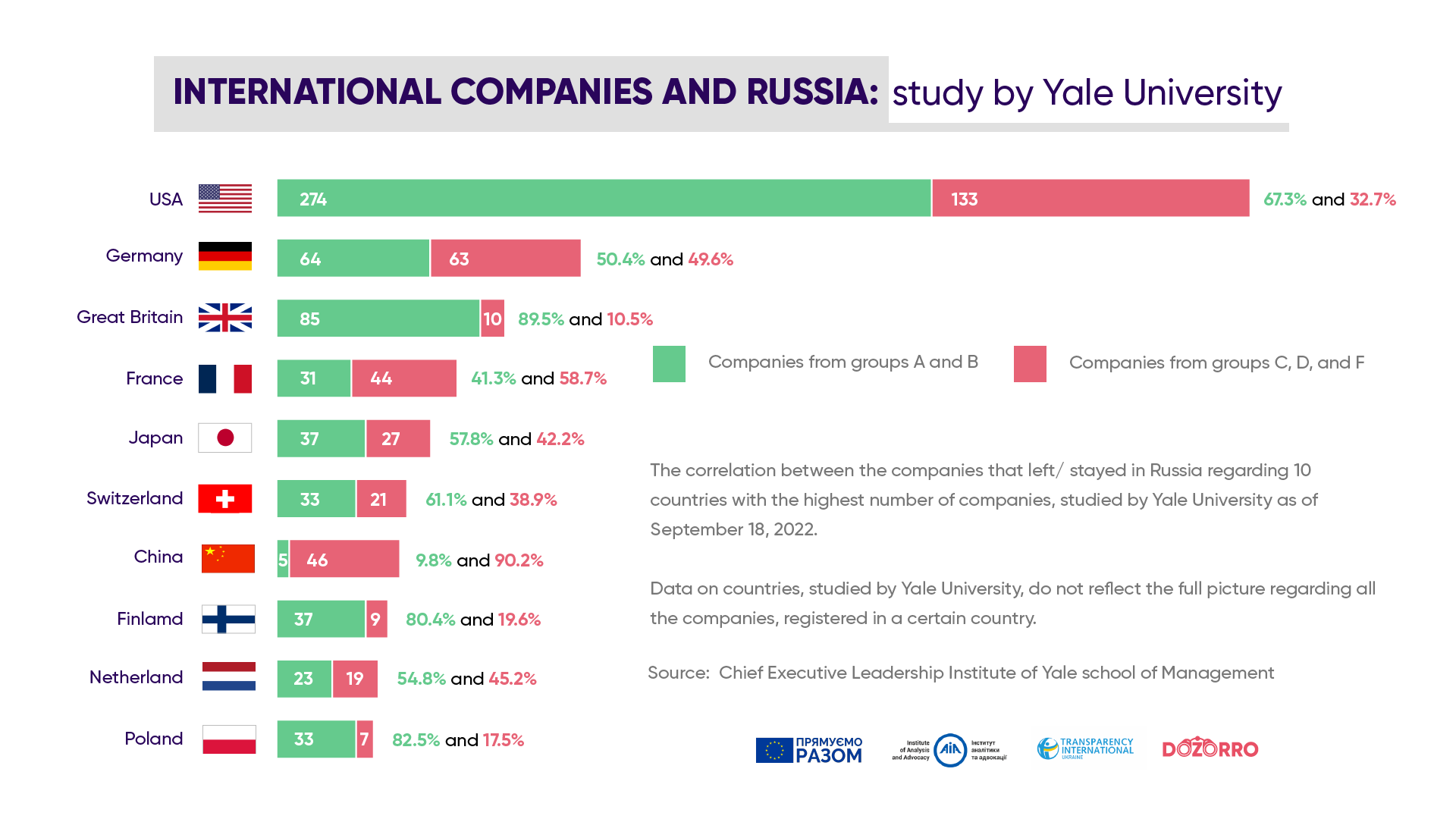 The United States accounts for the largest number of companies that left russia and are in the process of leaving (according to Yale University — 273, groups A and B; LeaveRussia — 351, statuses "exited" and "leave"). Among the countries that most actively leave russia is Germany. Yale scientists have found that 64 German companies left the russian market, whereas according to LeaveRussia, 105 companies from Germany legally stopped working in russia or are in the process of leaving. 
The USA and Germany come first both in terms of the number of companies that left and in the number of those that stayed because the highest number of companies working in russia before the full-scale war were from these countries. Therefore, it is worth paying attention not only to the number of companies that left or remained, but also to the share of companies that left in the total number of companies that worked in russia. Finland (65%) and Great Britain (60% of companies) come first here, according to LeaveRussia.
Is there a connection between the support policies of the respective governments regarding Ukraine (including the application of sanctions against Russia) and the withdrawal of companies from these countries from russia? The one thing that is certain is the reaction — if a government of a certain country does not impose sanctions on Russia (such as China), companies of this country are unlikely to even think about leaving it. Rather, they will perceive the exit of Western countries as a possibility to take a larger share of the Russian market.
Who Is an Example for the Industry, and Who Can Afford Reputational Losses?
Today, the following American giants continue to operate in russia: Cargill food company; household products manufacturers Colgate-Palmolive, Johnson & Johnson, and Procter & Gamble; food manufacturers Mondelez, Kraft Heinz, Domino's Pizza, Subway, Hard Rock Café; Hyatt hotels; Pfizer pharmaceutical corporation; Snap, Vimeo, Patreon technology companies.
The following American companies such as McDonald's, Netflix, Apple, Coca-Cola Company, and eBay are no longer operating in russia.
German enterprises Metro, Ritter Sport confectionery corporation, Siemens Healthineers and Siemens Energy AG divisions, the construction materials manufacturer Knauf, the food manufacturer Hochland, the chemical-pharmaceutical corporation Bayer, and many others continue to operate in russia.
German automotive concerns Mercedes-Benz, BMW, and Volkswagen; a manufacturer of household products and goods for repairs Henkel, a software developer SAP, a brand of confectionery products Dr. Oetker, Deutsche Bank and Commerzbank banks have left the russian market. In summer, the largest insurance company in Europe — the German company Allianz Group — announced its withdrawal from the russian market.
Among the French companies, the following continue to operate in russia: the retail network of the ADEO group — Leroy Merlin (home improvement stores) Auchan (hypermarkets) and Decathlon (sports and tourism); food manufacturers Bonduelle, LACTALIS, Danone; manufacturers of clothing Lacoste, Etam; energy corporation Engie; pharmaceutical corporation Sanofi; cosmetic brand Yves Rocher.
The following French companies have left the russian market: the developer of video games Gameloft, the cosmetic network L'Occitane, the media group Publicis Groupe, the Société Générale bank, the Sodexo catering company, and others. After a long wave of criticism, the Renault automotive concern decided to stop production at the plant in Moscow.
Most Chinese companies that are not afraid of falling under Western sanctions not only haven't stopped working in the russian market, but have instead increased their volumes, trying to take the niches that were vacated after the exit of Western companies. Thus, Chinese smartphone brands such as Realme, Vivo, Mi, Tecno, Infinix, iTel plan to take 90% of the Russian market. Among the most famous Chinese companies that continue to operate in russia are Alibaba and Didi marketplaces, electronics manufacturers Xiaomi, ZTE, Tencent, Oppo, Honor, financial system UnionPay.
To understand what prompts companies to leave russia or stay, a separate study is required. Among the important factors are, most likely, the share of revenues or profits that the country receives from the russian market, the reaction of other consumers to not leaving russia, the competitive position of a certain company, as well as whether sanctions have been applied to the goods or groups of goods that this company sells.
International businesses must continue to leave russia — this is a matter of both ethics and their own benefit. It is becoming less and less profitable to conduct business in russia: sanctions, destroyed logistics chains, problems with financial transactions, the deterioration of the economic situation of russia complicate business. And most importantly, every additional day of work in russia helps it wage war against Ukraine and the entire civilized world. To encourage companies to leave the russian market, foreign governments may impose additional restrictions on the trade with russia, such as banning the supply of machine-building products, cars and spare parts to them, chemical products, equipment and technologies for the energy industry, financial services. All citizens can join by boycotting those companies that do now want to stop their bloody business in russia.
This publication was prepared with the financial support of the European Union. Its content is the sole responsibility of Transparency International Ukraine and does not necessarily reflect the views of the European Union.
Attention
The author doesn`t work for, consult to, own shares in or receive funding from any company or organization that would benefit from this article, and have no relevant affiliations