For the past two months, VoxUkraine recorded data about all departures from Boryspil Airport. The result is the first independent airline on-time performance ranking in Ukraine. It somewhat differs from the ranking published by Boryspil airport. You will find out which airlines to steer away from when planning connections and business meetings immediately after landing.
22 billion USD. This is how much American airlines lose annually due to flight delays, reports the US Federal Aviation Administration. According to its data, 15% of flights arrive or depart late.
The State Aviation Administration of Ukraine does not calculate the losses of airlines and does not publish an on-time performance ranking of airlines. VoxUkraine has decided to start filling this gap and to calculate the percentage of delayed departures from Boryspil airport. Based on our findings, we have ranked airline companies by their punctuality.
Calculation Methodology
From August 12-October 12, 2016, VoxUkraine downloaded hourly data from the website of Boryspil international airport. The ranking includes those airlines that operated more than 50 flights in the analyzed period. You can download all the data from data.voxukraine.org.
The Largest Airline at the Largest Airport
In 2015, the passenger traffic in Ukrainian airports amounted to 10.7 mln. Boryspil accounted for 68% (7.3 mln) of passengers. On the worldwide scale, this number is not high.
The consulting company OAG issues monthly reports on airports' operations and ranks them by the number of flights. The latest report (August 2016) put Boryspil at the 240th place with 2914 flights. For instance, the leader of the ranking, Chicago O'Hare Airport, served 13 times as many flights. Regional competitors of Boryspil also showed better results. In September, there were 3945 flights at Budapest Airport and 5056 flights at Vnukovo airport in Moscow.
The least punctual airline
Ukrainian International Airlines, the largest Ukrainian airline, is also the largest client of Boryspil Airport. 4.7 mln passengers flew with it last year. In August-October 2016, UIA operated 4072 flights from Boryspil. It had a colossal lead over its competitors Wind Rose and Azul Air, which operated 372 and 352 flights respectively.
Unsurprisingly, such a large lead makes UIA the least punctual airline when it comes to the number of delays. 768 UIA flights were delayed, which amounted to 19% of the total number of flights operated by the airline. UIA is followed by El Al Israel Airlines and Wind Rose Aviation Company, which experienced 83 and 61 delayed departures respectively. The national airline of Israel operated 127 flights (65% were delayed) from Boryspil, while Windrose operated 372 flights (16% were delayed). Famous international airlines experienced much fewer delays than the three leaders. The figures are 21 (8%) for Air France, 16 (7%) for Lufthansa, 10 (8%) for KLM, and 5 delays (8%) for British Airways.
Is UIA thus the least punctual company? Not exactly. In relative terms, UIA took the 5th place as 19% of its flights were delayed. El Al Israel Airlines topped the ranking with 65% of its flights delayed. Ukrainian YANAIR and Atlasject Ukraine came in second and third respectively with 27% and 23% of delayed flights. The Belarusian transporter Belavia became the most punctual airline with only 2% of delayed flights.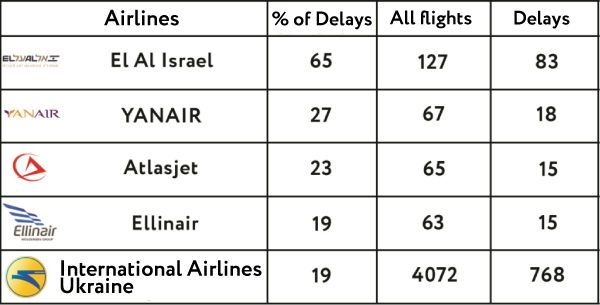 Severe Delays
The US Federal Aviation Administration considers the 15-minute delay to be acceptable. It is different when a flight is delayed for more than an hour. For long-distance flights, it is quite difficult to make up for the lost time, which makes the timely arrival to the point of destination very unlikely. This is critically important for those passengers who need to take multiple flights in the course of one trip.
VoxUkraine has analyzed severe delays and has calculated their share in the total number of flights for each airline. UIA experienced the largest number of significant delays, 118 in two months. Yet they amounted to mere 3% of the total number of flights operated by the airline. El Al Israel Airlines had much more one-hour delays, as 43 flights (34% of the total amount) departed with a one-hour delay. The share is much lower for the Ukrainian YANAIR airlines with 15 severe delays (22%). Atlasjet took the third place with 9 flights (14%) affected.
Airlines
All flights
Delays
% of Delays
Severe
Delays
% of Severe
Delays
UIA
4072
768
19%
118
3%
Wind Rose
372
61
16%
30
8%
Azur Air
358
42
12%
18
5%
Lufthansa
246
16
7%
1
0%
Dniproavia
227
9
4%
3
1%
Turkish airlines
142
11
8%
2
1%
El Al Israel
127
83
65%
43
34%
LOT-Polish airlines
124
17
14%
4
3%
Belavia
124
3
2%
1
1%
KLM
123
10
8%
0
0%
Air France
123
21
17%
1
1%
Air Baltic
106
16
15%
4
4%
Austrian airlines
105
7
7%
0
0%
YANAIR
67
18
27%
15
22%
Atlasjet
65
15
23%
9
14%
Adria airways
64
4
6%
1
2%
Ellinair
63
12
19%
1
2%
Czech airlines
62
3
5%
1
2%
Air astana
62
4
6%
1
2%
British airways
59
5
8%
1
2%
Aegean aviation
53
6
11%
0
0%
Boryspil and UIA in the worldwide ranking
OAG, a consulting company, ranks airlines based on punctuality as well. UIA came in 48th with 87.9% of flights that arrived on time. For comparison, this share was equal to 91.2% for KLM, 88.9% for Austria Airlines and 88.4% for Belarusian Belavia. 94.6% of Dneproavia flights (325 flights in total) arrived on time.
Why Are Flights Delayed?
In reply to a VoxUkraine inquiry, the Boryspil airport administration named the main reasons for delayed departures. According to them, delays are usually caused by:
– the absence of registered passengers,
– aircraft malfunction,
– the delay in the arrival of another flight,
– the late arrival of the aircraft to be used from a previous flight.
Boryspil airport has not disclosed the number of delays due to each of the causes because of the "commercial secret of the company". The airport administration also reports that technical problems caused no cancellations in 2015 (no data provided for 2016).
US airports have to deal with other problems. In August 2016, Bloomberg published an article "The Weather Isn't the Biggest Cause of U.S. Flight Delays". According to the article, computer-related issues are currently the main reason for delays in the US. For instance, more than 2000 flights across the globe were cancelled on August 8 because of a power loss at Delta Airline's computer center.
American Bureau of Transportation Statistics lists other causes of delays in 2015. The most frequent cause was the late arrival of an aircraft. It is followed by the air carrier delays (32.2%), the national aviation system delays (22.0%), extreme weather (5%), and security delays (0.1%).
Summary for Boryspil
Passengers that flew with El Al Israel Airlines were the most likely to leave Boryspil late. 65% of its flights were delayed. Passengers flying with YANAIR and Atlasjet Ukraine were also quite likely to arrive late to their point of destination, as 27% and 23% flights of these airlines were delayed. 19% of the UIA flights departed late. The best performance was shown by Belavia (2% of flights were delayed) and Dneproavia (4% of delays). Passengers of top world airlines, such as Lufthansa, Austrian Airlines, KLM and British Airways, experienced delays only in 7-8% of cases.
When it comes to severe delays, UIA tops the ranking of the absolute number of delays. However, in relative terms, El Al Israel Airlines takes the lead with 34% of its flights delayed. YANAIR comes in second with 22%, while Atlasjet ranks third with 14%. If a connection flight is planned, it is safer to fly with Austrian Airlines or KLM. There airlines did not have a single flight delayed for an hour or more within the analyzed period.
VoxUkraine is planning to analyze delays in other large Ukrainian airports, such as Lviv, Kharkiv, Odesa, and Dnipro. Moreover, we will perform a more detailed analysis. We will report the exact duration of delays and will reveal which airports are the least punctual.
Attention
The author doesn`t work for, consult to, own shares in or receive funding from any company or organization that would benefit from this article, and have no relevant affiliations