The Reform Index is +1.8 points from November 8 to November 21, 2021, with possible values ranging from -5.0 to +5.0. In the previous round, the index was +0.1 points.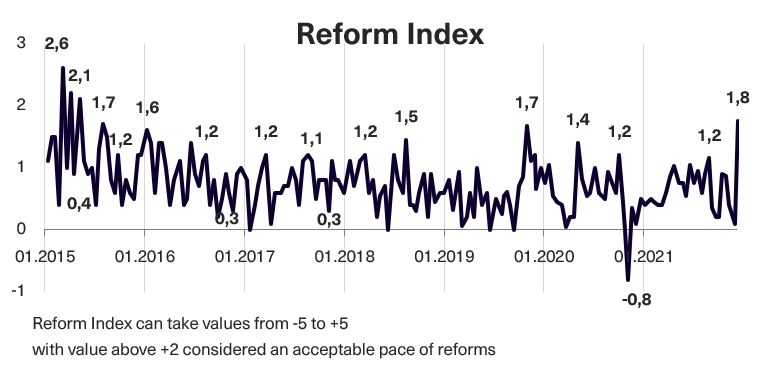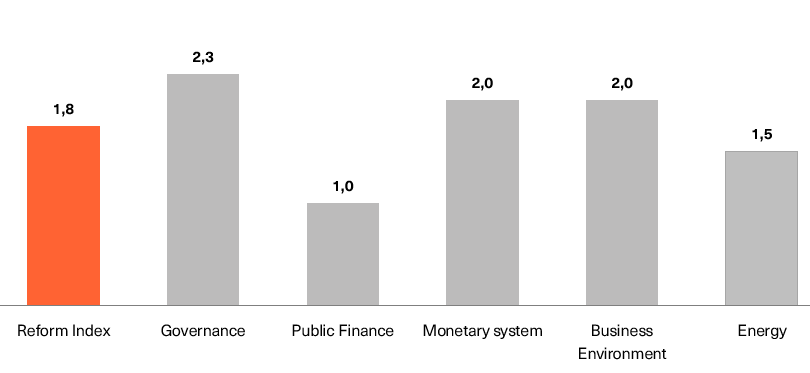 Law on a partial loan guarantee fund in agriculture: +3.3 points
For small and medium agribusinesses to take full advantage of the opportunities afforded to them by land reform, they need access to financial resources. Investments in new equipment, biological assets of crops and livestock, agricultural buildings and structures will help significantly increase productivity. However, not all companies can afford to attract the necessary financing, particularly in the form of bank loans. The main barriers are high-interest rates on loans and a lack of the required collateral.
To address this issue, the Verkhovna Rada passed Law 1865-IX on November 4.
The law provides for the establishment of a Fund for partial guarantees for agricultural loans to offer partial guarantees for bank loans to agricultural producers. It will offer guarantees for 50% of the debt for up to 10 years. This is expected to significantly reduce the risk of lending to farmers for financial institutions and therefore increase lending.
Such guarantees can be granted to agricultural producers owning up to 500 hectares of land and specializing in the primary production of agricultural goods. The Fund can provide guarantees on loans to financial institutions that have signed a cooperation agreement.
Authorized capital will be formed at the expense of the state budget and donor assistance from international partners. The Ministry of Agriculture expects UAH 1.5 billion to be financed from the budget, with the total authorized capital amounting to UAH 3 billion. This money will be enough to fund farmers' projects worth about UAH 24 billion.  
The Fund is a new tool to support farmers, but it's not the only tool. They can already receive loans on favorable terms (with the state partly covering interest rates) and use the 5-7-9 program.
Information about the Reforms Index project, the list of Index experts and the database of the regulations assessed are available here.
Law on improving the NBU's activities: +2.0 points
Some NBU's internal governance, reserve management, and inspection provisions do not align with international best practices. 
To tackle this issue, the Verkhovna Rada passed Law 1811-IX on October 19.
This law explicitly regulates several issues regarding the functions of and interactions between the NBU Council and the Board, supplements the qualification requirements for these bodies' members and specifies their powers, and authorizes the NBU Board to develop an employee code of ethics. 
It also expands the NBU's tools to manage foreign exchange reserves and extends the number of counterparties to conduct transactions with. 
Law on bringing NABU's status into line with the Constitution: +2.0 points
There was a gap in the legislation on NABU, due to which the CCU declared unconstitutional some provisions of the law On the National Anti-Corruption Bureau of Ukraine in September 2020. Therefore, the legislation on NABU had to be brought into line with the Constitution. In particular, it is a matter of settling this body's status and appointing its head.  
Such changes required ensuring NABU's activities' stability and continuity and guaranteeing its institutional and operational independence.
Law 1810-IX of 19.10.2021 resolved this issue.
Resolution on procurement of medicines for rare diseases for public funds: +2.0 points
Restrictions were applied in Ukraine on drugs for rare diseases that are not registered in Ukraine. In particular, if they were not registered in Ukraine or countries with stricter regulatory requirements (Europe, USA, Japan, Canada), it was impossible to purchase them for state's funds.
Some manufacturers of medicines for rare diseases do not have the necessary license in Ukraine, and they do not plan on obtaining it. The main reason is small market size.
Resolution  #1182 of November 15, 2021 resolved this issue by specifying a limited list of medicines needed to treat orphan diseases that can be procured without registration in Ukraine.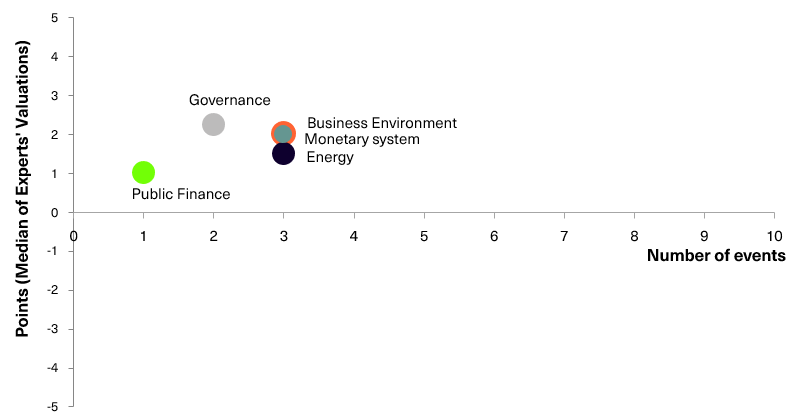 Reforms Index from VoxUkraine aims to provide a comprehensive assessment of reform efforts by Ukraine's authorities. The Index is based on expert assessments of changes in the regulatory environment in five areas: Governance, Public Finance, Monetary system, Business Environment, Energy.
Attention
The author doesn`t work for, consult to, own shares in or receive funding from any company or organization that would benefit from this article, and have no relevant affiliations