The Index for Monitoring Reforms is +1.0 points from January 31 to February 13, 2022, with values ranging from -5.0 to +5.0. In the previous round, the index was +0.2 points. 
Chart 1. Reform Index Dynamics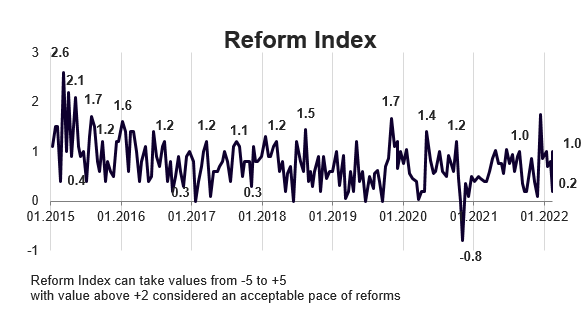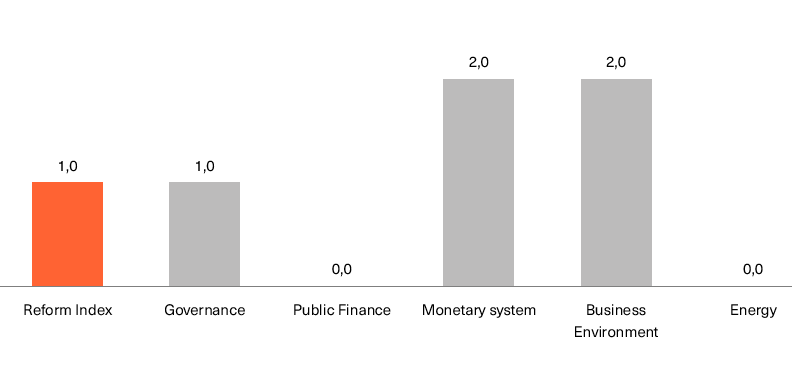 Law on financial services and financial companies, +2.0 points
Law 1953-IX updates the regulation of financial companies (insurance companies, pawnshops, financial leasing companies, etc.) in line with the "split" law, transferring the supervision of non-banking financial institutions from the National Commission for Services Regulation of Financial Markets to the National Bank of Ukraine. The new law introduces risk-based regulation and supervision and sets additional corporate governance requirements. The idea is for the regulator to pay attention to riskier and larger financial institutions.
A positive step is allowing pawnshops and financial institutions to carry out other economic activities besides their main activity (except material production and trade) and outsource some services.
The new law also greatly simplifies financial companies' and pawnshops' licensing processes.
Information about the Reforms Index project, the list of Index experts and the database of the regulations assessed are available here.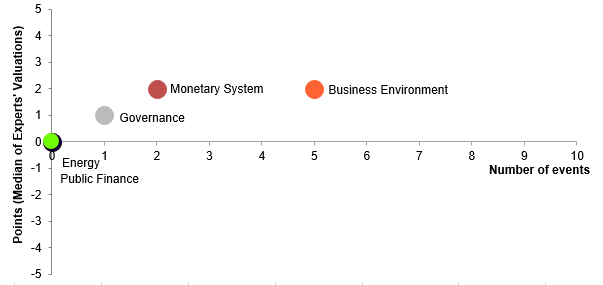 Reform Index from VoxUkraine aims to provide a comprehensive assessment of reform efforts by Ukraine's authorities. The Index is based on expert assessments of changes in the regulatory environment in five areas: Governance, Public Finance, Monetary system, Business Environment, Energy.
Attention
The author doesn`t work for, consult to, own shares in or receive funding from any company or organization that would benefit from this article, and have no relevant affiliations