Verification within Meta's Third-Party Fact-Checking Program
Information is circulating on the internet claiming that the head of the Main Intelligence Directorate of the Ministry of Defense of Ukraine, Kyrylo Budanov, stated in an interview for the documentary film "Year" his intention to exterminate three million residents of Crimea. The authors of the publication quote the military official as saying, "After the victory, I will go to Sevastopol, my hometown. There will be a lot of work. We have received three million people who lived under Russian propaganda. These are distorted individuals who deserve physical destruction for their actions".
However, the video was edited. This phrase was assembled from several different answers of Budanov.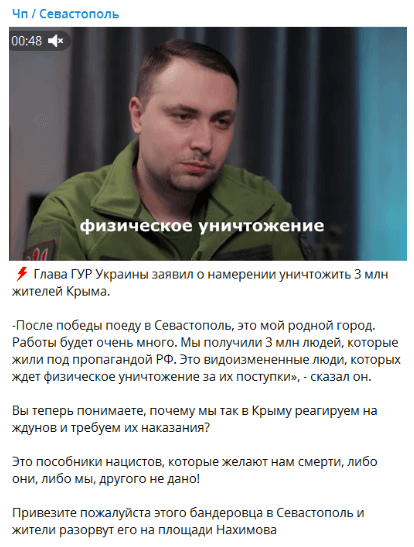 In an interview for the documentary film "Year" by journalist Dmytro Komarov, published on May 19, 2023, Kyrylo Budanov revealed his plans to travel to Sevastopol after victory. However, he added that the process of reintegrating Ukrainian territories would be lengthy.
"The victory will not be the end of it all. We are facing a rather challenging stage that will take years — actual reintegration of our territories. Because excuse me, we are now receiving an additional three million population who have lived under Russian propaganda for nine years. They have a completely different perception of the world. It won't be as easy as it seems", he stated.
The military official mentioned that these people need to be "reeducated" using both the stick and the carrot approach. According to the head of intelligence, a "firm hand" is required to govern the deoccupied territories, but not dictatorship.
Meanwhile, Kyrylo Budanov's words about the physical destruction of enemies referred to Russian soldiers who committed war crimes in the temporarily occupied territories. When asked by journalist Dmytro Komarov about the further plans regarding the identification of Russian military personnel who committed atrocities, the head of intelligence responded, "Very simply: holding them accountable for their actions. In our understanding, just responsibility for certain individuals can only be their physical destruction".
Such fakes are based on a narrative that suggests the Ukrainian leadership is hostile towards the residents of the temporarily occupied territories and that after their liberation, people will face repression. This viewpoint aims to intimidate the population in the non-controlled territories and discredit the Ukrainian government. We have previously debunked fakes claiming that Ukraine plans to deport from 500,000 to 800,000 residents of Crimea and that Russia is rebuilding the occupied territories while Ukraine conducts repressions in the liberated areas.
Attention
The authors do not work for, consult to, own shares in or receive funding from any company or organization that would benefit from this article, and have no relevant affiliations