Ukrainian industry lost over $8.1 billion because of the war. 422 enterprises were totally or partially destroyed. The assets of the basic metal industry were destroyed almost completely. If we adopt the "build back better" approach, the cost of reconstruction of these assets is likely to be higher. But before the reconstruction starts, the government will have to decide whether to allow building capital-intensive facilities in the vicinity of the Russian border.
$8.1 billion industrial war damages as of July 1st 2022
Industry is the third sector after the infrastructure and housing by the total value of damages and asset losses (8.4% of total) caused by Russian invasion in Ukraine according to experts' estimates.
According to the PDNA methodology by the World Bank, as of July 1st, the total value of damage to the Industry sector was estimated at USD 8.1 billion. This is nearly 4.1% of the country's GDP in 2021, 6.3% of total assets and astonishing 24.9% of total equity across all industrial subsectors in Ukraine as of 2021Q3. In other words, almost one quarter of the investments in the sector is jeopardized, having a considerable amount of assets destroyed already. Private sector suffered most of the damage – USD 5.35 billion (66.3% of the total) with the rest of the damages incurred by the public sector.
Most of the enterprises were completely destroyed, requiring reconstruction from scratch (64.9% or USD 5.3 bln).
The regions that suffered the most are*:
Donetsk – USD 4.2 bln (51.7%) 

Kharkiv – USD 0.9 bln (11.2%)

Kyiv – USD 0.6 bln (6.9%). 
The majority of the damage is total destruction of enterprises rather than their partial damage.
* Please, note that the statistics are generated on the available microdata, so it may not completely reflect the reality of the damages incurred by the regions.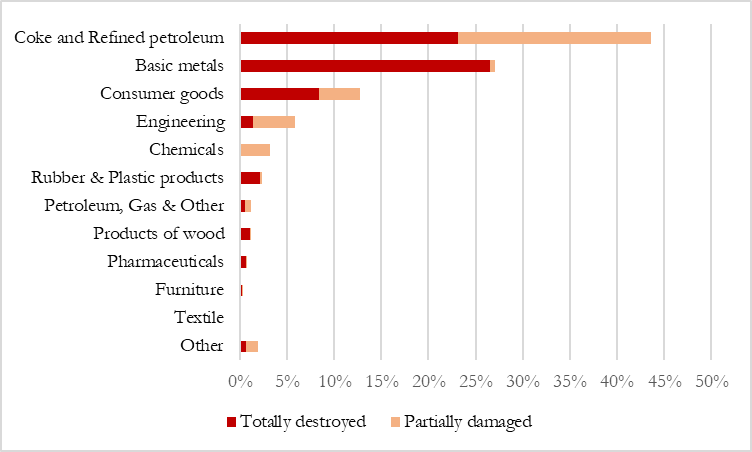 The data
The data was obtained from reports sent to the damaged.in.ua project run by KSE Institute, as well as monitoring of news platforms. 
Direct and indirect methods were used for evaluation of the damage. For enterprises that published their balance sheets, the estimate  of damaged or destroyed assets was the sum of non-current assets and inventories. For enterprises with financial reports unavailable, market shares were estimated based on average subsector sales. The shares obtained were used to estimate the main asset groups (buildings, engineer installations, machines, vehicles, equipment and tools) via capital expenditures (i.e. we assumed that the share of assets of an enterprise in a sector was equal to its market share). For both cases, damages to objects reported as "destroyed" were estimated at 100% of balance value and to ones reported as "damaged" – at 40%.
The dataset contains reports on two regional companies from the utilities subsector and 46 unidentifiable objects. The latter are the reports on "factories", "enterprises" and other industrial assets that weren't specified neither by name, nor by exact location. Thus, there was no opportunity to assign any subsector to them. All of these were grouped into "Other" category and damage estimated with indirect methods.
The dataset contains 166 reports, each of which informs about at least one industrial object/facility either damaged or destroyed. The destruction or damage of each facility means not only hundreds or even thousands of employees losing their jobs but also the reduction of tax revenues from these companies. If these assets were used as collateral for bank loans, the banks that issued those loans would also suffer.
23.6% of enterprises whose  registration codes (EDRPOU) were determined or inferred were legally bankrupt or closed before February 24, 2022, according to open data sources. Their assets may have been valued at their liquidation value, their buildings may not have been used, or their tangible assets may have been obsolete. 
Data limitations are as follows: the majority of small enterprises did not report the damage; information about some enterprises is extremely limited either because they are located in the occupied territories, or because they are strategically important or for other reasons. Therefore, a complete overall assessment of the damage to physical assets is possible only after a comprehensive investigation and audit.  
Damage by industrial subsectors
| | | |
| --- | --- | --- |
| Category | Total Value (million $) | % of Industry total |
| Extraction of crude petroleum and natural gas, other mining | 99.7 | 1.2 |
| Production of foodstuffs, beverages and tobacco products | 1,040.1 | 12.8 |
| Textile industry, sewing of clothes, leather, leather articles and other materials | 2.1 | 0.0 |
| Manufacture of products of wood, manufacture of paper and printing | 86.0 | 1.1 |
| Manufacture of coke and refined petroleum products | 3,548.5 | 43.6 |
| Manufacture of chemicals and chemical products | 264.2 | 3.2 |
| Manufacture of basic pharmaceutical products and pharmaceutical preparations | 53.4 | 0.7 |
| Manufacture of rubber and plastic products, manufacture of other non-metallic mineral products | 188.3 | 2.3 |
| Manufacture of basic metals, manufacture of fabricated metal products, except machinery and equipment | 2,204.5 | 27.1 |
| Engineering | 479.2 | 5.9 |
| Manufacture of furniture and other manufacturing; repair and installation of machinery and equipment | 20.8 | 0.3 |
| Other | 156.4 | 1.9 |
| Total | 8,143.3 | 100.0 |
Mining: $99.7 million damage
Since 2014 the mining industry accounted for 12.1% – 16.1% of the total industrial production in Ukraine, which is on average about 4.4% of GDP. Because of the Russian invasion in 2022, the mining subsector (especially the salt mines and non-metallic mines from Donetsk and a petroleum and gas extractor from Kharkiv) suffered an estimated USD 99.7 million of damage. While it seems comparatively small, one has to remember that Ukraine lost 57% of its mining facilities back in 2014, when Crimea and parts of Donetsk and Luhansk regions were occupied by Russia. Thus, the real damage is expected to be much higher.
Asset groups that suffered the most since February 2022 are equipment (25.6% of total assets) and buildings (21.3%). Ukraine is famous for exporting raw materials (metals and minerals made up 24% and 12% respectively of exports in 2021) which make it susceptible to commodity price fluctuations. Reconstruction of the sector needs serious consideration of the after-war production structure of Ukraine. Thus, during the reconstruction Ukraine will need a lot of construction materials which suggests that extraction of sand, clay and the like will be in great demand immediately after the war ends or even before that. Extraction of iron ore and coke will not be needed immediately since metal producing capacities were severely damaged or destroyed. Extraction of energy coal may not be needed at all if Ukraine aims for a "green" reconstruction. However, one will still need investment into conservation of closed mines and minimizing their environmental damage.
Manufacturing: $7.9 billion damage
Manufacturing damages are estimated at USD 7.9 bln (96.9% of total industry damages), most of which are totally destroyed. Among the industries that suffered the most are:
Manufacture of coke and refined petroleum products – USD 3.5 bln (43.6% of the total). The most affected in monetary terms are Avdiivka Coke Plant (the largest coke producer in Ukraine) and Kremenchuk Oil Refinery (the largest enterprise for the production of petroleum products in Ukraine).

Manufacture of basic metals, manufacture of fabricated metal products, except machinery and equipment – USD 2.2 bln (27.1%). Half of the amount is the damage incurred with the destruction of the Azovstal foundry.

Production of foodstuffs, beverages and tobacco products – USD 1.0 bln (12.8%). This category mainly includes warehouses with significant food stocks. Just Kyiv region lost a fifth of warehouse space due to the war, which is about 364 000 square meters, including office premises and other buildings on the territory of the complexes.
Donetsk region that was partially occupied in 2014 and almost completely occupied in 2022 is the most affected region. It was home to 49% of manufacturing assets and to 97% of mining assets that were destroyed or damaged.  
Other subsectors: $156.4 million damage
The damages to other industrial subsectors are estimated at USD 156.4 mln. Most of those objects were reported partially damaged and originally located in the Kharkiv region.
Conclusions
The war has obviously damaged the Ukrainian economy badly. Unfortunately, the military activity takes place in eastern Ukraine, where most of the industry is concentrated (already with Russian occupation in 2014 Ukraine lost about 20% of industrial capacity). It would cost a fortune to rebuild the destroyed industrial assets. Thus, Ukrainian society will need to decide (1) whether to rebuild certain assets in the first place or to develop labour-intensive service industries in these areas and (2) whether to rebuild assets where they were or relocate them to a safer place in the centre or west of the country. 
Many of the mining and industrial enterprises located in the east were a part of the Soviet-wide production network. Up until 2014 many of them viewed Russia as their primary market, and the transportation to Russia was much easier than shipping their goods elsewhere. The war clearly shifts the export pattern of Ukrainian businesses from east to west. This may affect the decisions on location of production facilities, especially capital-intensive large plants. Besides, the build back better approach that will be used for the reconstruction of Ukraine requires that facilities are not simply rebuilt but rebuilt using more advanced and greener technologies. This implies that reconstruction cost is likely to be higher than estimates of damages provided in this paper. Therefore, it should be carefully planned to ensure the efficient use of resources
Disclaimer. Full-scale Russian invasion of Ukraine lasts more than half a year, causing both economic and human losses as well as massive destruction. In the first days of the invasion, Kyiv School of Economics with its partners started a systematic estimation of war-related damages and losses. For Master students (Economic Analysis and Business and Financial Economics programs) KSE started a special War Laboratory course, where students were estimating the damages, losses, and resource needs for recovery of the Ukrainian economy sectors. This analytical note is the deliverable of the course.
The views and opinions expressed are those of the authors and do not reflect the position of KSE, C4FLUR or of the partners.
Attention
The authors do not work for, consult to, own shares in or receive funding from any company or organization that would benefit from this article, and have no relevant affiliations