The Reforms Index (iMoRe) is +1.0 point for the period from June 21 to July 4, 2021, with possible values ranging from -5.0 to +5.0. In the previous round, the index was +0.8 points.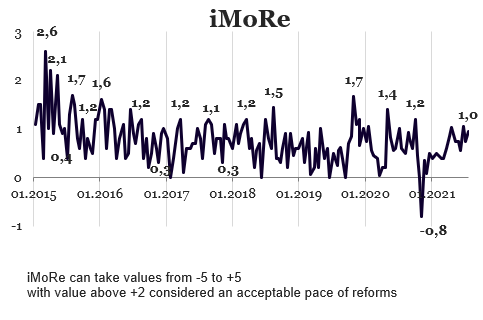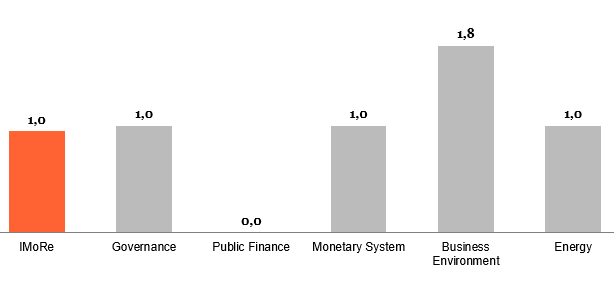 Procedures for the Unified State Electronic System in the area of construction, +2.0 points
Building real estate and putting it into service is a complex process. Obscure and long bureaucratic procedures laid the groundwork for corruption for years. To address these issues, the government decided to create the Unified State Electronic System in the area of construction. The system is meant to provide the services of obtaining the necessary documents at all stages of construction work using the "single window" on the Diia website portal.
In 2019, the Verkhovna Rada passed the law obligating the government to create this electronic system (iMoRe 122). In June 2020, the government launched a pilot project of creating a unified database in the sphere of construction. To get the system to work efficiently, the government had to change some procedures required for the registration of construction. (iMoRe 142).
Based on the pilot project results, the government put the system into operation. 
The law on the sale of land via electronic auctions, +2.0 points
Land in state or communal ownership can be sold or leased only through auction. However, the bidding process required that potential buyers be physically present at the premises where the auction was held. This considerably narrowed the number of potential participants. 
Law 1444-IX stipulates that electronic auctions be held to sell or hand over the land in state or communal ownership.
Land auction organizers will hold them in real-time in an online electronic trading system. Based on the auction results, the landowners' representatives and the auction winners will conclude sale and purchase, lease, and superficies or emphyteusis agreements.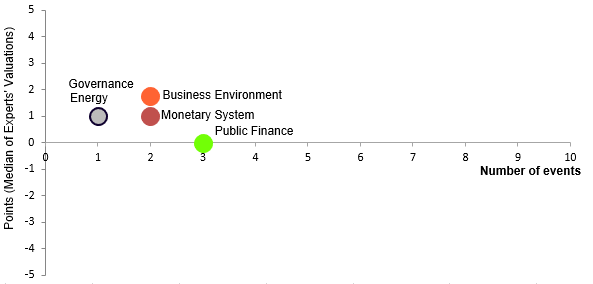 Reforms Index from VoxUkraine aims to provide a comprehensive assessment of reform efforts by Ukraine's authorities. The Index is based on expert assessments of changes in the regulatory environment in five areas:
Governance
Public Finance
Monetary system
Business Environment
Energy
For details please visit imorevox.org.
Attention
The author doesn`t work for, consult to, own shares in or receive funding from any company or organization that would benefit from this article, and have no relevant affiliations